Medical Lake community applauds firefighters at meeting as next steps are discussed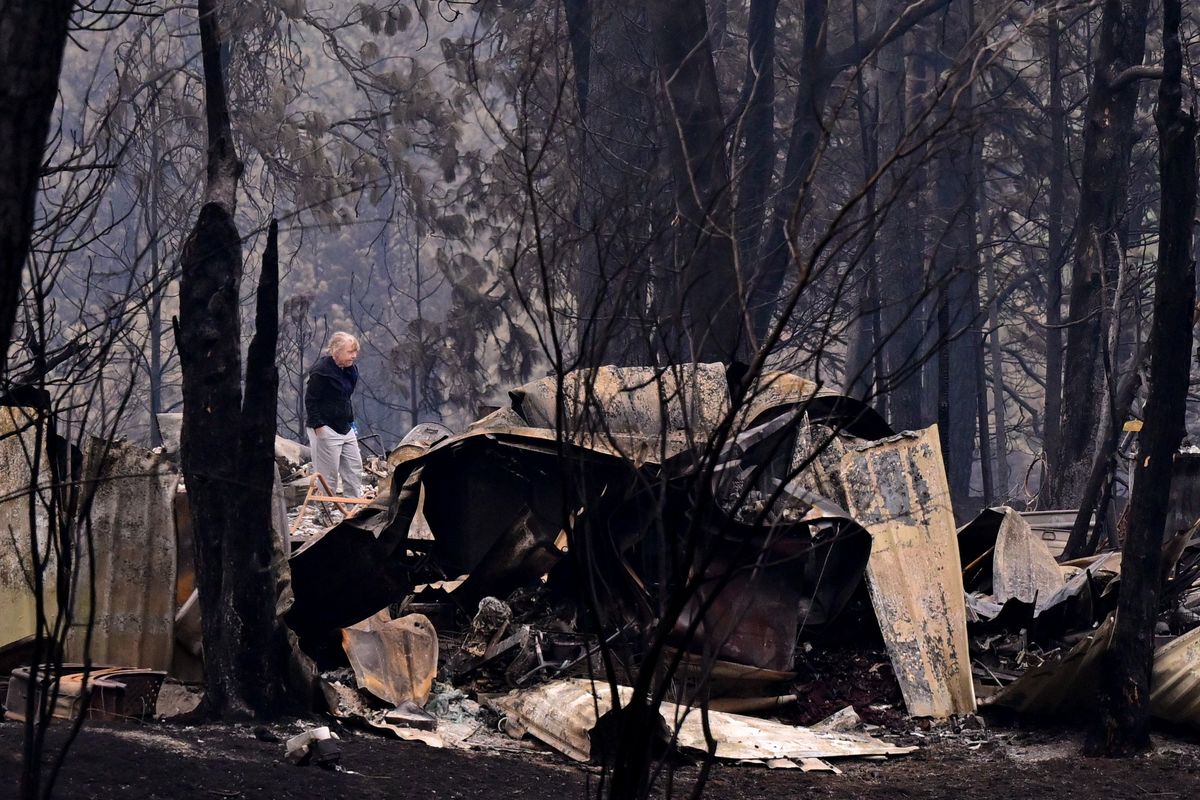 Hundreds of people affected by the Gray fire rose to their feet in a loud standing ovation Wednesday night to show their gratitude for first responders and others who helped residents during the devastating blaze.
Fire, law enforcement and other local and state agencies were gathered at the Medical Lake High School gymnasium to provide updates and next steps for those recovering from the fire, which was 48% contained Wednesday at 10,016 acres .
Spokane County Sheriff John Nowels said Wednesday night that law enforcement officers put themselves in dangerous places, including driving on roads with flames on either side to evacuate residents.
Nowels said he reviewed body camera footage from deputies at the Gray fire and the Oregon Road fire in the Elk area. Officers are typically calm and collected on the radio, he said.
"I could hear something different in the voices of our deputies and our officers on the ground," he said. "There was more urgency than you normally hear and, watching the video today, I understand why."
Nowels asked residents to report suspicious activity to law enforcement. Two people were arrested earlier this week for allegedly burglarizing a residence in the evacuation zone.
While every missing person from the Gray fire has been accounted for, Nowels said residents are encouraged to call law enforcement if they need help finding a loved one.
Seth Merritt, of Northwest Incident Management Team 7, said Wednesday night the fire was expected to be 58% contained by the end of Wednesday. He said crews worked to contain the fire while mopping up hot spots around structures.
Winds did pick up Wednesday with gusts up to 25 mph, creating the potential for smoldering fuels to reignite, according to the fire management team. Crews will continue to monitor hot spots and do structure assessments Wednesday.
Spokane Fire District 3 Chief Cody Rohrbach said residents should be wary of hot spots and other hazards around homes.
"We will continue to work tirelessly until we can put this into full recovery mode," Rohrbach said.
Steve Bodnar, a National Weather Service meteorologist in Spokane, said rain, cooler weather and increased humidity dampened fire conditions the last couple days.
"We had some really favorable conditions," he said.
Those conditions are expected to change, with temperatures reaching the low to mid-90s this weekend and no rain in the forecast, Bodnar said.
Avista Utilities crews finished their initial restoration work Tuesday and predicted to have natural gas work done by evening. Across the West Plains there were 259 homes and shop buildings either destroyed or too damaged to have electricity service restored. A full count of lost structures had not been completed as of Wednesday.
During the bulk of the work, Avista had up to 150 people out working to restore power, the company said.
"Our line and gas crews were amazing," Ryan Bradeen, Spokane electric operations manager at Avista, told attendees Wednesday night.
Crews are in the process of restoring natural gas to customers in the area and will contact residents to do safety checks.
Residents should not attempt to relight their own natural gas, Avista said.
Bradeen said an incident command team has been identifying "hazard trees," or damaged or burned trees that could fall on electric lines. Still, he asked residents for help.
He said people can call the Avista customer service line at (800) 237-9187 if they see hazard trees.
Nowels asked everyone displaced by either fire to register with the Red Cross, which will help them get connected with a case manager and additional resources as they become available.
Medical Lake Mayor Terri Cooper offered another option for help.
"I just wanted to tell you I love you so much and I will do anything for you," Cooper said. "And I'm here for you, so let me know what you need."
The Oregon Road fire remained uncontained Wednesday, according to the Northeast Washington Fire information team handling the fires.
The fire near Elk has burned 11,021 acres as of Wednesday and was 0% contained. Nearly 900 people were working to suppress the fire.
Rain Tuesday helped fire crews make good progress in multiple areas, according to a Facebook post by Northeast Washington Fire Information.
Evacuations were reduced in the Elk area Wednesday afternoon, and current evacuations are posted on the Spokane County Emergency Management Facebook page.
A Red Cross evacuation center remains located at Riverside High School, 4120 E. Deer Park Milan Road, in Chattaroy.
The cause of both fires remains under investigation by the Department of Natural Resources and Spokane County Sheriff's Office.
The sheriff's office is investigating the deaths of two individuals, one at each fire. Due to the number of officers needed to secure the fire zones, Cpl. Mark Gregory, a department spokesman, said the investigation may take longer than normal.
---