How former Idaho guard Landon Tatum climbed the NBA ladder, from ball boy to Washington Wizards Summer League coach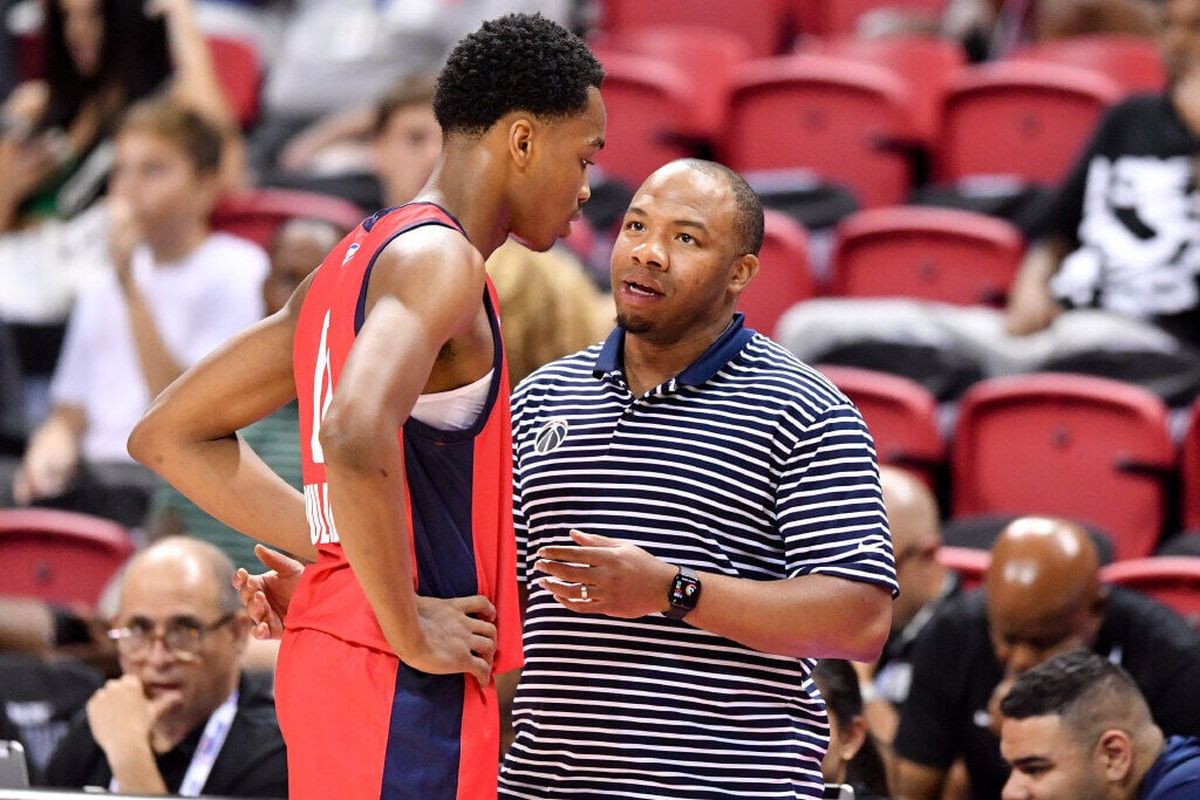 LAS VEGAS – Landon Tatum's parents floated the idea on more than one occasion while their son was a young, burgeoning basketball star in San Antonio, Texas.
They thought he had the temperament, intelligence and disposition to carve out a career in coaching. Tatum saw a future in basketball, just not in the same way his parents did, so whenever the conversation came up he usually brushed it off.
Respectfully, it wasn't for him.
Things hadn't changed on that when Tatum finished a productive college career at the University of Idaho, where he averaged 7.4 points and 4.7 assists as a senior while leading the Vandals to a 19-14 record.
"I'll be honest, when I finished playing at Idaho I didn't want to do it at all," Tatum said. "… It's kind of funny, my parents always said, 'You should coach.' I was like, 'No, I can't do it.' "
Tatum recounted those conversations earlier this summer following an NBA Summer League game between the Washington Wizards and San Antonio Spurs at the Thomas & Mack Center.
He was in attendance on July 11 – not as a player, not as a spectator, but as a head coach of the Summer League Wizards.
After breaking down a 96-85 loss to the Spurs to a group of beat reporters, Tatum went into more detail about his personal journey, explaining how someone who'd always resisted the idea of coaching – he didn't think he was cut out to handle egos – wound up on an NBA bench in Las Vegas, managing the next wave of Wizards draft picks and young prospects.
After his college career in Moscow ended, Tatum played professionally for Gotha Rockets of the ProA, a second-tier league in Germany. During his first and only pro season, Tatum had opportunities to coach and work with younger players in Germany. He took a liking to it, and upon returning to the United States, longtime Idaho coach Don Verlin, who recruited Tatum from South Plains Junior College in Texas, extended an offer to work as the Vandals' Director of Basketball Operations.
"Through that time I kind of realized I actually do enjoy it," Tatum said. "It's kind of been a passion of mine ever since and it's kind of funny."
Tatum put in one season with the Vandals, but opted to move to Washington D.C. with his now-wife – a former Washington State student – when she was accepted into the law school at Georgetown University.
He'd put coaching on the backburner but fell into an opportunity with the Wizards through a connection made while playing daily pickup games at Georgetown Law. Washington's director of player development helped Tatum, unemployed at the time, earn a job as the Wizards' team attendant.
Translation: "I got blessed with an opportunity to start off really as a ball boy with the Wizards," Tatum said.
Tatum went through one season as a team attendant under then-coach Randy Wittman and convinced successor Scott Brooks to keep him on the staff the following season as an assistant video coordinator and player development coach.
With lots of player, coaching and front office turnover around him, Tatum's been one of the few constants on Washington's staff since the 2015-16 season, working in a handful of capacities as a team attendant, video coordinator, player development coach, assistant coach, associate head coach of the G-League Capital City Go-Go and, most recently, head coach of the Summer League Wizards.
Not exactly the 10-year plan Tatum had in mind after playing his final game for the Vandals in 2012.
"When you've been through where I started with the ball boy to being in this now, I can't say anything but I'm blessed," Tatum said. "I know how many people who are in the league right now that they'd want to be in my position. Some people have probably been in the league for years on years on years and never do this."
Tatum's now worked under three head coaches, with Wes Unseld Jr. replacing Brooks in 2021-22. He wasn't sure if the Summer League opportunity would materialize after the Wizards made a slew of front-office changes, hiring Michael Winger as the franchise's new owner and tabbing Will Dawkins as general manager.
As much as it is a spectacle for fans, NBA Summer League is also a key learning opportunity for coaching staffs. Assistants and G-League coaches are often promoted to head coaching roles during the month-long event and Tatum, given his experience with Washington's organization, was a natural choice to oversee the Summer League team in Vegas, especially after Capital City head coach Mike Williams accepted a position with the Utah Jazz.
"I wasn't sure what was going to happen," Tatum said. "We had a change in the front office and I didn't know what route they'd go, but as soon as they asked, I was super excited. I was thankful I know Wes wanted me to do it and I'm thankful the new ownership and GM and Will Dawkins allowed me to do this and they're allowing me to grow and get better each and every day."
Tatum has mostly helped the team in a player development capacity since joining the Wizards – what he describes as his strength – which has allowed him to work with the franchise's star players, including Russell Westbrook and Bradley Beal, along with former Gonzaga standouts Corey Kispert and Rui Hachimura, who was traded last season to the Lakers.
But there was a significant learning curve at Summer League, where, for the first time in his life, Tatum was charged with making in-game decisions relating to substitutions, timeouts, play calls, etc., while also overseeing a coaching staff and fulfilling various media obligations.
"Where I still have to grow, really being a first-time head coach you get thrown in a lot of different situations that you've never had to see," Tatum said. "There's certain things I'm comfortable as far as drawing up ATOs (after timeout plays), but also now it's just trying to figure out different types of situations of when to call timeouts, what types of substitutions you need to make and just trying to learn on the fly right now."
Tatum, still just 34, feels that his relatability is an asset as he works with NBA players who range in age from late teens to early 40s. Washington's seventh overall draft pick Bilal Coulibaly is still just 19 years old but could share the court this season with 38-year-old veteran forward Taj Gibson.
"I'm still young enough to be able to talk to them and understand kind of where they're sitting at and things like that," he said. "But I think that's the best part, because once you build a relationship with these players they'll listen to you because they know you have their best interest. I like that part the most."
Washington's Summer League team, headlined by Coulibaly, went 2-3 in five games. Tatum, who's sat in just about every seat since joining the Wizards six years ago, is expected to return to the organization as an assistant coach for the 2023-24 season.
He can thank his parents for their foresight.
"Things just kind of fell into place," Tatum said. "I didn't have a side job. Just kind of grinded my way all the way up to where I am now."
---