Circling Raven defending champ Jillian Hollis aims to enjoy tourney, North Idaho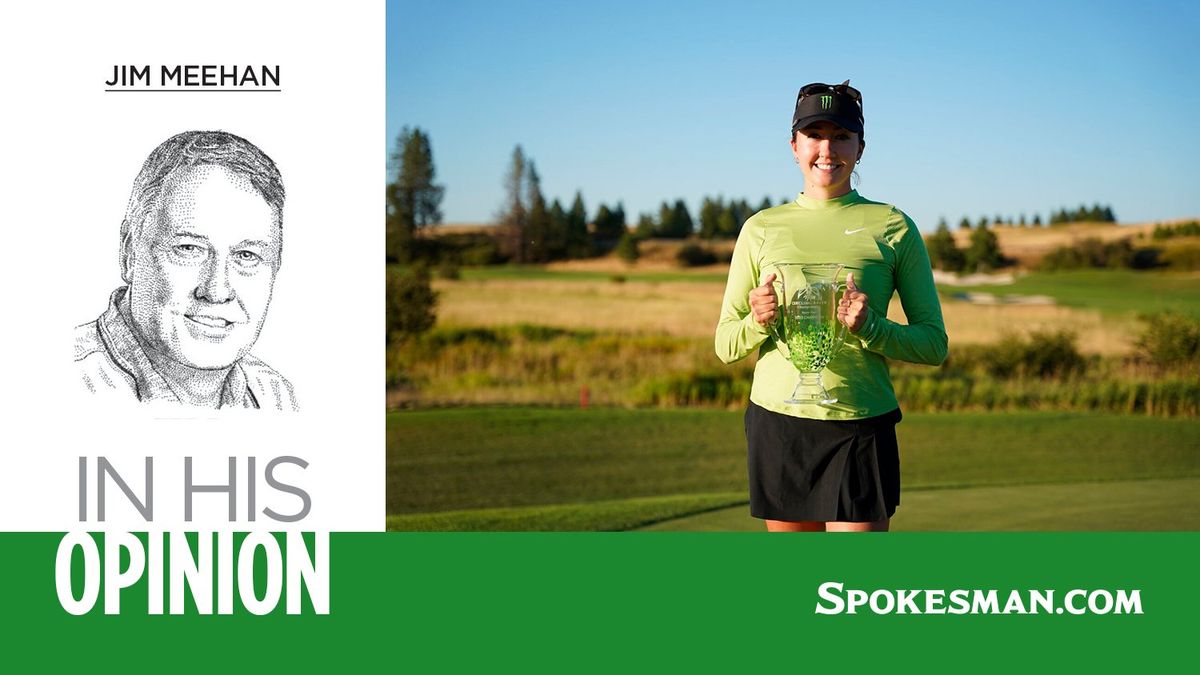 Jillian Hollis wasn't born yet the last time someone defended a championship in tournaments currently on the Epson Tour.
She's 26. Marilyn Lovander was the last to pull off a repeat, winning the Twin Bridges Championship in 1994 and 1995.
Hollis put on a putting clinic last year in a final-round 64 for a two-shot victory at the Circling Raven Championship. The third annual Circling Raven Championship unfolds Friday through Sunday. Hollis obviously would love to hoist the trophy again, but it's not the prevailing thought in her mind.
"It's cool walking around the course because I do have these very fond memories of where I made putts and hit good shots," Hollis said. "This property is gorgeous, and the conditions are amazing, too. They go above and beyond here.
"It'd be really cool (to repeat), but I'm not trying to put those expectations on myself. I hit a lot of bad shots last year, believe it or not, you do that in every tournament, but it's how you recover. I love playing beautiful golf courses and being out west just makes me happy."
The former University of Georgia standout enjoyed everything about last year's experience, from repeated trips to Evans Brothers Coffee, walking Tubbs Hill and jumping in Lake Coeur d'Alene to draining long putts on the scenic course in Worley, Idaho, and collecting a $30,000 first-place check.
Hollis has learned that there's more to playing professional golf than just golf and the final results on Sundays.
"Just want to enjoy Coeur d'Alene and the area, take it all in," Hollis said. "I think that's a big thing traveling week in, week out. You have to enjoy your weeks. That doesn't mean you don't practice or play golf because that's my favorite thing to do, but don't be afraid to go somewhere new for dinner or explore new coffee shops.
"Enjoy the areas you go to and enjoy the journey of playing golf, that's important as well. If you're solely relying on golf to make you happy, it makes for a lot of pressure, speaking from personal experience."
A lot has changed for Hollis since she sealed the win with a clutch up-and-down on No. 18 at Circling Raven a year ago.
She had the first hole-in-one of her career in March at an Epson tournament.
"I couldn't tell if it was playing 150 or 170 (because) the wind was humming off the right," Hollis said. "I went with 6-iron thinking it was a little too much club and chunked it a little bit. It hit before the green, bounced a couple times – that was the play that day where the pin was – and it kept trickling. I kept watching and said to myself surely this has to go in."
It did, and it started a trend. Hollis estimates she's had seven hole-outs from the fairway so far this season.
She's made strides working on her swing and mental game with coach Chris Mayson. The results have been positive, even if it's not always reflected on her scorecard.
"My swing is the best it's felt in a long time," Hollis said. "I haven't been scoring very well, per se, and golf is very much a game of results, but I'm just being patient and good things take time."
Hollis had made 9 of 11 cuts – including two top 12 finishes – before missing the cut last week at the Wildhorse Ladies Classic in Pendelton, Oregon. She shot 3-under 69 in the second round, but it wasn't enough to overcome a 77 in windy conditions on the first day.
Still, she returns to Circling Raven with her game trending in the right direction. Hollis, who played two-plus seasons on the LPGA, primarily in 2020, 2021 and 2022, is No. 28 on the Epson money list. The top 10 at the end of the season earn LPGA cards.
The first two Circling Raven Championships produced winners and leaderboards stocked with LPGA Tour connections. Alexa Pano, who finished third last year, won an LPGA event in a playoff last weekend in Northern Ireland on her 19th birthday.
Peiyun Chien won the inaugural event in 2021 and now ranks No. 56 on the LPGA's season-long points list. Lilia Vu placed 12th that year. She's won two majors and $2.5 million this season. Bailey Tardy, who shared third place, was the 36-hole leader at the U.S. Women's Open in July.
"I really enjoyed my time on the LPGA," Hollis said. "I wish my rookie year wasn't in COVID, I would have done things a little differently. Navigating that first year was a lot for me and I'm definitely better mentally for it.
"I'm just really enjoying playing golf right now. I love it so much, whether it is out here right now or out there (LPGA)."
---