WSU museum to feature the works of Choctaw/Cherokee Native Jeffrey Gibson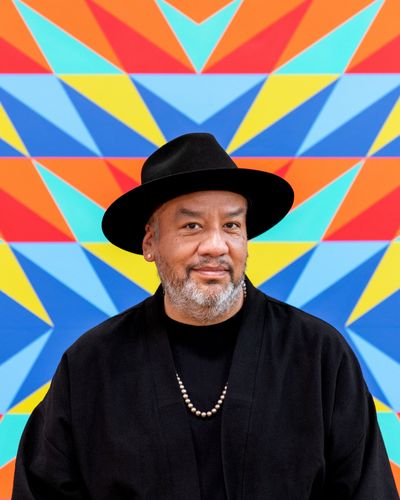 Moscow-Pullman Daily News
Washington State University welcomes artist Jeffrey Gibson and his exhibition to its Jordan Schnitzer Museum of Art.
His exhibit, "Jeffrey Gibson: They Teach Love, From the Collections of Jordan D. Schnitzer and His Family Foundation," opened Tuesday and will run to March 9, according to a news release. It can be viewed between the museum's newly extended hours from 10 a.m. to 4 p.m. Tuesday through Saturday.
The exhibition will showcase 35 pieces of art spanning over 15 years of Gibson's career. His work explores radical transformation through printmaking, photography, painting, sculpture and contemporary adornment in fashion, according to the release.
Gibson is an artist of Mississippi Choctaw and Cherokee heritage. He was chosen to represent the U.S. this year at the Venice Biennale, an international exhibition in Italy held biannually that showcases contemporary art from around the world, according to the news release. He is the first Indigenous artist selected to represent the United States.
His art celebrates Cherokee and Choctaw heritage, as well as LGBTQ+ culture, to empower queer and Indigenous communities, according to the news release.
Patrons may view Gibson's centerpiece, "To Name An Other," consisting of 51 screen-printed elk hide drums and 50 wearable garments. The artwork was originally commissioned as a performance by the Smithsonian's National Portrait Gallery, embracing collective-based projects and performances engaging communities Gibson collaborates with, according to the news release.
In this centerpiece, Gibson aims to foster affinity and decolonize minds and institutions, leading the way toward a more inclusive and harmonious future, according to the news release.
Additionally, "Here in a Homemade Forest: Common Reading Connections" will open Aug. 22. The exhibition was inspired by WSU's common reading book, "Braiding Sweetgrass: Indigenous Wisdom, Scientific Knowledge, and the Teachings of Plants," according to the news release.
Gibson, who is based in Brooklyn, was born in Colorado Springs, Colorado. He studied at the School of the Art Institute of Chicago and the Royal College of Art in London.
The exhibit at WSU was curated by Michael Holloman, exploring themes of reciprocal relationships with the land and other living beings through art and cultural objects by Native and non-Native artists, according to the news release.
To learn more about exhibitions appearing in the WSU Schnitzer Museum, visit its website at museum.wsu.edu.
---