Yue Ren works overtime at Circling Raven to earn first Epson Tour victory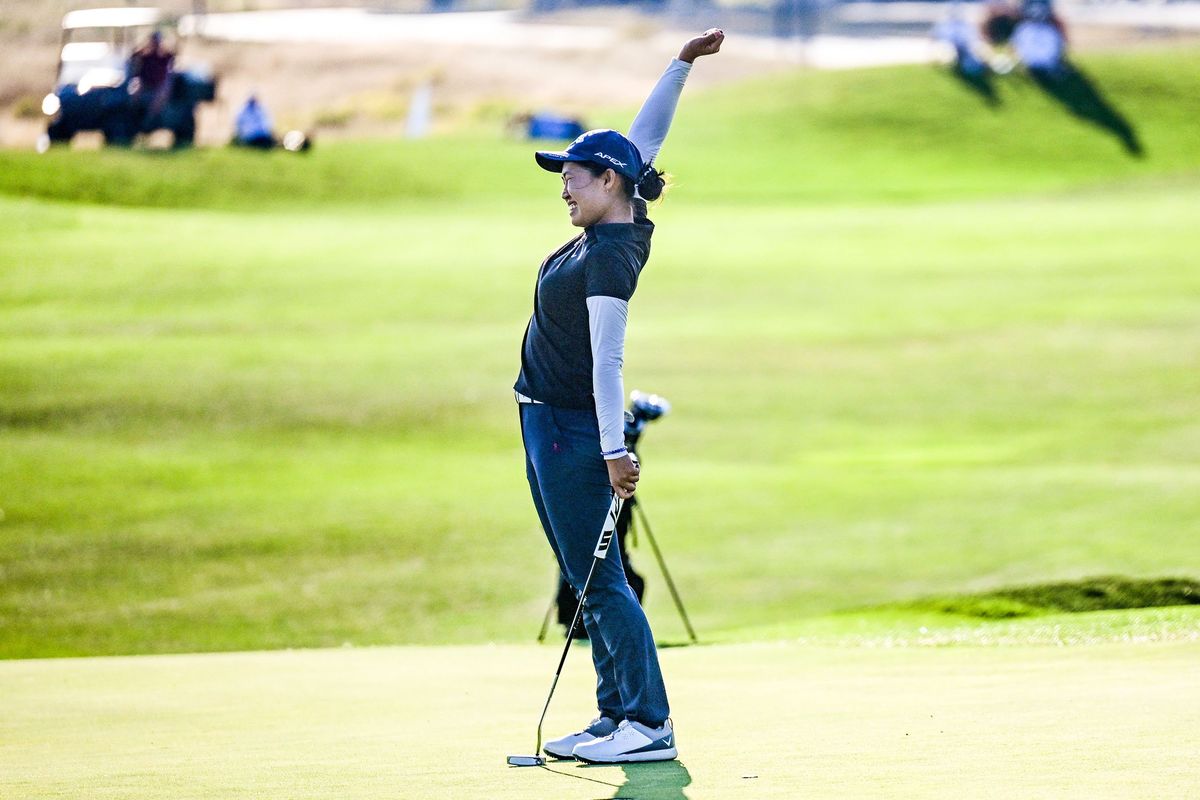 WORLEY – Yue Ren doesn't monitor leaderboards when she's playing, but the view looked pretty good when she finally took a peek after completing her final round at the Circling Raven Championship.
She saw her name at the top at 13 under, the majority of that via Sunday's 8-under 64. She also saw several players close behind, including first- and second-round leader Chanettee Wannasaen at 11 under with five holes left, so Ren figured her day might not be done.
Wannasaen pulled even with birdies on Nos. 14 and 16 and she hit a 7-foot par putt on 18 – the nines are reversed for the Epson Tour event – to force a playoff. They returned to 18 and both made par with Wannasaen draining another clutch 6-footer. On their second tour of 18, Wannasaen's 13-foot par putt lipped out and Ren came through with a up-and-down to save par.
Ren, a 22-year-old who turned pro in 2020, earned her first Epson victory and just her second as a pro – the first coming two years ago in her native China.
"I never see the scoreboard when I'm playing. I just do my best," Ren said. "I know there are scoreboards there (on Nos. 9 and 18), but I never see it. If I'm first or second, I don't know. This is good for me because I think if I see the scoreboard I will think too much."
No. 18, a 435-yard par 4 that was playing longer into a steady wind, ranked as the hardest hole on the course with a 4.46 scoring average. Ren hit 5-wood on her second shot and her ball trickled over back side of the green. Wannasaen was roughly 25 yards past Ren in the fairway. The 19-year-old from Thailand thought her second shot was "beautiful" in the air, but it hit a wall of wind and dropped into the front bunker. She couldn't replicate her sand save on the final hole of regulation.
Ren had room to work and lofted her chip onto the edge of the green, first asking the ball to "go" before changing to "sit" as it eased past the hole.
"I practice putting a lot," said Ren, who celebrated with a fist pump when her 5-footer dropped in the hole. "Little nervous, but not too much."
Ren, who was No. 61 on the money list, collected a $33,750 first-place check while Wannasaen, a rookie on the LPGA Tour, pocketed $21,451 in just her second Epson start of the season. Neither had much time to celebrate. Both departed after 6 p.m. for a six-hour drive to attempt to qualify Monday for the LPGA's Portland Classic.
"There was a lot of pressure, but I can control my mind, I can control my game," Wannasaen said of sitting atop the leaderboard after the first two rounds. "Today was a good game, but it was not the best."
Minji Kang and Laetitia Beck shared third place at 12-under 204.
Kang led briefly on the front side and got a little unlucky when her approach on No. 11 hit the flag and bounced 20 feet away. She had birdie putts on the last three holes to try to get to 13 under. She missed from 6 feet on 16, an 18-footer on 17 burned the right edge and a 35-footer came up short on the closing hole.
Prior to the Circling Raven Championship, Ren posted scores in the 70s in 25 of her previous 26 rounds spanning 10 Epson tournaments. That resulted in three missed cuts and her top placing a tie for 31st. Her best finish this season was a tie for 11th in May.
That all changed in a big way for Ren at Circling Raven with three under-par rounds, including a 68 on Friday and a 64 Sunday that matched her best score as a pro.
What changed? She credited the benefits of sitting out last week, improved iron play and an agreeable putter. She also gathered a ton of course knowledge a year ago when she finished tied for 14th at Circling Raven.
"I was making a lot of putts, but I still missed some putts from three yards, like nine feet, I missed two or three," Ren said. "My iron shots on the greens were really good, so (I had) a lot of birdie chances."
---