For the Canyonettes golf club, the sport is 'a celebration of being alive'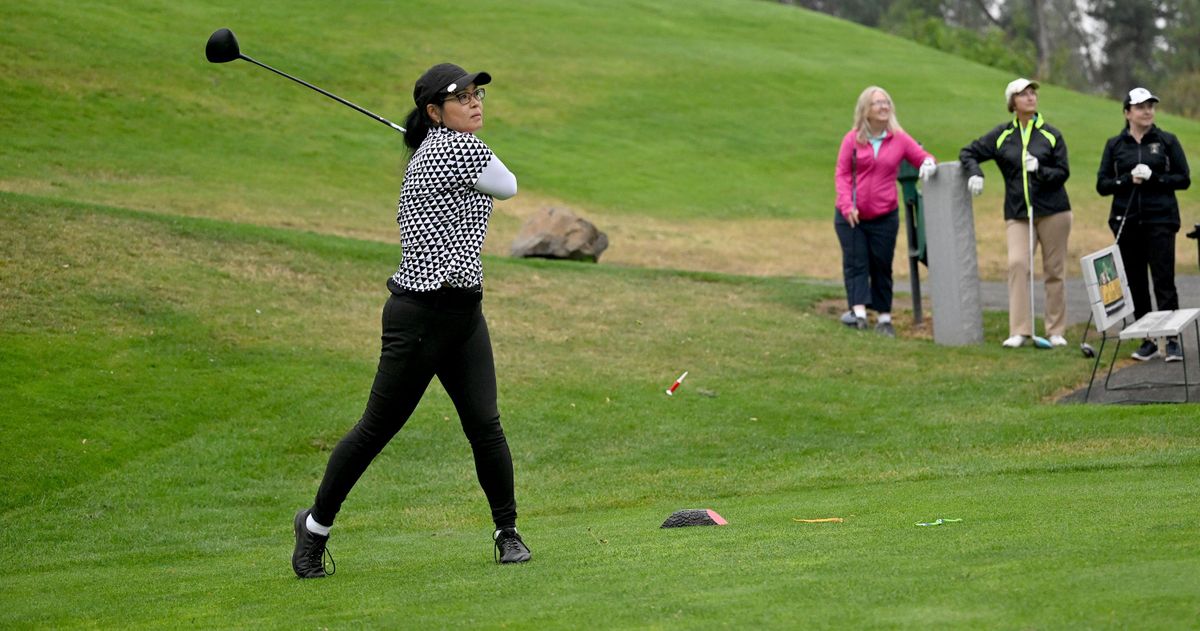 Tuesday's rain didn't dampen the enthusiasm of the Canyonettes.
Though their numbers were lighter than usual, the group of golfers still lined up their carts and took off on their regular shotgun start at Indian Canyon Golf Course.
Every week during the summer, they tee off for nine holes of twilight golf. Players range in skill level from novice to expert and range in age from their 20s to their 80s.
"We started in 2014," said Shelly Heston. "Next year is our 10th anniversary. We're getting special clothes made and everything!"
What sets the Canyonettes apart from other golf clubs is the social aspect. Every season, they host a themed scramble, and every week, they feature a new game to play with plenty of prizes to win.
"It's a fun club – our logo is a martini glass with a golf ball as the olive," Heston said. "We have dinner and drinks afterward."
Leslie Warrick is the brains behind the yearly scramble and the weekly games.
"The games aren't always geared toward the best players," she said. "Sometimes you get points for hitting a tree or being on the beach (sand trap)."
More competitive players skip the games and focus on the golf.
Heston loves the social aspect but admits her game isn't quite up to par.
She laughed.
"I still suck. I finally broke 100 this year and haven't done it since," she said. "But the women are so positive! They'll say things like, 'At least it went straight!' "
Fun is what attracted Sheryl Traum.
"I played tennis at WSU and received a scholarship," she said. "I told myself after college that I would never take golf as seriously as I did tennis."
The Canyonettes provided the perfect place for her to learn.
"I want to walk and talk and not worry about the score," said Traum. "Indian Canyon is such a beautiful course – it's an only in Spokane kind of deal."
A couple of weeks ago, the Canyonettes hosted a Harry Potter-themed scramble. Costumes and decorated golf carts were plentiful, and the golf had twists, as well.
"You had to putt with a cinnamon broomstick on one hole," Warrick said. "We had women lying on the green trying to use the brooms like pool cues."
One year, they had an Alice in Wonderland theme, another year, it was a pajama party with ladies wearing sleep masks and golfing in their jammies.
"Last year, we had a Hawaiian theme and had palm trees springing out from golf carts," Traum recalled.
And the fun doesn't stop when the season ends.
"We average about three off-season events," said Traum. "Last year we had a murder mystery dinner."
Holiday parties, Bunco games, or golfing at an indoor simulator help keep them connected until Indian Canyon opens in the spring.
Greg Harrington, lead facilitator at the course, appreciates the club.
"They played when the course wasn't as nice –they stuck with us," he said. "Every year they've gotten bigger and bigger. They help promote women's golf."
The growth is reflected in their membership. Heston said the first year the Canyonettes numbered 26.
"By 2018 we had 138," she said. "This year we have 186 members."
Dues are $28 per season.
She said the reason for the growth is simple.
"Once women start, they want to tell all their friends."
And the sport can be habit-forming.
"When I started, I'd never hit a golf ball before in my life," Warrick said. "Now I golf three times a week."
For many of the Canyonettes, golf has become a physical and social outlet.
"I believe in being outdoors and staying active," said Traum. "The positivity of getting women out there together is healthful, physically and mentally."
Warrick agreed.
"It's a community," she said. "It's a celebration of being alive,"
For more information about the Canyonettes go to www.canyonettesgolf.com/.
Contact Cindy Hval at dchval@juno.com.
---