A&E > Entertainment
Movie Review: '80 for Brady' golden girls just wanna have fun
Feb. 1, 2023 Updated Thu., Feb. 2, 2023 at 2:31 p.m.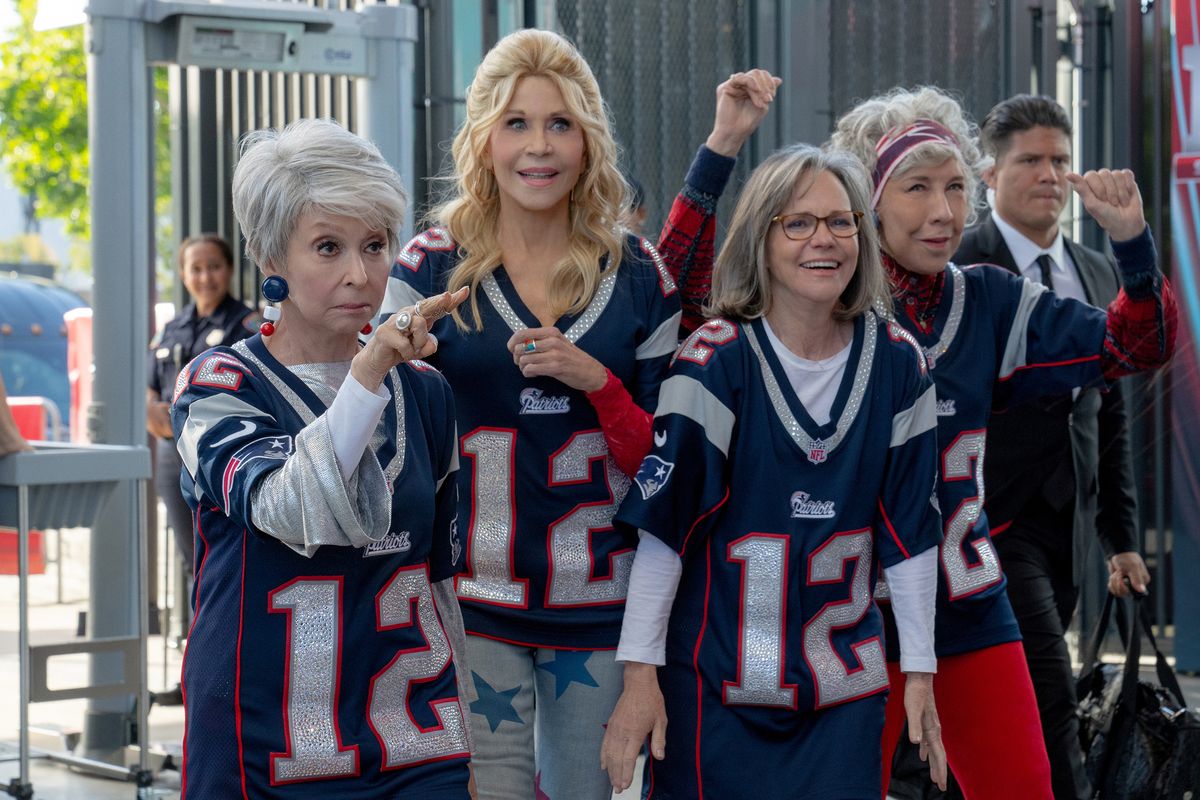 From left, Rita Moreno, Jane Fonda, Sally Field and Lily Tomlin star in "80 For Brady." (Paramount Pictures)
A serviceable mash-up of sitcom and sports flick, "80 for Brady" should please fans of Lily Tomlin, Jane Fonda, Rita Moreno, Sally Field and/or Tom Brady. Everybody else might want to call a timeout.
The movie is almost entirely fiction, but its central characters were inspired by a group of Boston-area women of a certain age who faithfully followed the New England Patriots. In this telling, they're Maura (Moreno), a recent widow with a new admirer (Glynn Turman); Trish (Fonda), a former car-commercial spokesmodel who's turned to writing steamy football-themed romance novels; Betty (Field), a retired MIT math professor whose still-working husband (Bob Balaban) is overly dependent on her; and ringleader Lou (Tomlin), who accidentally became a Brady fan while enduring chemotherapy treatments 16 years before. (She seems fine now, although a daughter played by Sara Gilbert keeps calling to check on her health.)
Three of the women are over 80, while Betty keeps reminding everyone she's just 75. The junior (and least glamorous) member of the quartet even alters the "80" on one of the matching No. 12 jerseys the pals all wear.
Lou is motivated to plan a trip to Houston for the epochal 2017 Super Bowl when a Brady bobblehead briefly comes to life and gives her a wink. (It's the first of several amiable cameos for the quarterback, who's one of the movie's producers.) She, Trish and Betty emancipate Maura from her senior-living facility, and they all head to Texas. The women prove to be a sensation in Houston, where they swagger to a score heavy on 1970s-style funk by the likes of Kool & the Gang, Hot Chocolate and Con Funk Shun.
Screenwriters Emily Halpern and Sarah Haskins ("Booksmart") place predictable roadblocks in their path, but the Brady super fans' trip plays as a series of triumphs. Ultimately, the women insist on a pivotal role in the outcome of the big game, which is condensed into a few highlights of official NFL footage.
But before that, Maura reveals herself as a gambling genius, Betty prevails in a hot-wings-eating contest hosted by Guy Fieri, Trish enthralls a new beau (Harry Hamlin) and fans of her books, and all earn cheers while impersonating dancers in a halftime show whose choreographer is played by Billy Porter. (A young woman says their moves are "amazing," just in case anybody in the audience doesn't realize they're supposed to be in awe of these ladies.)
First-time director Kyle Marvin maintains a speedy pace, sometimes shortchanging a gag in his haste to get to the next one. When most of the women unwittingly get stoned on marijuana edibles at a supposedly wild party, their buzz fades as soon as the script finds a new set of complications. Plotlines diverge and intersect and are regularly interrupted by the commentary of two Boston-based sports-radio commentators (Alex Moffat and Rob Corddry, who put more muscle into their Beantown accents than do most of the performers).
A parallel could be drawn between Brady's unusually lengthy run as a player and the enduring careers of Field, Fonda, Moreno and Tomlin. But that may be too complicated a message for a movie in which even the smart one – ex-MIT prof Betty – triumphs not with her brain but with her stomach. "80 for Brady" suggests a simpler moral: Golden girls just wanna have fun.
Local journalism is essential.
Give directly to The Spokesman-Review's Northwest Passages community forums series -- which helps to offset the costs of several reporter and editor positions at the newspaper -- by using the easy options below. Gifts processed in this system are not tax deductible, but are predominately used to help meet the local financial requirements needed to receive national matching-grant funds.
Subscribe to the Spokane7 email newsletter
Get the day's top entertainment headlines delivered to your inbox every morning.
---