Sports > High school sports
"Pretty good duo": St. George's Margreit Galow, Liberty's Ellie Denny to go from 2B rivals to teammates in college
Feb. 1, 2023 Updated Wed., Feb. 1, 2023 at 9:25 p.m.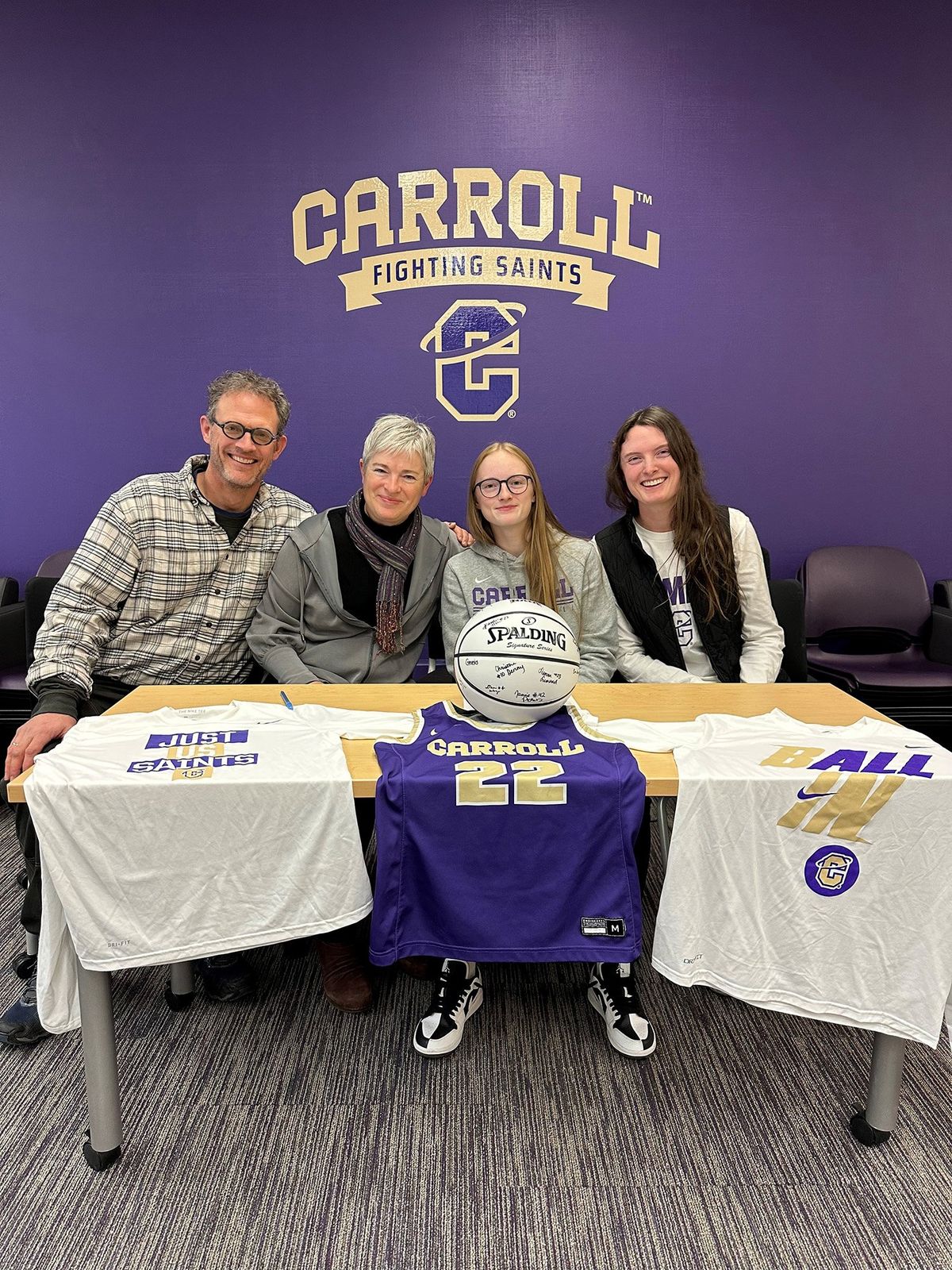 St. George's senior Margreit Galow (center) signed to play basketball with Carroll College last week. (Courtesy/St.George's athletics)
Margreit Galow and Ellie Denny have been playing against each other since they were little kids. Soon, they will play as teammates in college.
But there is still the matter of the District 7 2B championship to settle.
Galow leads St. George's (14-5, 12-1), first in the Northeast 2B North and ranked No. 9 in this week's girls 2B state media poll. Denny is the catalyst for Liberty (10-9, 8-5), second in the South.
St. George's won the matchup between the schools earlier this season, a 53-48 decision in which both players led their teams with 19 points apiece.
Galow recently committed to Carroll College in Helena. Denny knew last spring she would also sign with the Saints.
Both have familial ties to the program.
Denny's sister Christine played at Carroll from 2017-18 through the 2021-22 season, averaging double figures her final three seasons and earning All-America honors. Galow's sister Alyson graduated from Carroll and was the women's team manager for four years.
"My sister going there – I'm six years younger – I got to see her there for quite a while," Galow said. "So, I got a good perspective of what that was like.
"I was able to learn more about Carroll, how the school was academically, too. By seeing the basketball program and how successful coach (Rachelle) Sayers has it, I went to a couple camps and just kind of fell in love from there."
"It's something she's been working real hard for," St. George's coach Brad Kirsch said. "She's wanted to go to Carroll since she was a little kid."
"It has a very at-home feeling," Denny said. "The girls and coach Sayers are all awesome.
"I'm really excited to follow in Christine's shoes. I get to wear the same number as her. I have ever since I was little. She's like my idol. To continue that legacy at Carroll is something I think that's special and it'll be super fun to get to be able to play there."
"What I see in (Denny) is a tremendous work ethic," Liberty coach Dave Baird said. "She's such a smart basketball player. I wish we had another ball handler so I could play her off the ball.
"She's definitely put the work in. She has a huge drive. And just a great kid."
Denny's older brother Jon played football at Idaho and younger sister Kendall is a sophomore who starts alongside her big sister at Liberty.
"Athletics are pretty big in our family," Denny said. "I think it's really cool to come from that and to continue that."
"She has an awful lot to look up to and she just fits the same mold," Baird said.
Galow has always been a keen 3-point shooter. She has spent much of the past year in the weight room, preparing for the physical nature of the game at the next level.
"In order for me to play collegiate basketball, I thought I needed to expand my game," she said. "I pushed myself to be in the weight room for the summer and putting up shots every day and be a player known not only for just being a shooter."
"Sophomore year you could see real glimpses of her being what she has kind of turned into," Kirsch said. "At our level, she's got to be one of the best shooters in the area. She can knock it down from 3."
The pair have battled throughout youth, club and high school and are looking forward to playing on the same side at last.
"It's fun because we know of each other, but we haven't played with each other," Galow said. "Playing against her has been fun because she's tough, and playing with her next season is super exciting. I think we could be a pretty good duo."
"Growing up, we've always been pretty good competitors against each other," Denny said. "We would compete at Carroll camps, too. It's kind of cool to be able to have that competitor growing up and now get to be a teammate."
It's exciting when B players reach the next level – to have two from the same league join the same college is rare.
"There's a lot of good hoops (in 2B), just smaller school sizes," Kirsch said.
St. George's and Liberty are on the same side of the bracket for the District 7 2B tournament, which starts Monday at West Valley. Should they both win opening-round games, they would meet in a semifinal on Wednesday.
"Hopefully, we'll get to see them again in districts," Denny said.
Other area signings
Gonzaga Prep: Alex Cook, Grand Canyon golf; Luke Decker, Carroll College cross country; Taliah Lee, University of Providence-Great Falls basketball.
Mead: Teyonna Hoard, Corbin University basketball; Katie Gilb, Carroll College soccer.
Ridgeline: Landon Coddington, Saint Martin's University soccer; Cameron Kreider, Saint Martin's soccer; Alivia Bruno, Concordia University-Irvine, cross country, track.
Local journalism is essential.
Give directly to The Spokesman-Review's Northwest Passages community forums series -- which helps to offset the costs of several reporter and editor positions at the newspaper -- by using the easy options below. Gifts processed in this system are not tax deductible, but are predominately used to help meet the local financial requirements needed to receive national matching-grant funds.
Subscribe to the sports newsletter
Get the day's top sports headlines and breaking news delivered to your inbox by subscribing here.
---