Sports > NCAA basketball
Gonzaga women's 14-game win streak snapped at Santa Clara 77-72
Feb. 2, 2023 Updated Thu., Feb. 2, 2023 at 9:35 p.m.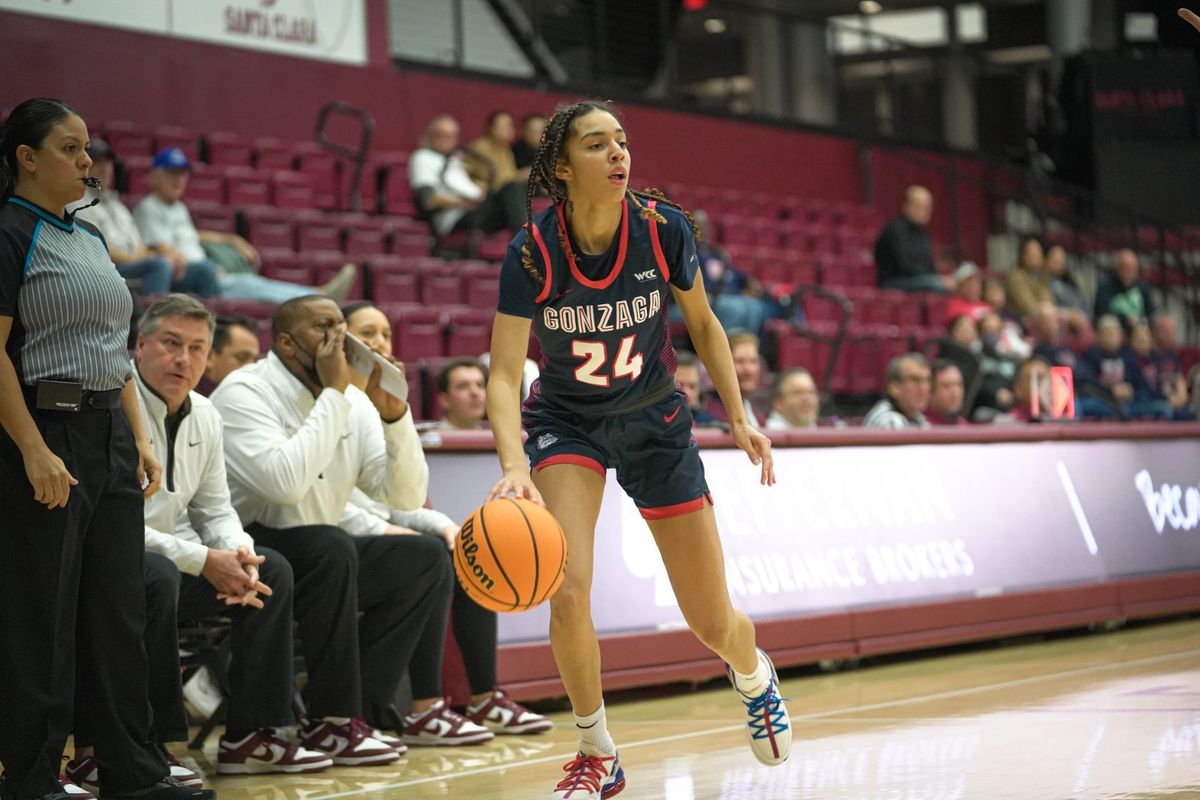 Gonzaga guard McKayla Williams looks for an opening Thursday during WCC play at Santa Clara. (Courtesy of GU Athletics)
The Gonzaga women couldn't overcome a rough third quarter Thursday night and suffered their first West Coast Conference defeat of the season, a 77-72 upset at Santa Clara.
The defeat against the WCC's seventh-place team not only ended the 17th-ranked Zags' 14-game winning streak but also dropped them in a tie for first place with Portland.
It was Santa Clara's first win over the Zags since 2016, a span of 14 games, and left GU at 21-3 overall and 11-1 in the WCC.
The Broncos earned it by shooting 53% from the field and by making 10 of 20 shots from long range.
"Santa Clara outplayed us today," Gonzaga coach Lisa Fortier said. "We didn't defend the paint or the 3-point line very well."
After starting slowly in home wins last week over Loyola Marymount and Pepperdine, the Zags completely flipped the script at Santa Clara.
Eight minutes into the game, Gonzaga was up 22-8 after making eight of its first 11 shots.
But Santa Clara (14-10, 5-6) began to find the range from beyond the arc, shot its way back into the game and trailed just 35-34 at halftime.
The Broncos' momentum carried into the third quarter, as they outscored the Zags 20-10.
Santa Clara took the lead – for good, as it turned out – on a layup by Tess Heal barely a minute into the second half.
The lead grew to 14 early in the fourth quarter before a furious GU rally fell short.
Trailing by eight with 3 minutes, 43 seconds left, the Zags got a short jumper from Yvonne Ejim and a 3-pointer from Kaylynne Truong to get within 69-66 with 1:38 left.
They also held the Broncos without a field goal in the last 3 ½ minutes, but Santa Clara made eight of its last 10 foul shots.
GU had one last chance with 10 seconds left. Trailing 75-72, they got the ball to Brynna Maxwell, but her 3-point shot was blocked and the ball snagged by Heal with 2 seconds left.
Heal made two foul shots to clinch the win.
The Zags were without starting forward Eliza Hollingsworth, who suffered a concussion last week against LMU and didn't make the trip to the Bay Area. Fortier didn't use that as an excuse.
"It didn't look like we had a lot of fire, besides the beginning and the end," Fortier said. "That middle stretch, we were lacking intensity on offense and defense."
Ejim finished with 26 points and seven rebounds, both game highs, while Truong added 16 points while playing 37 minutes. Maxwell had 12 points and went 4 for 6 on 3-pointers.
The Zags are at USF on Saturday. Tipoff is at 2 p.m.
Local journalism is essential.
Give directly to The Spokesman-Review's Northwest Passages community forums series -- which helps to offset the costs of several reporter and editor positions at the newspaper -- by using the easy options below. Gifts processed in this system are not tax deductible, but are predominately used to help meet the local financial requirements needed to receive national matching-grant funds.
Subscribe to the sports newsletter
Get the day's top sports headlines and breaking news delivered to your inbox by subscribing here.
---