Sports > High school sports
"Stinky Sneaker": Autumn Agnew, experienced Central Valley girls edge youthful University; Gabe Heimbigner sparks Titans boys
Feb. 2, 2023 Updated Thu., Feb. 2, 2023 at 11:28 p.m.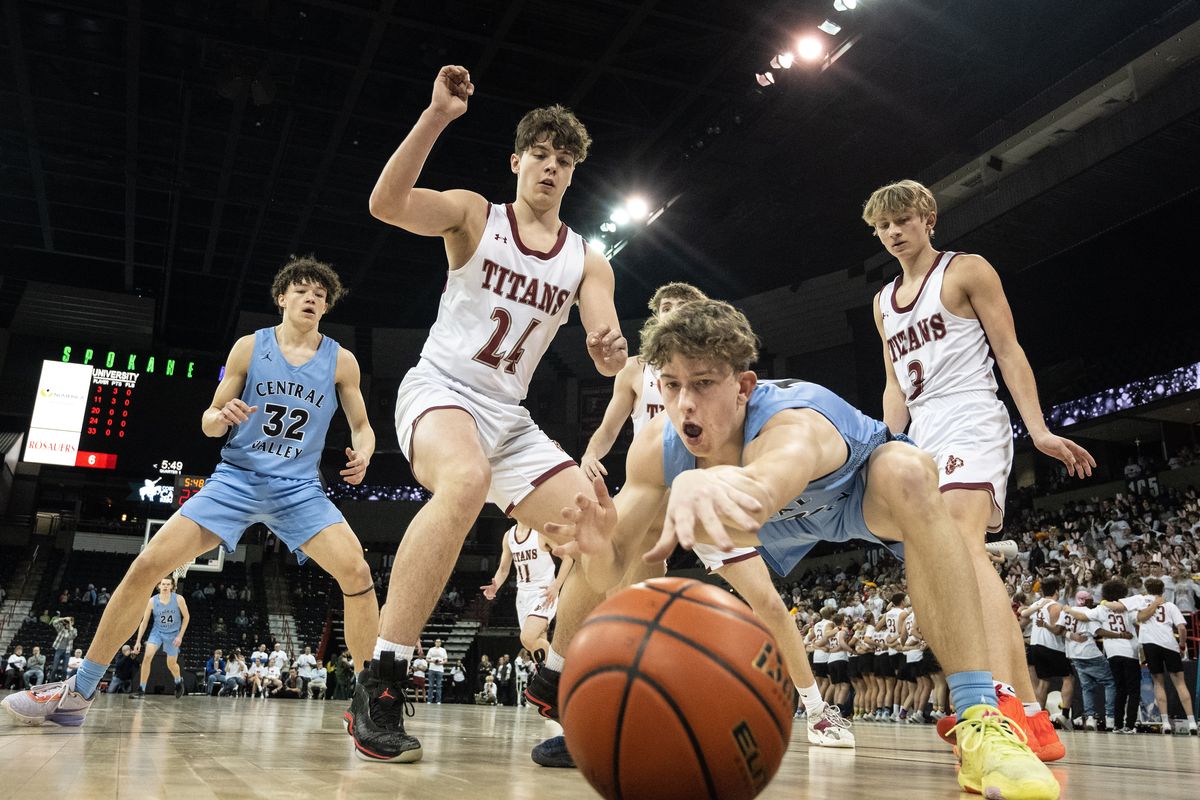 Central Valley guard Brennan Brulotte chases a loose ball out of bounds as University's defense watches during the rivalry game Thursday at the Arena. (Colin Mulvany/The Spokesman-Review)
University girls coach Jasmine Redmon carries three sophomores and three freshmen on her team this season with one lone senior – leading scorer Eliannah Ramirez.
Two of the ninth-graders and a sophomore were among the starting five on Thursday night in the Titans' "Stinky Sneaker" rivalry game at Spokane Arena.
They are being asked to grow up quickly in the competitive upper division of the Greater Spokane League.
Against a slightly more-experienced Central Valley squad, which resides near the top of the league 4A/3A standings, they looked neither overmatched by the opponent nor intimidated by the atmosphere in the Arena.
But there's something to be said for experience.
Central Valley's girls outlasted the Titans in the early game, U-Hi's boys took the nightcap and the Bears ended up with the Stinky Sneaker spirit award for the sixth year in a row.
Senior Autumn Agnew scored 20 points – 13 in the fourth quarter, fellow senior Paige Jackson added a couple of big baskets and solid defense in the quarter and the Bears (14-5) held off the young Titans (9-10) 54-51 in the girls nonleague matchup.
"After their win over Mt. Spokane (on Tuesday), we knew we had to come out hard for this game," Agnew said. "We knew it would be a different game than our first one."
"The Stinky Sneaker always adds a fun element to your game plan, the loudness, the backdrop," Central Valley coach Felice Orrell said. "I was proud of our kids that kind of rose above some of that in the first half."
"I think last year, Stinky Sneaker made a big difference for my now sophomores, so they were ready to play," University coach Jazmine Redmon said. "They knew what to expect. At the end of the day, it's just another basketball game is what I kept telling them."
Ramirez led U-Hi with 16 points, and junior Julianna Jeross added 11.
"She's such a leader. She's a great senior," Redmon said of Ramirez. "Everything that we've worked up to this point she is improving, so it's really nice to see and she's playing so hard."
CV led by one point entering the fourth quarter. Agnew scored in the lane, then hit a corner 3 to make it a four-point game. After a pair of Ramirez free throws, sophomore Eden Sander (13 points) converted a three-point play and CV went up 39-34.
"When we can get (Sander) downhill, she's deadly," Orrell said.
"I played in the Stinky Sneaker last year," Sander said. "I kind of knew what to expect."
Jackson, CV's 6-foot-2 senior post, used her size advantage to hit a couple from the low post, but the Titans were in the bonus early and hit 10-of-10 free throws to make it a three-point game with 90 seconds left.
Orrell praised Jackson.
"She was super solid tonight," Orrell said. "We were kind of leaving her in down there on defense to kind of clog up the middle intentionally and make someone else beat us, because we know Ramirez is going to get to the line – try to attack that middle."
Jeross hit a floater to get U-Hi within one with 42 seconds left, but Agnew made both ends of a 1-and-1 to restore a three-point advantage.
After a U-Hi miss, Agnew was fouled and converted one more from the line.
Jeross hit a long 3 with 1.9 seconds left, but the Titans couldn't get a turnover and Agnew made two more free throws to seal it.
"We weren't going to lose," Agnew said. "We said in the huddle, 'This game was ours. Play the game to win, not to not lose.' "
"She is our best free-throw shooter," Orrell said of her senior. "We went to her on purpose, and she did her job – knocked 'em down."
Ramirez scored eight points in the first half, and the Titans led 17-15 at intermission. 
CV's Gabby Wilson hit a 3-pointer from the wing out of the break, then Sander scored on a couple of short jumpers for a 7-0 run and 22-17 lead.
Ramirez nailed a 3 with 16 seconds left and CV led 31-30 entering the fourth quarter.
Boys
University 72, Central Valley 52: Shane Skidmore scored 15 points, Gabe Heimbigner added 13 and the Titans (14-5) topped the Bears (2-17) in the late game.
Trace Chalich led CV with 25 points.
"I think we wore them down a little bit with our size," U-Hi coach Garrick Phillips said. "I give (CV coach) Mike (Laws) a lot of credit. He's doing a great job with those guys. They are playing really, really hard.
"I know they've had kind of a tough season. But their effort was awesome. And I give them a lot of credit for being that close."
Heimbigner had three 3s in the first quarter and the Titans raced out to a 24-12 lead. Chalich scored eight in the second quarter, and U-Hi led by seven at halftime.
Heimbigner nailed a long 3 midway through the third quarter and was fouled. He converted for a 48-35 lead.
CV was held to nine points in the fourth.
"(Heimbigner) was good defensively, too," Phillips said. "His length is a problem. (CV) had trouble trying to do different things to match up with us between him and Skidmore and (Ethan) Cox."
Local journalism is essential.
Give directly to The Spokesman-Review's Northwest Passages community forums series -- which helps to offset the costs of several reporter and editor positions at the newspaper -- by using the easy options below. Gifts processed in this system are not tax deductible, but are predominately used to help meet the local financial requirements needed to receive national matching-grant funds.
Subscribe to the sports newsletter
Get the day's top sports headlines and breaking news delivered to your inbox by subscribing here.
---