Sports > Gonzaga basketball
Former Gonzaga big man Chet Holmgren seeks a silver lining in a lost NBA rookie season
Feb. 4, 2023 Updated Sat., Feb. 4, 2023 at 11:07 p.m.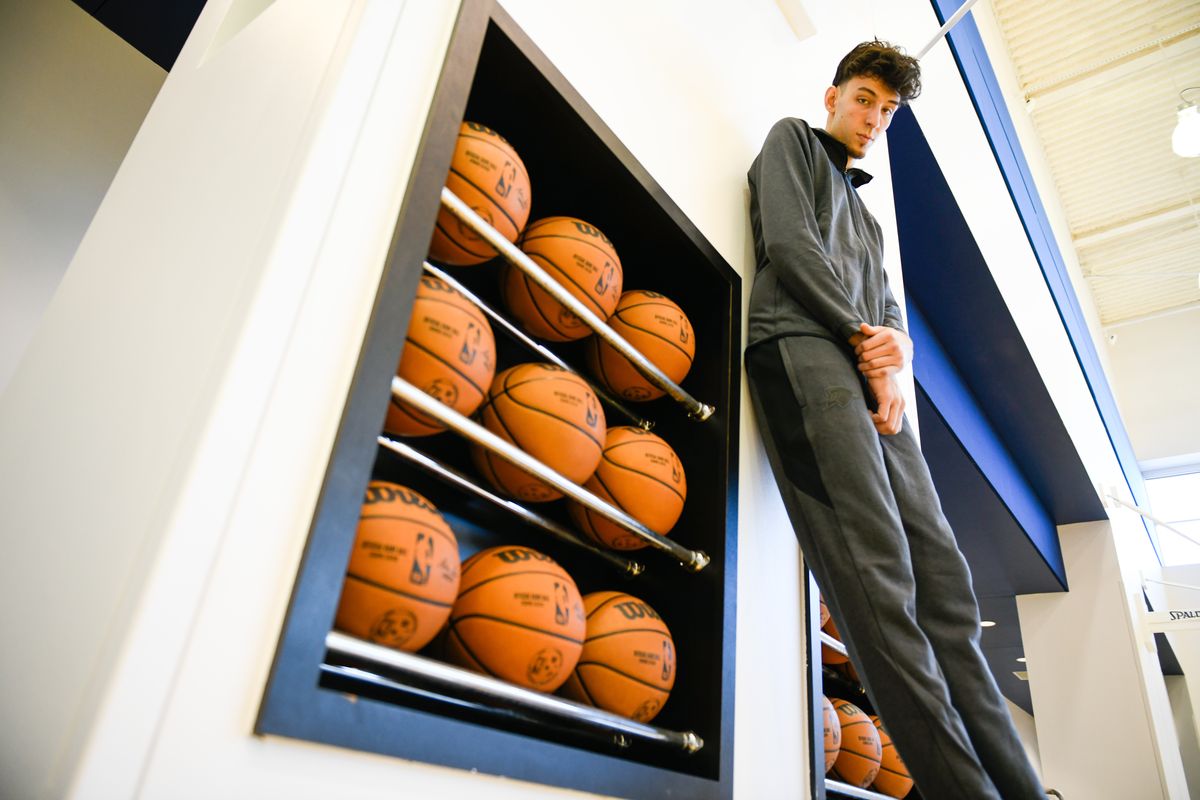 Chet Holmgren, whose rookie NBA season has been lost to injury, at the Thunder's practice facility in Oklahoma City on Jan. 8. For Holmgren, being sidelined has posed a novel physical and a mental challenge. "I could let this be a blessing or a curse, you know?" he said. "So I got to figure out how to turn it into a blessing." (Michael Noble Jr./The New York Times)
Chet Holmgren didn't feel like he'd arrived in the NBA after the Oklahoma City Thunder selected him with the No. 2 overall pick in the 2022 draft. And he didn't feel like he'd arrived after starring in the summer league, setting a record with six blocks in his debut. So in the late summer, instead of returning home to spend a few months with friends and family in Minneapolis or moving into his new home in Oklahoma City, Holmgren returned to Los Angeles, where he had trained before the draft.
"I was trying to find every great player I could hoop against," Holmgren said. "Because at the end of the day, if I want to be as good as I'm trying to be, those are the guys I'm going to have to look eye to eye with on a nightly basis for the next 10 seasons. So I was kind of just trying to go down the list."
He found his way into pickup games with Joel Embiid, whose shots he reportedly blocked several times in one session, and with Kevin Durant, who later said that the 7-foot tall Holmgren had a "rare" combination of height and "natural feel for the game" and would "be a problem" for opponents in the NBA. Holmgren also took on DeMar DeRozan; Jayson Tatum, who had just competed in the NBA Finals; and Trae Young.
When he was invited to play in Jamal Crawford's CrawsOver Pro-Am, which also featured LeBron James and 2022 No. 1 pick Paolo Banchero, among others, Holmgren viewed it as a culmination of his personal summer star showcase.
"When there's an opportunity to compete against the best of the best," he said, "it's hard to pass up on that."
But about a minute into the game, as Holmgren was defending James on a fast break, he planted his right foot awkwardly and came up limping. He didn't return to the game, which was eventually canceled because the court was too wet. He traveled to Oklahoma City the next day and was diagnosed with a Lisfranc injury, which affects the ligaments and sometimes the bones of the midfoot. After days of consultations with team doctors and specialists, Holmgren and his family met with his agent, Bill Duffy, and Thunder general manager Sam Presti to decide about surgery and shutting down what was supposed to be his rookie season.
"Chet's immediate reaction was, 'Don't say it out loud. It may be a season-ending injury. Just don't say it out loud,' " his mother, Sarah Harris, said.
Holmgren's arrival in the NBA would have to wait. Instead, he would join a long list of young big men who missed time early in their careers with injury. Some, like Greg Oden, the 2007 No. 1 pick, never lived up to the promise of their draft status. But many others – like Blake Griffin (2009 No. 1 pick, knee injury) or Ben Simmons (2016 No. 1 pick, foot injury) – have gone on to All-Star careers. Embiid, the No. 3 pick in 2014, didn't make his NBA debut for two full seasons after he was drafted – but has since become one of the most dominant centers in the league and a candidate for the MVP Award.
Holmgren, who had surgery and is expected to miss the entire 2022-23 season, initially struggled with second-guessing the decisions that led up to his injury.
"I was questioning everything down to: Why am I playing defense in a pro-am game?" he said. "But at the end of the day, that's just how I play basketball. If I question that, what's the solution next time – don't play defense? I see that as butchering the game of basketball."
To help Holmgren cope, Thunder coach Mark Daigneault gave him a copy of "Man's Search for Meaning." That bestselling 1946 book, written by Viktor Frankl, a Holocaust survivor, emphasizes finding meaning amid suffering.
"This isn't the path we would have chosen," Daigneault said, "and it's not the path he would have chosen, but he'll benefit from the way this is stretching and straining him."
It's hardly the first time that Holmgren has faced an obstruction on his path. For the first half of high school, Holmgren's teams at Minnehaha Academy in Minneapolis played without a home gym after a deadly natural gas explosion on campus. They had T-shirts printed that read, "No gym, no problem." The back half of his high school career and his freshman season at Gonzaga – where he averaged 14.1 points, 9.9 rebounds and nearly four blocks per game – were disrupted by the coronavirus pandemic.
But for Holmgren, being sidelined has posed a novel physical and a mental challenge. He had never been forced to slow down before. Even on the morning of his first surgery, in late August, he was talking on the phone and doing doughnuts on his knee scooter as he waited to head to the hospital. And when he landed back in Oklahoma City after the procedure, he went straight to the team facility.
"I mean, the best way to learn that fire's hot is to get burned," he said. "I don't think anything can replace playing this year. I don't think anybody could convince me of that. But at the end of the day, I could let this be a blessing or a curse, you know? So I got to figure out how to turn it into a blessing, how to make the most out of it."
Off the court, that meant adopting a dog, Drako, and doing charity work, like donating coats to families and hosting a Thanksgiving dinner for dozens of children in foster care.
Although he's not playing with the Thunder, he spends just about every day at the facility, from 8 a.m. to 2 p.m., rehabbing, lifting weights and tweaking his jumper.
"Unless you're Steph Curry," he said, "you can always get better."
He has taken up residency in the film room, hoping to understand how he will fit into this Thunder team a year from now. He has watched the way his teammate Shai Gilgeous-Alexander, 24, endures the ups and downs of leading a rebuilding roster that has outperformed expectations but still finds itself in the bottom half of the Western Conference standings.
Holmgren meets with Daigneault each week for at least half an hour, when they talk about everything from philosophy to fourth-quarter situational strategy. Since Holmgren's second surgery in December – a planned procedure to remove hardware from the first – Daigneault has noticed a new spark in him.
"The more he's exposed to the competitive experience, whether it's shooting in pregame warmups or being on the bench for lineup announcements," Daigneault said. "When you watch him in those situations, you can tell he's ready to run through a wall – but he can't, not yet."
Per team policy, the Thunder declined to make any team medical personnel available for interviews. But Holmgren said that he had put on muscle and weight since the summer and that he was on schedule to return to play next season.
"It's naive to think that he'll step back on the court on Day One and be back to 100%," said Brian Sutterer, a sports medicine doctor in Missouri who has not treated Holmgren but has discussed Holmgren's injury on his YouTube channel. "His foot might feel stiffer at times. He might not have quite the range of motion. And he has to learn to trust it again after a fluke injury like what he had. But there's no reason to think he won't be able to return to a high level of play and enjoy a long career."
Fortunately for Holmgren, all the goals he set for himself before this season are still possible in 2023-24. He will still be eligible for the Rookie of the Year Award, and he was enticed by the potential for competing against another skinny, skilled 7-footer, Victor Wembanyama. But more than that, he was excited about helping a young Thunder roster coalesce into a championship-caliber team.
"We're winning games at the buzzer; we're losing games at the buzzer," he said. "We're winning games by four points; we're losing games by four points. It's not like we're losing every game by 30 points. I don't have to try to come in and be Superman. I just have to figure out how to help make this team five points better and then keep building from there."
Local journalism is essential.
Give directly to The Spokesman-Review's Northwest Passages community forums series -- which helps to offset the costs of several reporter and editor positions at the newspaper -- by using the easy options below. Gifts processed in this system are not tax deductible, but are predominately used to help meet the local financial requirements needed to receive national matching-grant funds.
Follow along with the Zags
Subscribe to our Gonzaga Basketball newsletter to stay up with the latest news.
---