News > Travel
In New Zealand, sauvignon wishes and sashimi dreams
Sat., Feb. 4, 2023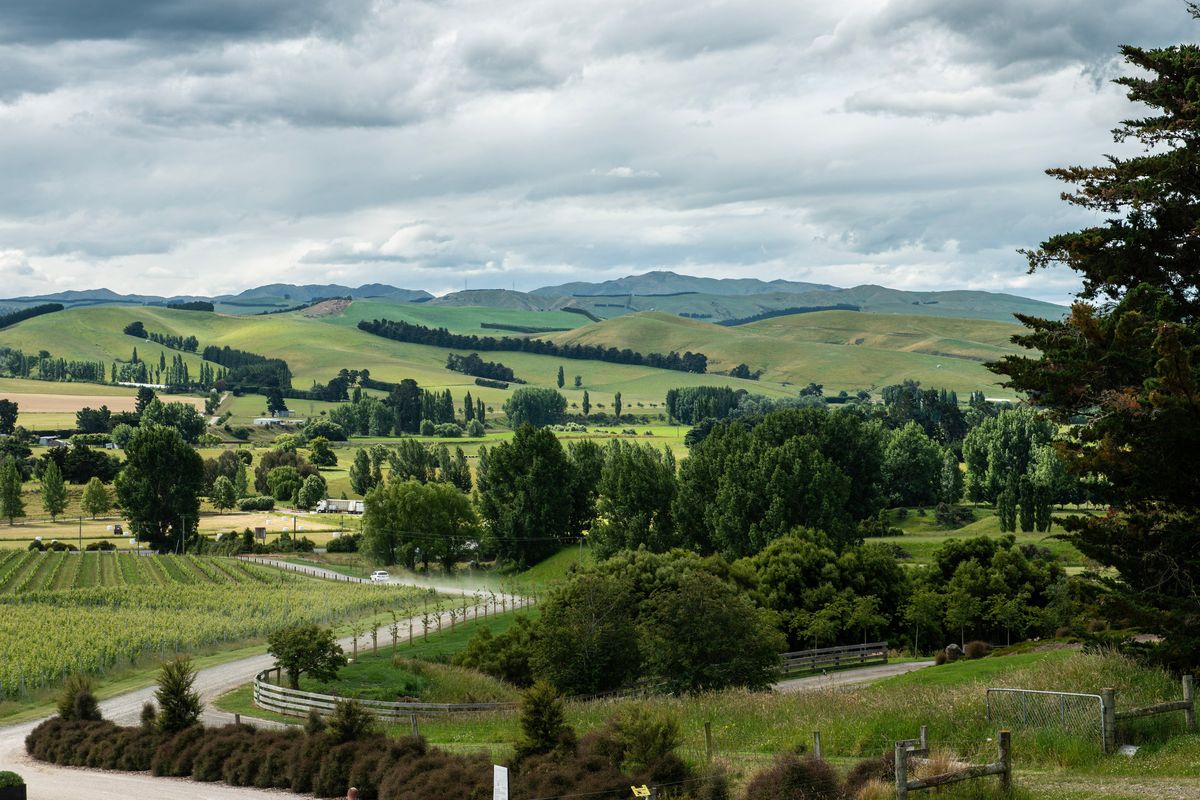 The Waipara Valley in New Zealand, December 2022. A road trip in the country's South Island offered perfect wines, stunning views, intimate restaurants and the chance to make a pilgrimage to a salmon Shangri-La. (Susan Wright/New York Times)
For my first night in New Zealand's South Island, I had booked an Airbnb in Hawkesbury, a hamlet in the middle of the country's most important wine region, Marlborough, famous for the huge quantities of sauvignon blanc it produces. The single-lane dirt road to my lodging snaked past some rusty vehicles in the middle of a working farm, dipped down into a valley, ascended and then circled a steep hill, finally revealing a small, perfect cabin nestled on a gentle slope. The only things visible from my home for the night were rolling hills blanketed in vivid green, backed by rocky mountains towering over them.
New Zealand had just reopened to the world, and I was on a road trip. Unlike the American West, where a road trip usually means long, high-mileage days crossing vast distances, New Zealand's wild and rustic South Island offers comparable natural grandeur with much less driving. My night in Hawkesbury would be followed by a day at beachside Kaikoura. After a couple of nights in Christchurch, the largest city in the south, I would journey to the highest mountain range in the land. My route, stretching 375 miles from the far north to the deep south, offered easy daily drives while also managing to cover everything from wine tasting to seal watching, shopping in cities to hiking on glaciers.
My ultimate destination was the Mount Cook Alpine Salmon shop, on the shores of Lake Pukaki, in the Southern Alps. Several weeks before, a sushi chef in Sydney had served me some of the best salmon I had ever had – fresh and full of flavor. In a wistful tone, he told me that it had come from the Alpine Salmon shop. "It's the most beautiful place I've ever been. I've been dreaming about going back for all of COVID times," he said.
My primary route would be State Highway 1, a two-lane track that would take me all the way to Christchurch. On my first day of serious driving, the road wound its way out of wine country and climbed over a set of mountain passes, and then, suddenly and surprisingly, the Pacific Ocean stretched before me. The highway descended to the sea and I saw gray waves pounding the craggy coastline. My destination was Kaikoura, which means "eat crayfish" in the Maori language. Its main street was sleepy – a beach town hibernating in the offseason.
I followed the street to the end, parked and walked along a footpath to the shore, site of Kaikoura's resident seal colony. On the jagged rocks before me, seals with coats so slick they looked as if they had been recently oiled were squawking at one another and waddling to the water's edge.
I ate at the oldest pub in Kaikoura, the Pier Hotel, where the server poured me a pint of beer then came at me with numbers: "We have a 600-gram crayfish; we've got 800 grams. We have bigger ones for more people." I opted for 600 grams (about 1.3 pounds), and what came out was what North Americans would call a lobster, slightly different in appearance, but similar in taste.
That night I slept just outside Kaikoura at the Glenburn Coastal Retreat, made up of three large, comfortable, modern homes built on a bluff overlooking the ocean.
Riesling and resilience
As the road wound south toward Christchurch, wineries dominated the green, rolling hills of the Waipara Valley, one of New Zealand's newest wine regions. Waipara first saw vineyards planted in the late 1970s and early 1980s, but started to flourish as a commercial winemaking region only in the past decade.
My lunch destination was Black Estate, which had been recommended to me by a retired winemaker, Guy Porter, of Bellbird Spring wines. A striking, dark-colored longhouse, modeled on local farming structures, contained the estate's tasting room, living quarters and restaurant, with simple wooden tables overlooking the biodynamically farmed vineyards. I ate a superb mussels escabeche, in which the shellfish had been slightly pickled to complement its briny essence, washed down with a bone-dry riesling.
That night I made it to Christchurch, most famous in recent times for a devastating earthquake that struck in 2011, killing 185 people and leaving a large part of the city uninhabitable. The next morning, I made my way to the Transitional Cathedral, designed by Japanese architect Shigeru Ban. It is also known as the Cardboard Cathedral because of the way Ban used that material to construct an interim structure after the city's original Anglican cathedral was rendered unsafe by the earthquake. Nine years after it was built, his cardboard structure still functions as the city's Anglican cathedral; the original stone structure is set to reopen in 2027 after extensive renovations.
Inside, I talked to a tour guide who walked me around the A-frame building, explaining the construction as we looked back from the altar toward colorful stained-glass windows that ascended from the entrance to the apex of the roof. The bones of the building were long cardboard rods, sheathed in waterproof, flame-retardant material so they could last for decades.
Our conversation shifted from the earthquake and its aftermath to a more recent Christchurch tragedy, the 2019 mass shootings at two local mosques, which killed 51 worshippers. "The day after those shootings, our bishop said to me, 'Maybe we should close for safety,'" the guide said. "But we had to stay open. That day we had Muslims, Christians, everyone come here to talk, to cry, to hug, to come together. Ever since the earthquake, this building has been central to Christchurch."
Chef, server, forager, farmer
Lyttelton, a coastal town outside the city, is home to a restaurant called Mapu, which came recommended by the owner of La Fuente, my favorite wine bar in Auckland. The next night, Mapu's chef, Giulio Sturla, ushered me into one of the smallest restaurant spaces I had ever seen, less than 400 square feet for both the kitchen and a six-seat dining counter. I sat next to two other diners and scanned the room, searching for the server, the bartender or the maître d'.
Sturla spied me looking around and explained that he did everything at this restaurant himself: Not only was he sommelier, prep cook and sous chef, he was also forager and farmer, with nearby plots that supplied much of the restaurant's produce. He serves just one seating a night.
"When you only serve six people a night, then you can grow a lot more of the food you serve," he said. "And you can do everything exactly the way you want."
The nine-course meal was not just dinner; it was a conversation, a demonstration and unlike any other restaurant experience I had ever had. Mapu is not only tiny, but also supremely interactive, constantly changing and intensely creative.
Before serving the fifth course, a plate of fire-roasted eggplant with black garlic and shallot sauce, pureed Jerusalem artichokes blended into homemade buttermilk and a bright green thyme oil topped with walnuts, Sturla demonstrated how he hand-peels the membranes from each walnut kernel in order to get a less bitter flavor. (It takes him about half an hour per kernel.)
Sturla originally ran a much bigger, award-winning restaurant next door, for which the Mapu space had been the test kitchen. "I wanted to return to doing what I love – being a chef," he said, "and stop having to be a manager, a businessman, a marketer."
This possibility of making a restaurant so small scale, so connected to the sea and the land, and so personal, all during the pandemic, seemed hard to imagine in any place other than New Zealand. The country was among the most isolated nations on Earth during the COVID outbreak, almost completely cut off from the rest of the world for two years.
Because of its isolation, New Zealand was able to stay out of lockdown for long stretches of the pandemic. Businesses like Sturla's, with an intimate, indoor space, were able to start up, grow and flourish here, even in the face of COVID. To me there was something distinctively Kiwi about the intimacy of his place.
Climbing to nirvana
For the final leg of my journey, I carefully scanned the weather reports, since I had to cross a high mountain pass that closes frequently because of snow. The morning promised a clear sky, bright sun and little precipitation, so I hit the road early for the three-hour drive to the Mount Cook Alpine Salmon shop, the end of my pilgrimage.
The highest-altitude salmon farm in the world, Alpine Salmon features fast-flowing water infused with oxygen, which it says ensures that the fish are well exercised and need no vaccines, pesticides or antibiotics and minimal human intervention to thrive.
After a couple of hours crossing through midlevel plains, the road ascended to a mountain plateau. The grass thinned, and barren, rocky land surrounded me. I skirted Lake Tekapo, then drove alongside Lake Pukaki. Turquoise water seemed to reach the distant horizon, with clouds obscuring the peaks behind the lake, all of this reflected in its depths.
Finally, I pulled up to the Mount Cook Alpine Salmon shop, which looked like a national park concession stand – a step up from a 7-Eleven, but a small step. Inside, the plastic containers of salmon sashimi in refrigerated cases didn't help. Omakase this was not. But I knew better than to heed these outward signs.
Outside, I sat at a wooden picnic table, opened up my salmon, soy sauce, and wasabi, chopsticks at the ready, and took a bite. I couldn't help but be influenced by what 1960s hallucinogenic-drug prophets once called the set and the setting: a spectacular journey to reach this glorified convenience store with its astounding surroundings. The salmon tasted intensely fatty and strikingly fresh, as if it had just leapt out of the water, encountered a sharp sashimi knife midair, then landed directly in my plastic container.
Was it worth the journey?
On my last visit to New Zealand, in 2013, I thought this country was beautiful, but perhaps not exciting. In 2022, New Zealand's tranquil beauty seemed not commonplace, but revelatory. I'll take salmon sashimi, or whatever other pretext I can muster, to experience a place like it.
This article originally appeared in The New York Times.
Local journalism is essential.
Give directly to The Spokesman-Review's Northwest Passages community forums series -- which helps to offset the costs of several reporter and editor positions at the newspaper -- by using the easy options below. Gifts processed in this system are not tax deductible, but are predominately used to help meet the local financial requirements needed to receive national matching-grant funds.
Subscribe now to get breaking news alerts in your email inbox
Get breaking news delivered to your inbox as it happens.
---