Sports > Gonzaga women
No. 17 Gonzaga women recover from loss with 78-56 rout of San Francisco
Feb. 4, 2023 Updated Sat., Feb. 4, 2023 at 6:31 p.m.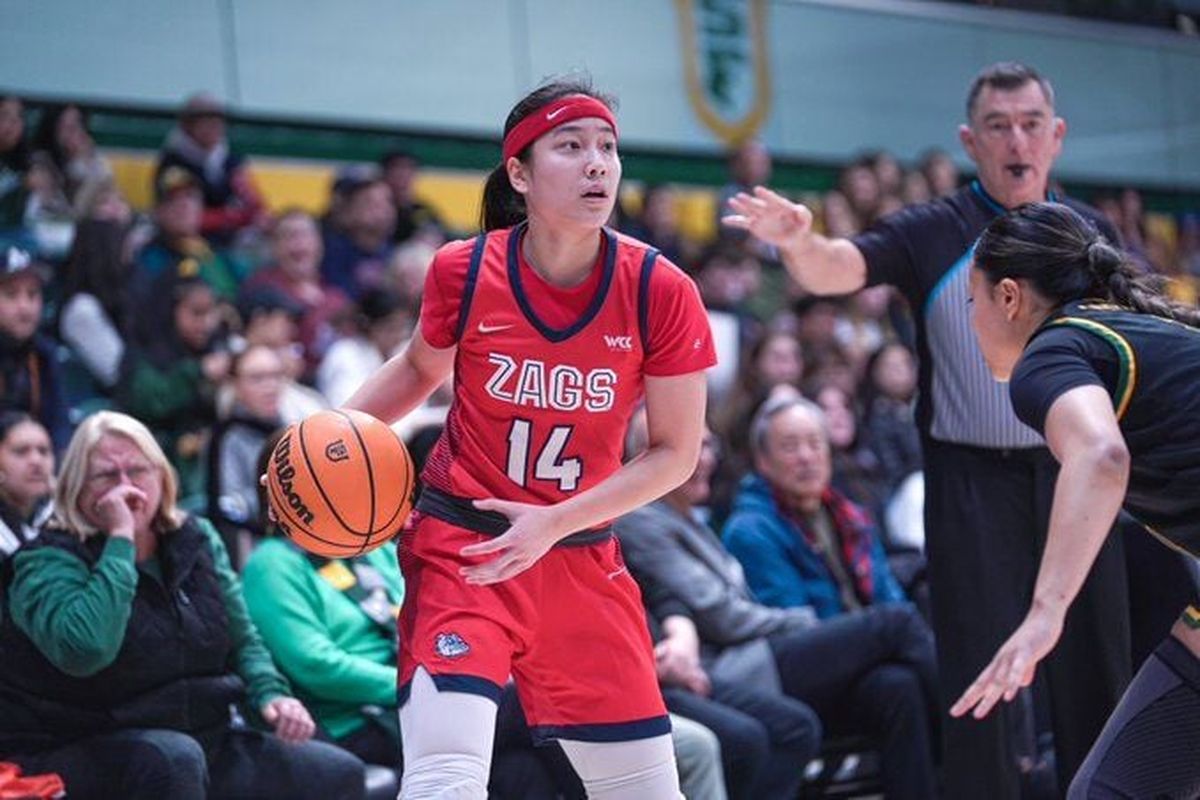 Gonzaga guard Kaylynn Truong looks to pass against the San Francisco Dons on Saturday in San Francisco, California. (Courtesy Gonzaga Athletics)
Bouncing back in emphatic fashion, the Gonzaga women used a career day from Kaylynne Truong to beat San Francisco 78-56 on Saturday afternoon.
Truong made seven 3-pointers on the way to a career-best 27 points to keep the 17th-ranked Zags in a first-place tie atop the West Coast Conference with Portland.
The Zags and Pilots will meet next weekend in Spokane with lot at stake, but the Zags preferred to savor this one for a while.
"This team has proven over and over again that we can play at the highest level, and today showed it," said Truong, who also had five assists and five rebounds.
After their 14-game winning streak was broken Thursday at Santa Clara, the Zags "talked about playing as hard as we could," coach Lisa Fortier said.
"We are such a finesse team, that our team relies on that," Fortier said. "You have to meet their intensity or exceed it."
Gonzaga did so from the opening to improve to 22-3 overall and 12-1 in the WCC.
As they did at Santa Clara, the Zags got off to another fast start. Truong hit four 3-pointers in the first quarter, and Yvonn Ejim hit a half-court shot to give GU a 23-17 lead after one quarter.
The lead grew to 28-15 on a transition 3-pointer from McKayla Williams. That forced the second timeout of the half from USF coach Molly Goodenbour.
USF (15-9, 5-7) trailed only 36-27 at halftime, but GU came out strong again in the third quarter.
A turnover by USF leading scorer Ioanna Krimili led to a transition 3-pointer from Brynna Maxwell; seconds later, GU cashed in on another bad pass to grab a 48-32 advantage.
The Zags led 61-44 going into the fourth quarter, then scored the first five points to all but put the game away.
Krimili, who came in averaging 17 points a game, was held to nine. The Zags also had a 36-25 advantage on the boards and held the Dons to 36% shooting.
"Defensive intensity, that was huge," Fortier said.
"We had to defend the 3 and the drive to the basket and we didn't let them have anything easy."
Truong made life rough on the Dons with her long-range shooting. Making four of her first five 3-pointers, she had 12 points after one quarter.
Truong finished 10 for 20 from the field and 7 for 13 from long range to beat her previous career high of 26 points at Pepperdine on Dec. 29.
"I thought the game went really, really well for us, especially coming off Santa Clara," Truong said.
The Bulldogs shot 47% from the field and 54% from behind the arc. McKayla Williams was 3 for 4 from long range to finish with 17 points, and Ejim had 16 points and a game-high nine rebounds.
"I'm just very proud of this team," Truong said.
Gonzaga is tied atop the WCC with the Pilots, who won 80-68 at Santa Clara, and is four games ahead of San Diego and BYU with five games to go in its bid to secure a bye into the WCC Tournament semifinals.
Saturday's game against Portland will tip off at 1 p.m.
It will be preceded by the jersey retirement ceremony for former GU star Courtney Vandersloot.
Local journalism is essential.
Give directly to The Spokesman-Review's Northwest Passages community forums series -- which helps to offset the costs of several reporter and editor positions at the newspaper -- by using the easy options below. Gifts processed in this system are not tax deductible, but are predominately used to help meet the local financial requirements needed to receive national matching-grant funds.
Subscribe to the sports newsletter
Get the day's top sports headlines and breaking news delivered to your inbox by subscribing here.
---