News > Home and garden
What, your dog doesn't have her own refrigerator?
Sat., Feb. 4, 2023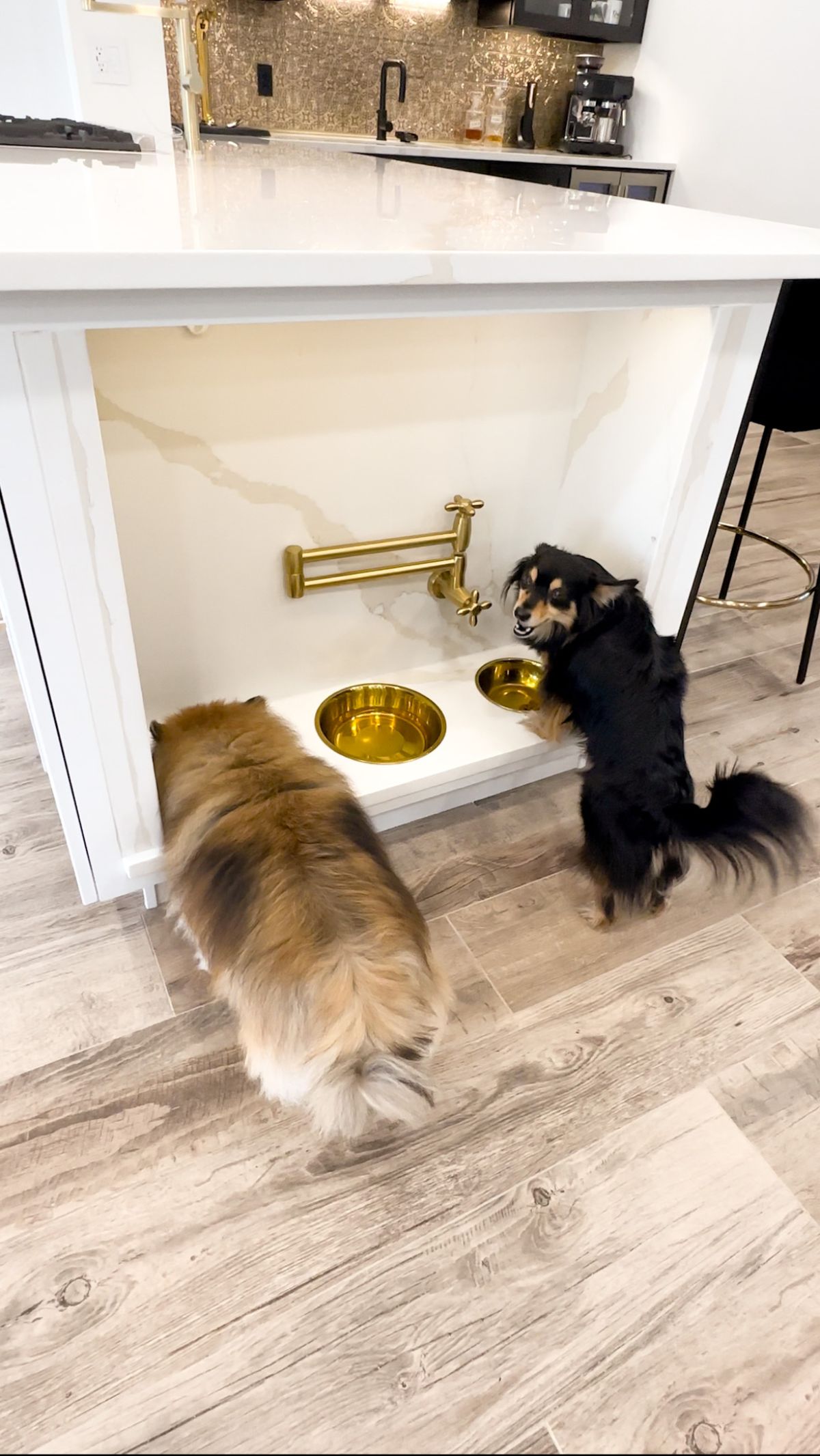 An undated photo via Christine Messier of her dogs Bella, left, and Beau enjoying their feeding station – complete with bowl filler – at their Sarasota, Fla., home. Interior design that caters to animals has become its own niche market with the great pandemic pet boom. (Courtesy CHRISTINE MESSIER)
Derek Walker had never built a playhouse for pets before.
Walker, a woodworker in Nashville, Tennessee, typically builds custom cabinetry, but when Kelly Ladwig, a local real estate agent, asked him to construct a playhouse for her three cats and two dogs, he was intrigued. It was to reside in Ladwig's recently built custom home, where the animals, which she calls "the Furry Five," would have a bedroom of their own.
Walker's design for the 8-by-9-foot playhouse reflected details found in the actual house, such as sliding barn doors and railings that match the home's staircase. There's also a balcony that Ladwig and her wife, Suzie Stolarz, refer to as the "catio," which was intentionally placed on the side of the playhouse closest to the room's window.
"If the cats wanted to lay out on the catio and get some sun, they could do so," Walker said.
Pricing varies for Walker's custom projects, but this particular one cost about $12,000. (Walker has an Irish Doodle, but the 45-ish-pound dog is too big for her own playhouse, he said.)
"These are our children," Ladwig, 52, said, adding that she and her wife keep them in mind "much like anybody else building a home."
"The benefit of building a custom home is you can do whatever you want," she said. "So we built things that worked for the way we live."
In addition to the playhouse, other pet-centric features Ladwig and Stolarz had installed include a dog shower, built-in litter boxes in the laundry room and a watering station in the kitchen.
Americans have long had an affinity for their pets and a willingness to spend money on them (see: barkuterie boards and luxury pet hotels), and that inclination only increased during the pandemic, when there was also a surge in pet ownership. A biennial survey released by the American Pet Products Association in June 2021 showed that 35% of the survey takers said they spent more on pet supplies including food, wellness-related products and other pet care items in the previous 12 months than in the prior year.
High interest rates have made the prospect of owning a home in itself seem further out of reach for some people. But for those who can afford it, pampering their pets with built-in architectural features is a worthwhile expense.
The evolution from mere pet to a four-legged family member began in the 1970s, said Andrea Laurent-Simpson, a sociology research assistant professor at Southern Methodist University and author of the book "Just Like Family: How Companion Animals Joined the Household."
There were shifts in family dynamics in the United States – such as women becoming more economically independent – that resulted in children becoming less of a focus and families becoming smaller, making room for pets to play a bigger role in them, she said. What Laurent-Simpson refers to as "multispecies families" rose alongside nontraditional families.
"I think it's just a generational thing that we're only going to see increase," Laurent-Simpson said.
Baby boomers have evolved into thinking of their pets as family members as they have become empty nesters, she said, but it's the younger generations (millennials and older Gen-Zers) that are fully leaning into the idea of dogs as children. Some are even eschewing children completely for dogs.
For some pet owners, pet-forward design is a confluence of making the home more functional while also pampering pups. Mel Bean, an interior designer in Tulsa, Oklahoma, recalled designing built-in dog crates in the primary bedroom for a client's two Westies.
"They sleep in the room with them every night," Bean said. "So this gave them a designated space."
Working with the room's limited square footage, she designed a cupboard-style closet with the crates integrated in the bottom. They're painted white like the surrounding cabinets and have a wire grid door with latches selected to match the aesthetics.
"It's much more beautiful than the dog bed lying on the ground and provided them a ton of useful storage," Bean added.
That project was in 2013. Since the pandemic, designing for dogs has become standard for Bean's firm.
"I don't know that I've had a single new build that does not have a dog area like that," she said.
One house she's working on has French bulldogs, which are "notoriously messy eaters," she said, so the clients asked her to design a dog kennel-like structure off the primary bedroom. The kennel has a dog door that opens from the outside and leads directly to the dog shower, as well as built-in crates and their own refrigerator and dedicated freezer drawers for their raw food.
The area also includes a dishwasher drawer dedicated solely to dog bowls, which the clients wanted for sanitary reasons.
"The room is cool and beautiful, but also the entire room can just be hosed down and scrubbed," Bean said.
Christine Messier, a lawyer in Sarasota, Florida, completed a kitchen renovation about a month ago in her 1,744-square-foot house. Part of that redesign included a feeding station for her two small dogs, Bella and Beau, to keep the food and water bowls off the floor.
"All of this happened right when I was pregnant, and so I think a little bit of it was a little of guilt of them being my first babies and needing something special too," Messier, 33, said.
The feeding station is an alcove at the end of the island that holds the dogs' food and water bowls. The backsplash is white quartz to match the countertops, and there's a pot filler – or, in this case, a bowl filler. The contractor plumbed the water through that pipe and connected it to a three-stage water filter. If the dogs get drooly, the bottom of the station is slanted forward so the water runs away from the cabinets.
Sometimes, though, function is largely a side effect of pet owners' desire to create more dedicated space in their homes for their animals.
A dog shower and feeding station, Ladwig said, can help with resale because other people will probably find it useful.
"Do we really need to have a dog door through a steel door? Probably not," she said. But: "It makes life easier."
This article originally appeared in The New York Times.
Local journalism is essential.
Give directly to The Spokesman-Review's Northwest Passages community forums series -- which helps to offset the costs of several reporter and editor positions at the newspaper -- by using the easy options below. Gifts processed in this system are not tax deductible, but are predominately used to help meet the local financial requirements needed to receive national matching-grant funds.
Subscribe now to get breaking news alerts in your email inbox
Get breaking news delivered to your inbox as it happens.
---