Sports
A Grip on Sports: It was hard to watch Gonzaga's loss last night at Saint Mary's for a variety of reasons
Sun., Feb. 5, 2023 A GRIP ON SPORTS • Nothing happened as we expected last night. Nothing.
•••••••
• Did you have a chance to watch the Zags' game on ESPN? We did. Not all of it – more on that in a second – but we watched. Of course, being it was key Gonzaga game, it began on ESPN News, as the game on before it on ESPN, Florida losing to Kentucky, ran way into the scheduled GU/Saint Mary's start time of 7:30 p.m.
We anticipated this, watched a couple minutes of cornhole competition on News and then stayed with the beginning of the huge WCC showdown.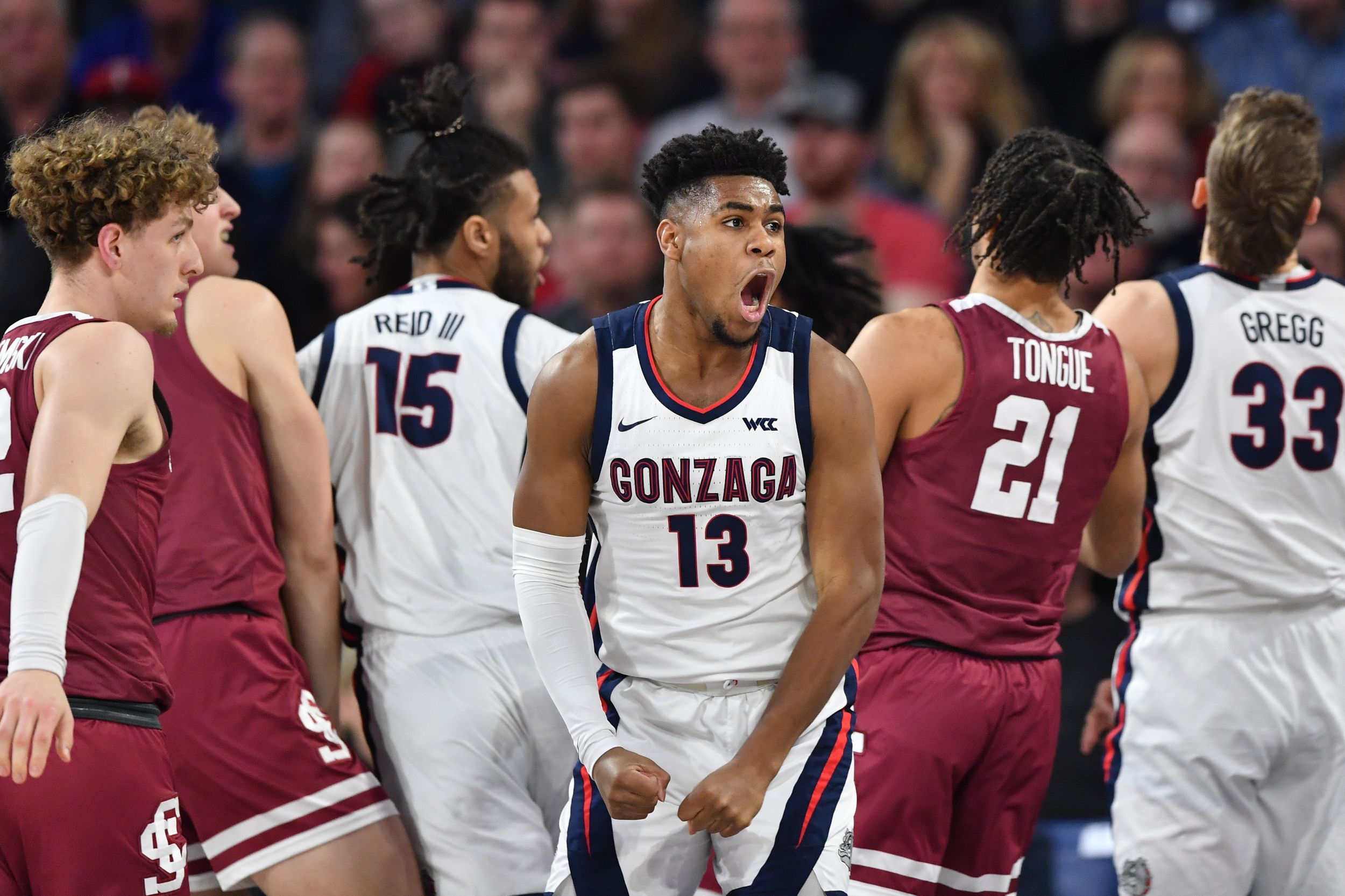 But when Dave Flemming welcomed the ESPN audience to the broadcast, verbally, we clicked over. And lost a play or two.
How odd. Not as odd, however, as what went on the rest of the night.
Ever see that awful Adam Sandler film "Pixels?" The one about aliens invading our planet as video games? Ya, it was as bad as it sounds. But it did pop into our mind as ESPN's broadcast from Moraga, Calif., continually pixelated.
At times it was so bad as to make it nearly unwatchable. What the heck was going on? We have no idea. People we trust shared there was something askew in the production truck but who knows? ESPN never explained it, at least that we heard. Or apologized.
• We would hope to earn an apology from Costco today. Our range died early in the week and we decided instead of fixing it (again), we would purchase a new one. We checked the Consumer Reports ratings, found what we wanted and ordered it online. Part of the allure was the promise of a Saturday deliver, with installation included.
Thursday evening, we received a text message telling us the appliance would arrive between 4:45 and 6:45 p.m. A late window, to be sure, but well before we wanted to sit down and watch GU – and after Washington State's visit to UCLA.
Except 6:45 came and went without a delivery. Or any notice of why it hadn't happened. So did 7:45. And 8:30. We were resigned to having to get online on Sunday and rescheduling. About the time Gonzaga's defense was reverting to usual 2023 form, we received a text and an email. Our range had been delivered. And here was photographic proof. Except it hadn't. And the picture was just a black square.
What the blazes? We tried to respond on text and to the email. Nothing. And the game was getting tighter.
Then we noticed lights outside. The delivery truck was here.
Only almost 3 hours late. If the Zags had played a 6 p.m. game, we would have been in bed.
Thanks to the installation, which included having to get the Costco folks back in the house because the range was first put-in about as level as we are after a blown charge call, we missed most of the end of regulation and overtime.
Guess it was not meant to be. For Gonzaga, nor us.
•••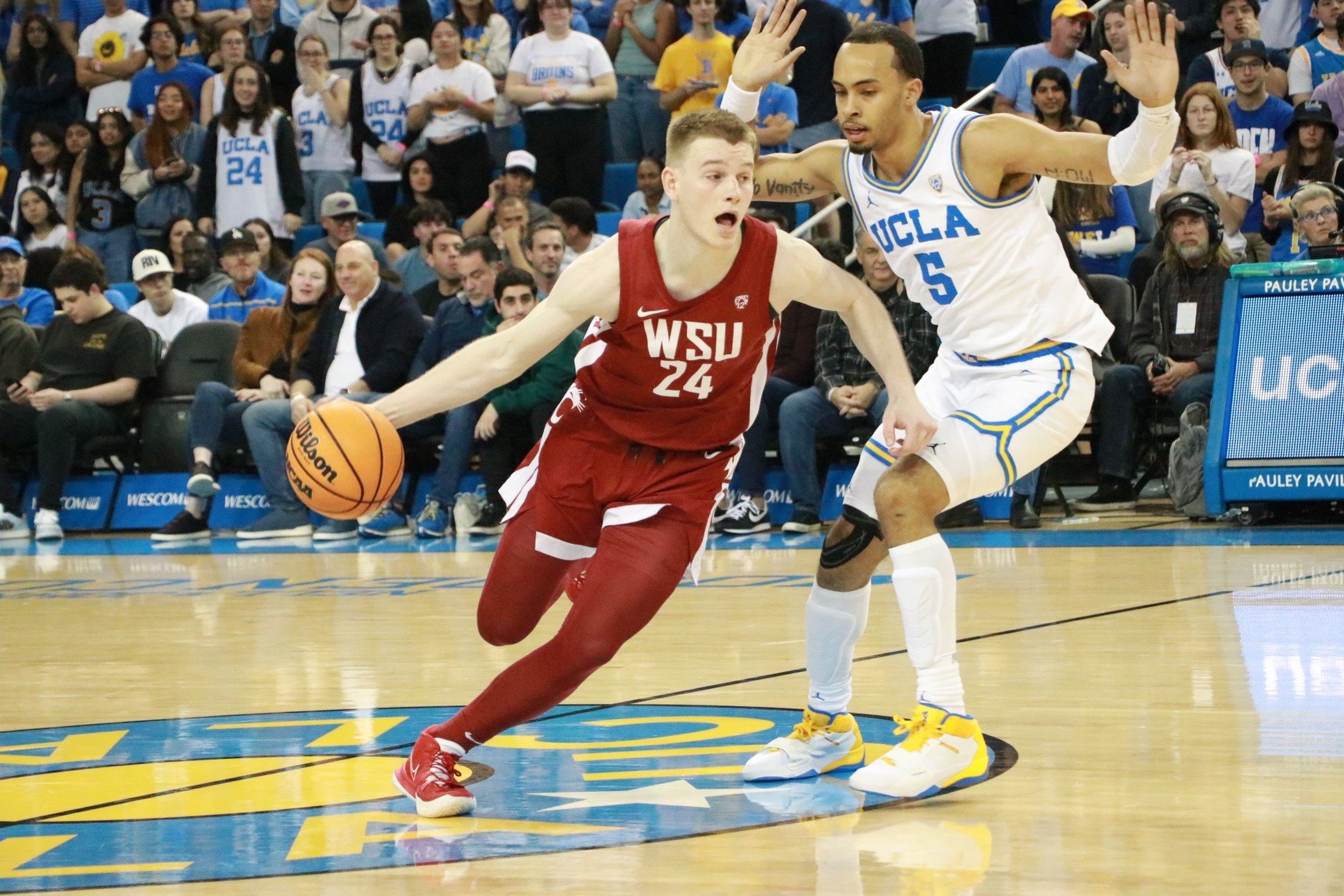 WSU: The Cougar game at Pauley wasn't much. Much of a game we mean. The boulder Washington State has been rolling up the hill all season finally dislodged and rolled over the Cougs. Colton Clark has this story covering the 76-52 defeat to ninth-ranked UCLA. … Earlier in the day, Colton posted a story assessing WSU's football recruiting efforts this year. … Elsewhere in the Pac-12 and college basketball, Washington stayed right with USC until the final few minutes, falling 80-74 at the Galen Center. … Oregon is in fourth place in the conference after its 75-70 win at Arizona State. That the Pac-12 will probably only get three teams in the NCAA, being in fourth is not where you want to be. … Arizona battered visiting Oregon State so convincingly, the Wildcats played its bench more than they have all season. … The Sunday games has Stanford at Colorado and California at Utah. … There are some good women's basketball matchups today, including Oregon hosting Utah. … In football news, Jon Wilner looks back in the Mercury News at the key conference events recently. … As long as Deion Sanders stays at Colorado, expect fireworks on Signing Day.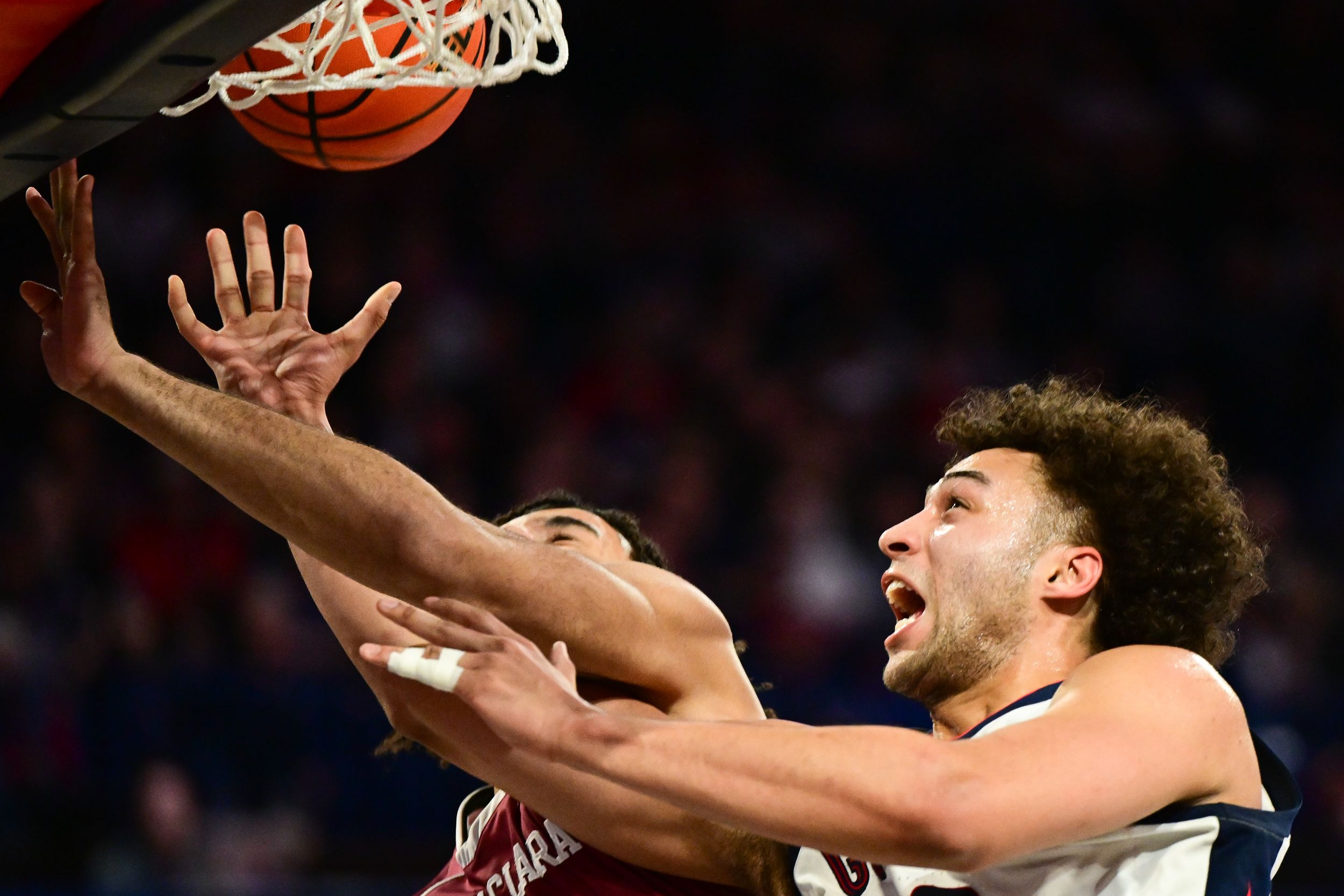 Gonzaga: For 30-plus minutes last night the Bulldog defense harkened back to its best years. Then, with foul trouble mounting and intensity waning, things changed. And 18th-ranked Saint Mary's took control, finally taking a 78-70 victory. Jim Meehan has the game story. … Theo Lawson has the difference makers and shares the news Drew Timme moved into second place on the GU career scoring lists. … Tyler Tjomsland has the photo gallery. … The folks in the office put together the recap with highlights. … The women, also in the Bay Area, bounced back from their first conference loss with a convincing 78-56 win over USF. Jim Allen has the S-R's coverage. … We head back to the men with this piece on Chet Holmgren's lost season. … John Blanchette has this story on Gonzaga's first sub-4-minute mile, ran in yesterday's track meet at the Podium. … Elsewhere in the WCC, San Diego picked up an 87-79 home win over Loyola Marymount. … Host BYU routed Pacific 81-66 and seems to be coming on.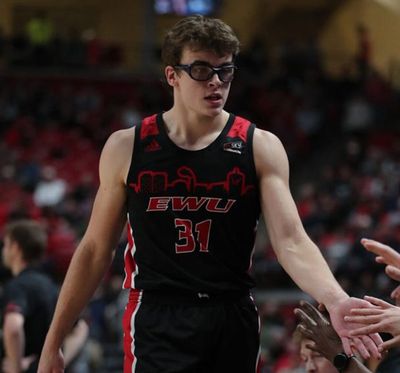 EWU: A 98-88 victory at Portland State gives the Eagles a 14-game winning streak and kept them two games clear of the rest of the Big Sky. … Elsewhere in the conference, Montana State stayed close to Eastern with a 75-62 win over visiting Northern Colorado. … Host Montana held on for a 67-66 win over Northern Arizona. … Weber State picked up a 72-71 double-overtime win at Idaho State.  
Idaho: The Vandals picked up a much-needed road victory, topping Sacramento State 82-76 in front of 747 folks at the Hornets Nest. Yep, you read that right.
Whitworth: The Pirates won 75-60 at Lewis & Clark last night, setting up a showdown for the Northwest Conference lead Tuesday night when Whitman comes to the Fieldhouse.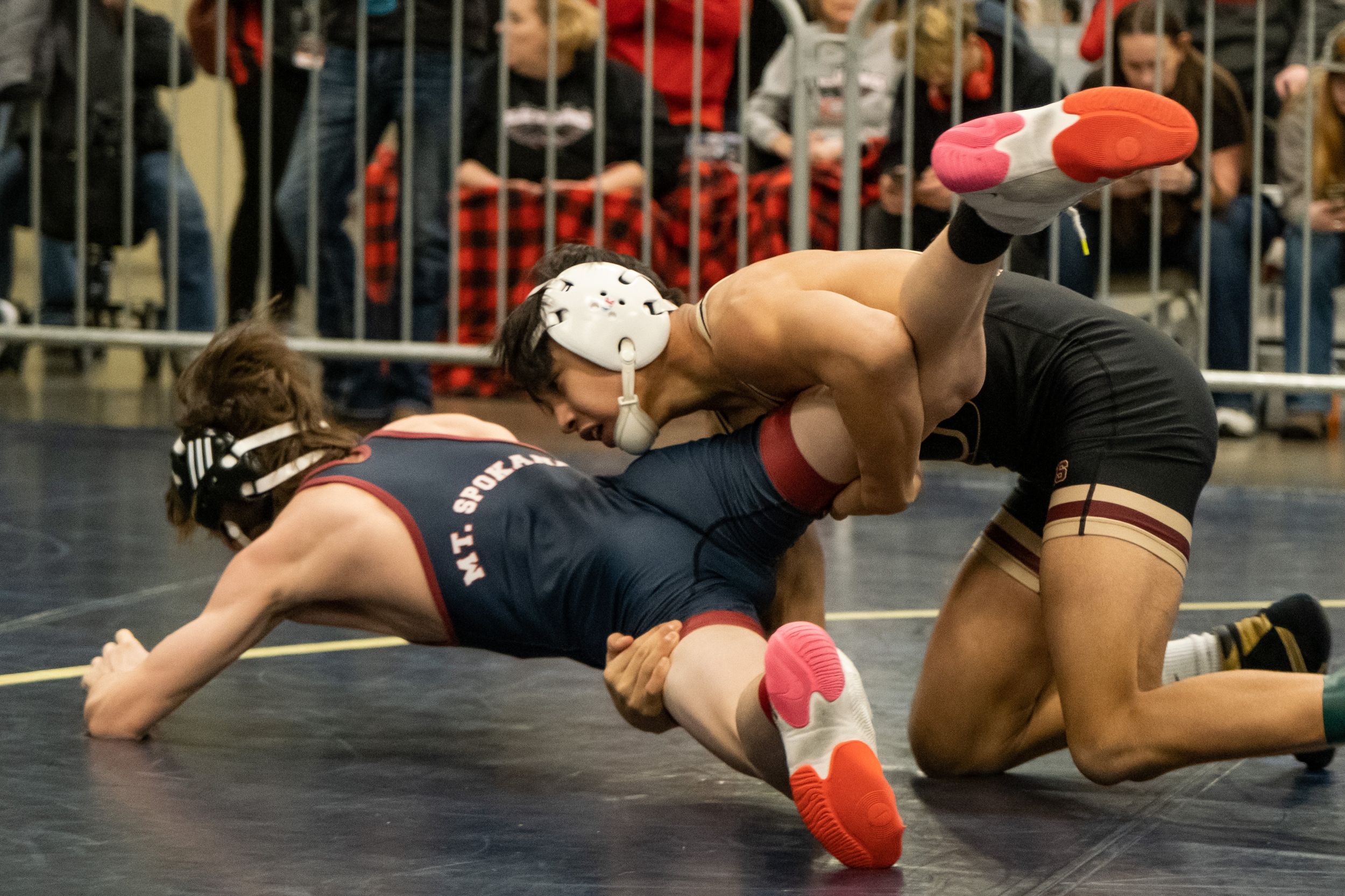 Preps: The Greater Spokane League's wrestling titles were determined at the Spokane Convention Center on Saturday. Madison McCord was there and has this story and a photo gallery. … Dave Nichols put together a roundup of other high school action from Saturday. … Dave also has this summary of the week's Spirit Week games at the Arena.
Chiefs: Regulation and overtime was scoreless. The shootout was over quickly. Red Deer scored and won the game at the Arena. Kevin Dudley was there and has this story.
Seahawks: The offensive line has promising youth but still needs some upgrades.
Mariners: Kolten Wong gives the M's a second baseman with a strong resume. But one looking to get back to where he once was.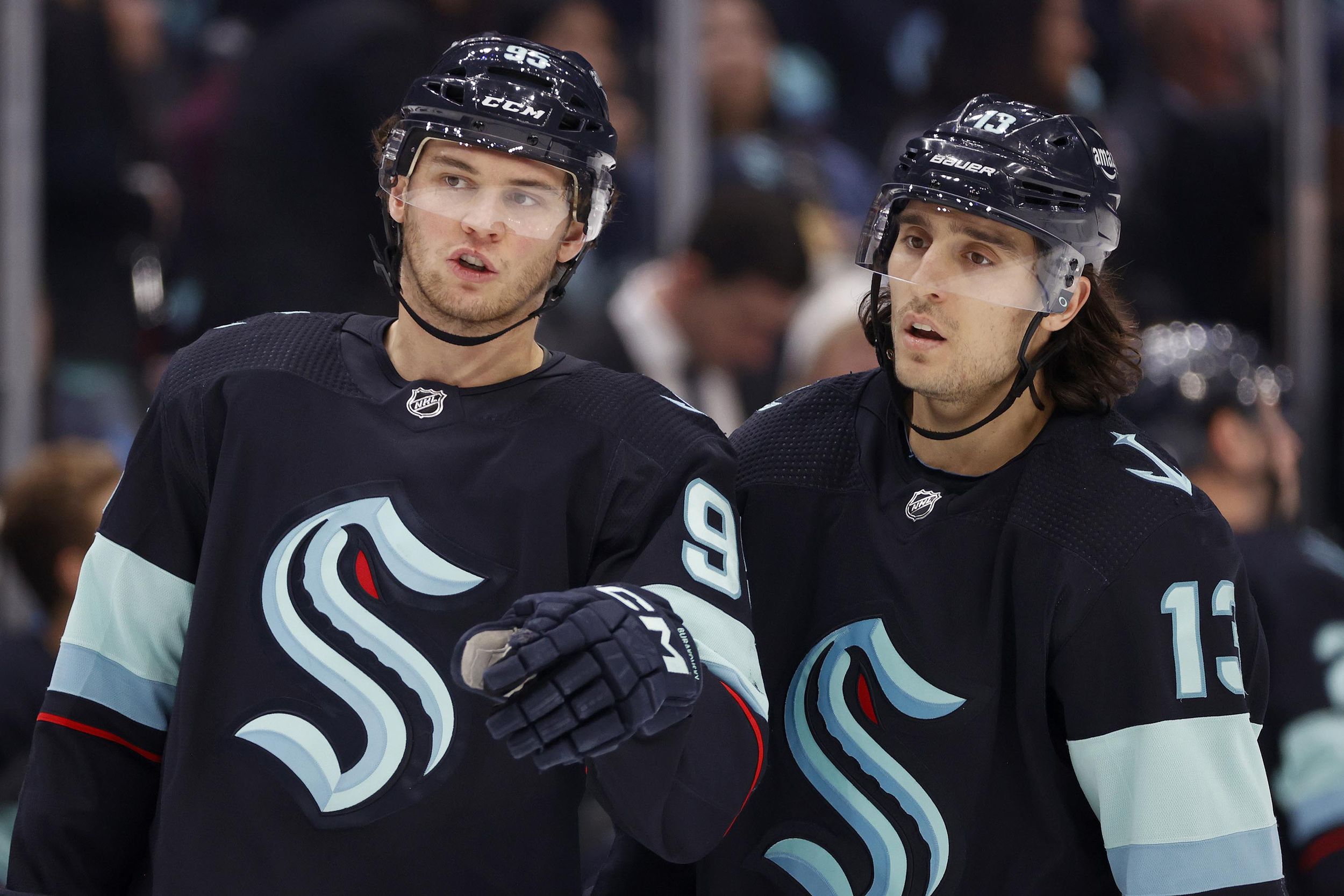 Kraken: As we say often, there are always grades. First-half-of-the-season grades in this scenario. … Ticket demand has risen this season. … The NHL held its All-Star Game yesterday. No Kraken were involved.
Storm: Seattle re-signed center Ezi Magbegor.
Sounders: Meet the new season. A lot like the old season. With apologies to The Who for the paraphrase, Seattle lost 1-0 in its lone Club World Cup appearance.
•••       
• Learned a lesson last night. Never accept the last delivery off a truck. Especially when it is so late. Pretend it's Halloween, turn off the lights and go to bed. We spent about a half-hour stripping off tape and pads the delivery people, in a hurry to clock out, neglected to remove before installing the range into its spot. A half-hour well past our bedtime. Until later …
Local journalism is essential.
Give directly to The Spokesman-Review's Northwest Passages community forums series -- which helps to offset the costs of several reporter and editor positions at the newspaper -- by using the easy options below. Gifts processed in this system are not tax deductible, but are predominately used to help meet the local financial requirements needed to receive national matching-grant funds.
Subscribe to the sports newsletter
Get the day's top sports headlines and breaking news delivered to your inbox by subscribing here.
---