News > Education
AP African American Studies curriculum was 'very, very sound' before revisions made and political battle unfolded, local educator says
Feb. 5, 2023 Updated Wed., Feb. 8, 2023 at 3:23 p.m.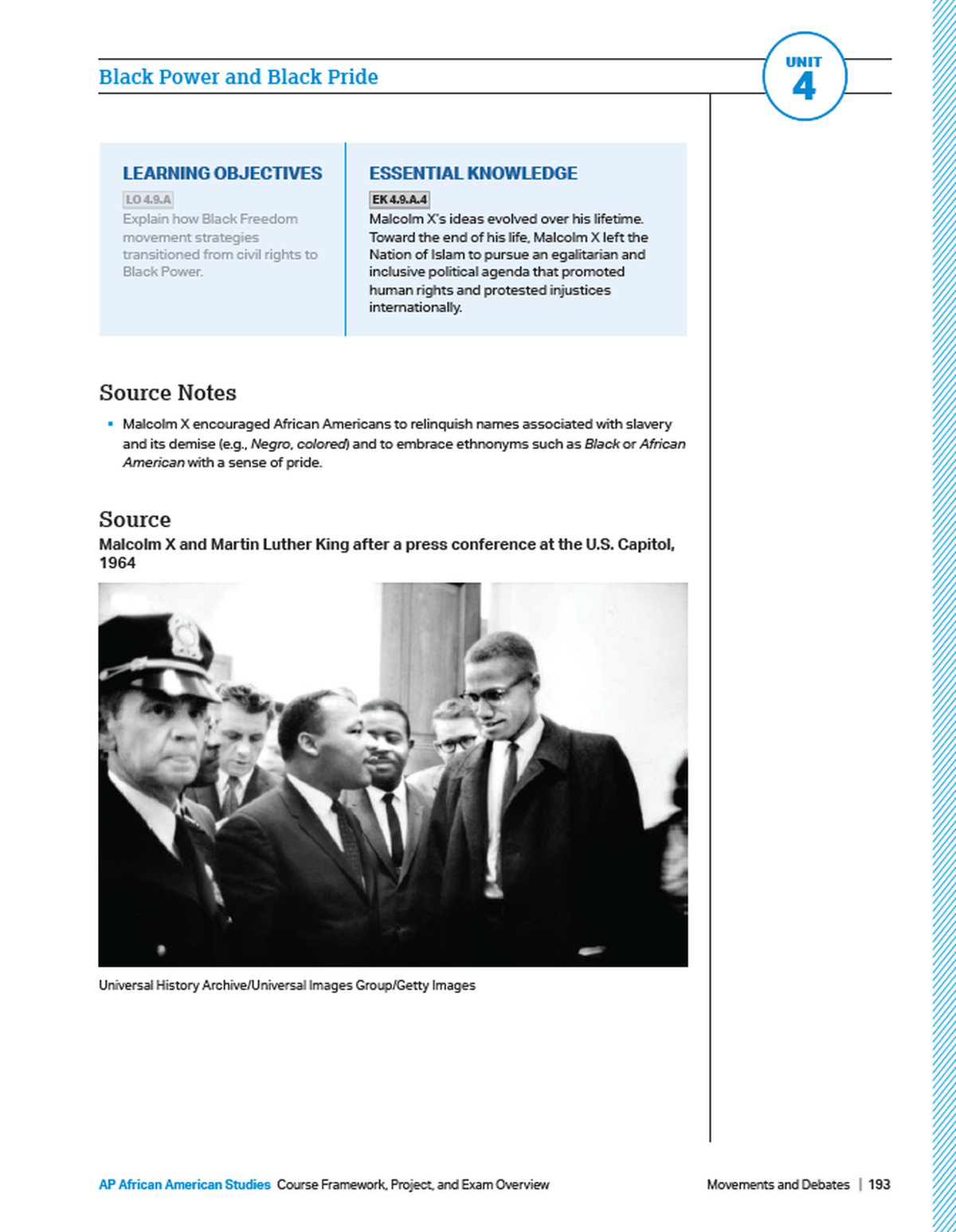 A sample page of the framework for the AP African American Studies course looks at the Black Power movement in connection with the fight for civil rights in the 1950s and 1960s. (College Board)
Revisions made to the framework for the AP African American Studies program, announced after pushback from politicians including Gov. Ron DeSantis of Florida, will rob high school students across the country of a "very, very sound" curriculum exploring the Black experience in America, said a local educator who was involved in reviewing the materials.
The DeSantis' administration last month announced the course, which has been under development by the College Board for more than a year, would not be offered in Florida schools because it conflicted with state law and "significantly lacks educational value." The College Board subsequently released its final 234-page framework for the course, which was criticized by some for reducing focus on controversial topics including the Black Lives Matter movement, reparations and queer study.
"What it did was set a standard, I thought, that was much over the head of Gov. DeSantis," said Scott Finnie, senior faculty at Eastern Washington University in Africana Studies, who was part of a team of professors nationwide that reviewed a draft framework for the course. "His statement, that it has no educational value, shows a combination of ignorance and arrogance."
The New York Times reported "only a few of the concepts" in the pilot curriculum from a year ago were removed in the final version, and those changes were focused in the final unit, which covers more recent history.
The College Board, in a statement releasing the framework and pushing back on reporting from the New York Times, said it finalized the subject matter before DeSantis' objections.
"The development of the AP African American Studies course has been an on-going, iterative process that calls upon the expertise of teachers, professors, and experts who understand the key concepts, themes, and methodologies of African American Studies," Robert Patterson, professor of African American Studies at Georgetown University and co-chair of the committee of professors and teachers who developed the course, said in the statement, "and this refining process, which is a part of all AP courses, has operated independently from political pressure."
But the framework, and DeSantis' posture toward its contents, has already incited a political battle, with Democratic lawmakers across the country criticizing Florida's position and suggesting it could affect how the course is taught across the country.
"Refusing to name the components of Black history that Gov. DeSantis is most afraid of like intersectionality, feminism and queer Black life but still including them in the curriculum can be viewed as a weak attempt to please extremists," Illinois Gov. JB Pritzker, a Democrat, said in an emailed statement to Capitol News Illinois on Thursday.
In addition, more than 650 educators and supporters of the course's development signed a letter condemning DeSantis, accusing him of "censorship and a frontal attack on academic freedom."
Goldy Brown, an assistant professor of graduate studies in Education at Whitworth University and director of the school's Education Administration Program, said he shared DeSantis' concern that the curriculum focused too much on negative narratives and not on empowering stories of Black Americans.
"I'm all for African American studies that empower Black kids to build on the legacy of the past," Brown said.
Brown said he hadn't reviewed the full framework released Wednesday. Neither had Finnie, but Finnie said the removal of certain thinkers and writers from the curriculum had the potential to reduce perspectives on American history, which were key to igniting critical thinking in the classroom and presenting a full picture of the Black American experience.
"African American history is one strand of the American quilt," Finnie said. "That quilt has many strands in it, and each is just as rich as the other."
Washington's Office of the Superintendent of Public Instruction said the process of adopting an AP course typically occurs at the local level, with a school or district following state procedures for adoption of a new curriculum.
An English teacher at Lewis and Clark High School is using some of the course materials in an African American Literature course that is offered for college credit. 
Brown said educators should not shy away from stories that demonstrate the obstacles Black people have faced. But the teaching should also include and emphasize examples of success, he said.
"The bottom line is, we need to empower kids for the future, not spend so much time telling them the condition they're in because of the past," Brown said.
He said he would not have a problem with George Floyd's murder at the hands of the Minneapolis police in 2020 being part of the curriculum. But, he asked, shouldn't they also know about Lauren Simmons, who at age 22 in 2017 became just the second African American woman, and the youngest, to become a full-time female trader on the New York Stock Exchange.
"We have Black inventors, Black people in politics, Black people on Wall Street," he said. "All those types of things need to be discussed, so it motivates kids and informs white Americans that this can happen."
The final framework includes lessons on the Harlem Renaissance and the development of colleges and universities in the early 20th century focused on Black education. Topics also include the development of Black-owned businesses and early political leaders, including Shirley Chisholm, who in 1968 became the first Black woman elected to Congress.
Finnie said it was the thoroughness of the original pilot curriculum that impressed him. It was not only deep, but broad, he said, and that's what is needed in an AP classroom.
"I'd be happy to stand with anybody in the debate and cover any part of it, to clarify its resourcefulness," he said. "It's an embodiment of a lot of heritage as well as just, I would say, a true account of lived experiences of generations."
Editor's note: This story was updated Feb. 8, 2023, to clarify that some of the materials under consideration for use in the AP African American Studies course are being taught at a high school in Spokane. 
Local journalism is essential.
Give directly to The Spokesman-Review's Northwest Passages community forums series -- which helps to offset the costs of several reporter and editor positions at the newspaper -- by using the easy options below. Gifts processed in this system are not tax deductible, but are predominately used to help meet the local financial requirements needed to receive national matching-grant funds.
Subscribe now to get breaking news alerts in your email inbox
Get breaking news delivered to your inbox as it happens.
---