News > Nation/World
L.A. says goodbye to P-22, its mountain lion turned celebrity crush
Feb. 5, 2023 Updated Sun., Feb. 5, 2023 at 8:27 p.m.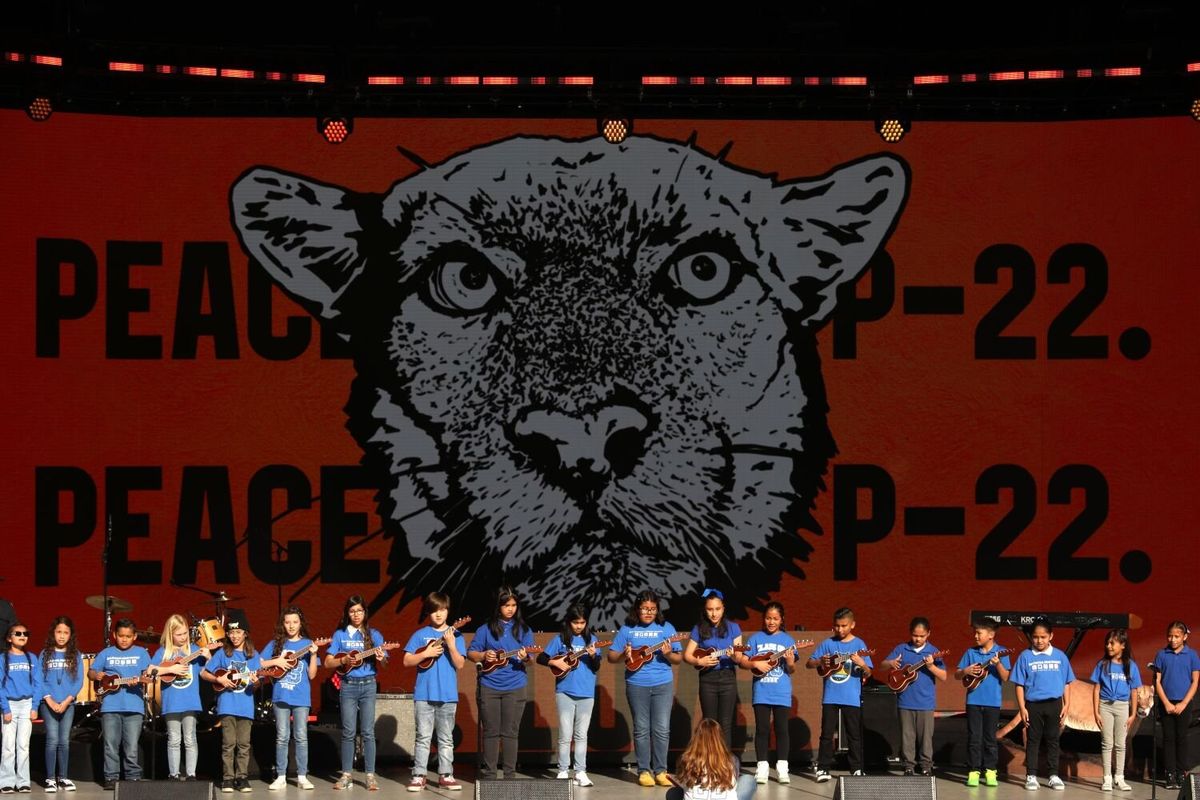 Students with San Pascual STEAM Magnet Elementary School sing there original song, "P-22 We Love You," while playing ukuleles at the "celebration of life" for L.A.'s famous mountain lion, P-22, at the Greek Theater in Los Angeles on Saturday. (Genaro Molina)
LOS ANGELES – In this city of celebrities, he stuck out: golden-haired and well over six feet.
His strolls down Sunset Boulevard stirred headlines. He made his home near the Hollywood Hills, and his social media profiles attracted thousands of followers.
In matters of love, he was unlucky, and the paparazzi documented his many nights spent alone. As he aged, his behavior became erratic. Still, he had an army of fans.
He was known by one hyphenated name. And on Saturday, thousands of Angelenos attended his memorial service at the Greek Theatre, the same venue graced by Bruce Springsteen and Aretha Franklin. Just like the Boss and the Queen of Soul, P-22 packed the house.
It was a celebration of the life of an L.A. icon – and almost certainly the first of its kind for a mountain lion. Politicos jockeyed for spots on the list of speakers, tickets sold out in hours, and the Hollywood sign stood sentinel not far away.
"P-22's story is a miracle straight out of a Hollywood movie," said one speaker, Steve Winter, the photographer whose haunting picture for National Geographic showed the prowling lion, the legendary landmark hovering in the background. "I've never seen a wild animal so profoundly transform a community. He changed the way Angelenos feel about urban wildlife."
P-22 – the 22nd puma tracked in a National Park Service study – was euthanized in December, the result of serious health concerns and injuries he probably received after being hit by a car. Like so much of what makes L.A. truly L.A., P-22 came here from somewhere else, undertaking the hair-raising 50-mile trip east from his birthplace in the Santa Monica Mountains, across the 405 and 101 freeways, more than a decade ago.
An August 2012 article in the Los Angeles Times announced his arrival, and he has captivated the city ever since. In life, as in death, P-22 symbolized the struggle to survive in an urban landscape with an insatiable appetite for sprawl. In a place that has paved over so much of its paradise, it was a comfort to know this big cat still prowled among us, defiant.
But his demise, accelerated by a speeding vehicle in the car capital of the world, is also part of that story: For those on two legs, and those on four, Los Angeles streets are increasingly deadly. Several of P-22's eulogizers spoke passionately about changing this fact and touted the wildlife crossing that he inspired to save his kind from extinction.
At about 12 years old, he was elderly for any mountain lion outside of captivity. But consider where he lived, and how he got there, and his longevity becomes even more impressive.
There's no way to know exactly where in the Santa Monica Mountains P-22 was born, but genetic testing found he was the son of P-1, the study's first puma, who was known as the "king" of the coastal range. But unlike this city's other "nepo babies," P-22 had to make it on his own.
The journey he took is difficult enough for a human in a car. Researchers have said it's miraculous that a mountain lion made it.
Yet the voyage to fame left P-22 isolated. Hemmed in by city on all sides, he was the only known member of his species in Griffith Park, whose chaparral-covered terrain neighbors the Hollywood Hills, and a lifelong bachelor.
But he wasn't short on admirers. The list of speakers at P-22's memorial included actors, artists, Indigenous elders and political leaders such as Sen. Alex Padilla (Calif.) and Gov. Gavin Newsom, with both Democrats appearing virtually. Even the DJ Diplo showed up, taking the stage with a stuffed lion under his arm before rushing off to a set in Las Vegas.
Hours before the event, hundreds lined up outside the storied theater, some dressed in suits to mark the somber occasion, others clad in cat ears and tails.
"I am just so grateful that we got to live at the same time on the same planet with that remarkable animal," said Beth Pratt, California director of the National Wildlife Federation who emceed the event and is known variously as P-22's spokesperson, ambassador and best friend.
Most at the service never saw P-22 in person, but those who did treasure the moment like they would a sighting of the blond celebrity some called his biped doppelganger, Brad Pitt in his scruffier days. Even the mountain lion's famous Hollywood Hills neighbors fawned.
Alan Ruck – known for his portrayals of the "Succession" dynasty's eldest child, Connor Roy, and Ferris Bueller's best friend, Cameron Frye – gleefully recounted his run-in with P-22 in a phone interview before the event.
It was the middle of the night in mid-October, and all of the dogs in Ruck's neighborhood high up in the hills were barking madly. He walked onto his balcony to investigate and, by the light of the moon, spotted him.
"Out from behind these trees, these tall shrubs, there he comes, loping down the street," Ruck said. "And like a dumbbell, I yelled at him: 'P-22!'"
The puma paid him no mind, but Ruck was star-struck.
"People always said he looked like Brad Pitt. And yeah, he looked like Brad, but he walked like Denzel," Ruck said. "He had that slow, real relaxed, sexy walk."
As is usually the case when humans and large animals live side-by-side, there was some friction. P-22 once apparently hopped an eight-foot fence at the Los Angeles Zoo in Griffith Park and mauled a 14-year-old Koala named Killarney. Another time, he holed up in a crawl space beneath a family home in the neighborhood of Los Feliz, setting off an hours-long negotiation to coax him out.
Both times he was forgiven. Everyone has to eat, after all, and there is a housing shortage in L.A.
In the weeks since his death, the city has debated ways to commemorate P-22: add his likeness to the Los Angeles flag, which already sports a grizzly and a lion; erect a life-size statue of him in Griffith Park; or give him a star on the Hollywood Walk of Fame.
That last one, according to a spokesperson for the Walk of Fame, isn't going to happen without a major overhaul of the rules, which limit honorees to six entertainment industry categories. And the Hollywood Chamber of Commerce, which oversees the Walk of Fame, does not deem P-22 an entertainer, unlike fictional fellow members of the animal kingdom, Big Bird and Alvin and the Chipmunks.
Rep. Adam B. Schiff (D-Calif.), who was P-22's congressman, has suggested putting his face on a stamp. State Assemblywoman Laura Friedman, a Democrat running to replace Schiff, has promised she "won't rest" until a monument is erected.
But others insist the best way to honor his memory is to preserve, even expand, the dwindling wilderness in the city.
Humans and nature have been battling for preeminence here for centuries, as a major metropolis burst from this unlikely region.
"It was no sensible place to build a great city," the author Gary Krist wrote in "The Mirage Factory," his book about the founding of Los Angeles. "Only Americans, it seems, could dream of something so unlikely, so contrary to simple common sense."
Rapid urbanization has crowded out much of its ecology. As the city's population swelled into the millions, it has threatened the area's status as a hotspot for biodiversity; among its 4,000 species of plants and animals, 52 are considered endangered.
The freeways, however, have most threatened the region's pumas, nine of which have been killed by vehicle strikes in the last year, according to the National Park Service.
P-22 served as the poster cat for a fundraising campaign to build a wildlife crossing over the 101 highway, meant to connect habitats and provide safe passage for pumas and other threatened animals. The ambitious effort eventually raised more than $100 million, broke ground in April and will be completed in 2025.
At the Saturday memorial – part funeral, part dance party and part rally – state leaders and advocates pledged to raise millions more to construct additional crossings.
Others urged the adoption of a local wildlife ordinance that would promote habitat connectivity. And some applauded the state's recent ban of rat poisons, which once sickened P-22. Friedman, the assemblymember who wrote the legislation, said lawmakers showed pictures of the ill puma to help whip votes.
"P-22 gave us hope that maybe, just maybe, the animals will win and nature will win," Friedman said at the memorial.
One recent evening at a scenic overlook not far from where P-22 lived, the setting sun tinged the low-hanging smog a brilliant shade of lilac. Rush hour clogged the freeways, and planes took off from a nearby airport. Humanity's disquieting fingerprints could be seen all over the landscape. Griffith Park was the only green refuge in sight. Birds circled overhead as the sound of traffic echoed through the hills.
It wasn't so hard to imagine another mountain lion lurking just out of sight, at home in the city's backyard.
Local journalism is essential.
Give directly to The Spokesman-Review's Northwest Passages community forums series -- which helps to offset the costs of several reporter and editor positions at the newspaper -- by using the easy options below. Gifts processed in this system are not tax deductible, but are predominately used to help meet the local financial requirements needed to receive national matching-grant funds.
Subscribe now to get breaking news alerts in your email inbox
Get breaking news delivered to your inbox as it happens.
---