The best albums of 2022, according to two Spokane high school students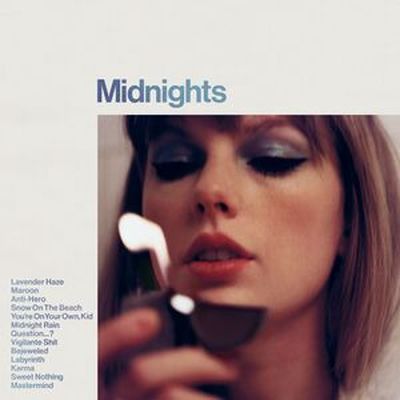 Editor's note: With the Grammys set to air Sunday evening, two former Spokesman-Review high school interns shared their favorite albums of 2022.
A few of the artists could bring home hardware, including Taylor Swift, Zach Bryan, Kendrick Lamar and Harry Styles. Others won't enjoy a Grammy nod this year. Here's the list of 10 albums offered by Sophia McFarland and Jordan Tolley-Turner.
1. "Midnights," by Taylor Swift
When Taylor Swift drops an album – the world stops to listen. So when Taylor announced that she was taking a break from releasing rerecordings of her previous work to deliver her 10th studio album, Swifties everywhere couldn't wait. Taylor is a master at genre-switching, as she's moved from country to pop and most recently to folk in "Evermore" and "Folklore." Therefore, people debated the path Swift would take on "Midnights." However, the answer becomes apparent in the first track on her album: she is back to her pop roots. "Midnights" as it stands has the most single-day Spotify streams in history, and proves itself to be Taylor's most creative venture yet.
-Sophia
2. "American Heartbreak," by Zach Bryan
Country and Americana of 2022 was defined by Zach Bryan's 34-track "American Heartbreak," an album that brings the genre back to its roots of storytelling. With an emotion-filled voice and raw and poetic lyrics, along with production ranging from the bareness of a man with his guitar and harmonica to the tone-setting lap-steel guitar and fiddle, the album screams the sincerity of this imperfect life listeners are grasping for.
- Jordan
3. "Viva Las Vengeance," by Panic! At The Disco
After a four-year musical hiatus, Panic! At The Disco returned with yet another sound alteration in the ode to the '70s that is "Viva Las Vengeance," reported to be the band's final album. Brendon Urie recounts the highs and lows of his life in Las Vegas and 18 years spent in Panic! with just about every type of rock found four decades ago, Queen-esque harmonies, a key change (or more) in multiple songs, guitar- and piano-heavy ballads, orchestral breakdowns, the sounds of musical theater, and the high notes Urie has become known for. Urie's last album may be a blast from the past, but he will part ways with another refreshing breath of fresh air of an album.
- Jordan
4. "SOS," by SZA
In recent years, we've seen an unfortunate theme affecting artists who step away from their craft for too long. SZA proved that she was quite the exception to the sophomore slump. "SOS" showcases SZA's incredible range and songwriting ability. SZA tells the story of past heartbreak in a calming, versatile tone. "SOS" has already smashed records in the R+B genre and is the perfect record to drive to on a rainy day.
- Sophia
5. "Mr. Morale and The Big Steppers," by Kendrick Lamar
On "Mr. Morale," Kendrick Lamar takes listeners on a vulnerable trip, something his past albums never achieved. A prime example is his song titled "We Cry Together," where the record follows a couple fighting . Lamar shares personal experiences of grief, joy and heartbreak in each track: specifically, his complicated relationship with his own father, confining gender roles and America's culture. With "Mr. Morale and The Big Steppers," Lamar proves that he cannot only make unique production, but incorporate significant life lessons.
- Sophia
6. "Wasteland," by Brent Faiyaz
After nearly two years of singles, Brent Faiyaz finally dropped "Wasteland" in July. In the R&B album, Faiyaz explores his own vices and the label of "toxic" with silky smooth vocals and harmonies, stunning strings, an ethereal sound and star-studded features from the likes of Tyler, The Creator, Drake, Alicia Keys and more. Faiyaz's experiences of adrenaline-chasing and escaping feel close and real, just as good music should be.
- Jordan
7. "Ants From Up There," by Black Country, New Road
It's difficult to define Black Country, New Road's "Ants From Up There." The British band's theatrically intense project stands out, with most songs being over the four-minute mark (including a 12-minute finale), long and powerful crescendos, diverse violin, and saxophone. Although the length of the songs can make it difficult to listen to the entire project in one shot, the album continually evokes enough emotion to bring tears above a smile by pushing the boundaries of music to the brink.
- Jordan
8. "Beatopia," by Beabadoobee
In "Beatopia," Beatrice Kristi Laus, known professionally as Beabadoobee, stretches the alternative genre every which way with string- and acoustic guitar-filled indie and soft pop on one end to heavy guitars and grunge-esque sounds on the other. These similar yet diverse sounds, along with a soft voice and honest lyrics, push the familiar themes of love, lust and confusion.
- Jordan
9. "Brightside," by The Lumineers
The Lumineers' fourth studio album, "Brightside,'' may just be their most honest yet. The indie folk-rock project explores the rollercoaster of life, from surviving a car crash, finding one's vices, and just how difficult and confusing love can be, while continuing to fight through it all with hope. With relatively bare production filled with piano, toe-tapping drums, acoustic guitar and heavier electric guitar, the album stays as down to Earth as the Lumineers have always been.
- Jordan
10. "Harry's House," by Harry Styles
It seems like Harry Styles struggles to disappoint. In his first album, he produced stunning lyricism and instrumentals, and in his second album, he incorporated upbeat tracks and inspirational quotes. But in his most recent album, he does something entirely different: "Harry's House" has a summer-sounding, catchy theme in which a more stagnant and at times indie-pop sound may replace some of the more raw instrumentals of his past work, but remains as ear-catching as ever. A highlight of the album includes "Matilda," an emotional song that talks about the struggles of growing up without a strong support system.
- Sophia and Jordan
---