Sports > Whitworth
Whitworth's JT McDermott, Michael Smith reunite to take leadership role on young team
Feb. 5, 2023 Updated Sun., Feb. 5, 2023 at 4:43 p.m.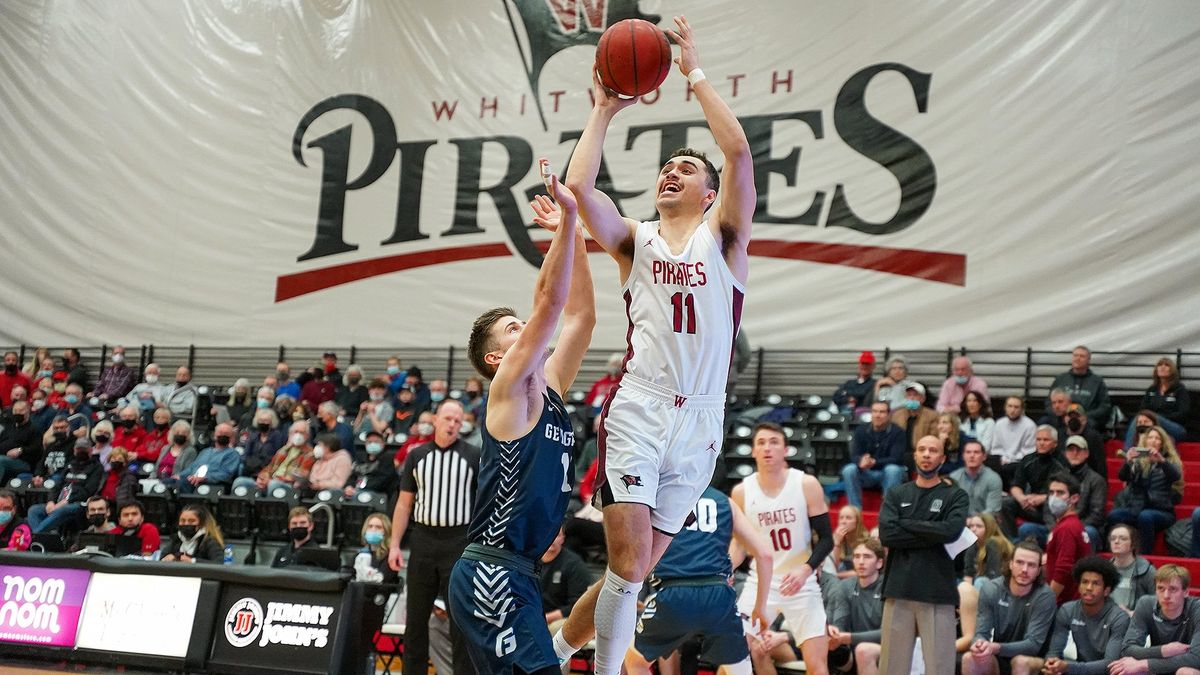 Whitworth guard JT McDermott is enjoying his last college basketball season, taking a leadership role on a young Pirates roster. (Caleb Flegel/Whitworth Athletics)
For Whitworth's JT McDermott, getting the chance to play one more season of college basketball postgraduation has proven special.
Even more special is the opportunity to reunite with a childhood friend and former high school teammate.
After missing most of his junior season at Whitworth due to the pandemic, McDermott took advantage of an extra year of eligibility and returned to the Pirates alongside transfer Michael Smith.
The two have helped guide a young Whitworth roster to a 14-7 record heading into Tuesday's 8 p.m. clash with perennial rival Whitman.
"Losing my junior year hurt," McDermott said. "Because that's usually a pretty big year for most people. Once I heard I was going to be able to get the (COVID-19) year back, I was going to use that for sure"
Last season, McDermott was a first-team All-Northwest Conference selection after becoming a full-time starter. The 6-foot-6 forward averaged a team-high 14.2 points per game and led the Pirates to a 22-5 record and Northwest Conference Tournament championship win over Whitman. The Pirates ultimately fell to Trinity (Texas) in the first round of the NCAA Division III Tournament.
This last offseason, McDermott connected with his longtime friend and high school teammate Smith. The two started playing together in fifth grade and started together at Foothill High School in Pleasanton, California.
"He was the guy," McDermott said of Smith. "Then he got hurt and couldn't play during our junior year."
Smith was a two-sport athlete at Foothill, playing both basketball and football. Despite his injuries, he was team captain of the basketball team in his junior and senior seasons.
Recruited with Division I opportunities, Smith played at Longwood University freshman year before transferring to Sonoma State for the 2019-20 season. The pandemic shelved Smith's 2020-21 season. He averaged 8.4 points per game in two seasons at Sonoma State.
"After last year, I knew I wanted to experience something new," Smith said. "I had texted JT and told him I was serious this time."
Smith said his desire to win and have fun in his final year of basketball pushed him to reach out to McDermott. That's when the two friends realized their dream could become a reality.
"He asked me if he could come to Whitworth and enjoy it because he wanted to enjoy his last year by winning," McDermott said of Smith. "At Whitworth, we usually win."
McDermott spoke with Whitworth head coach Damion Jablonski last year about the possibility of Smith joining the team this season.
"JT, I think, was the main recruiter of Michael (Smith)," Jablonski said with a grin. "I told him, "Great. When we can talk, I'll talk to him.' "
After spending summers working out together and dominating pickup games between their collegiate seasons, McDermott said the stars aligned when the two got their chance to suit up on the floor together once again.
This season, the Pirates (14-7, 9-3 NWC) sit in second place in the league standings behind Whitman (17-4, 10-2). Smith averages a team-leading 14.2 points per game. McDermott averages 13.6 points and 6.3 rebounds per game.
"Michael (Smith) is a great player with tremendous talent," Jablonski said. "He's finally finding a role where he can be more assertive on the offensive end. He leads by example, works really hard and is always trying to do the right thing."
Smith is enjoying the best season of his career with the Pirates. Against Lewis & Clark on Saturday, Smith showed his offensive assertiveness, scoring 27 points in a 75-60 win.
"We've both grown up and seen new things," Smith said. "Individually we got so much better (at basketball) throughout college, so getting back and playing together has been awesome."
Playing alongside eight freshmen at Whitworth has also been "a joy." McDermott said the youthful Pirates are embracing their roles, and that he and Smith believe they have a real shot at winning the NWC tournament and making a splash in the NCAAs.
"They're a bunch of goofballs," McDermott said of the freshmen. "They bring such great energy, and it's been awesome sharing the court with them this year. It's been fun."
In a 77-75 win over Puget Sound Jan. 28, Smith scored 30 points and McDermott added 17 with a game-winning buzzer beater. In the following game on Friday, freshman forward Stephen Behil led the team with 27 points off the bench in a 90-74 victory over Puget Sound.
"Both Michael and JT have done a great job of helping the (freshmen) guys come in and excel," Jablonski said. "We've got a lot of great, young talent that just lacks experience. Any time we have those veteran upperclassmen show them the ropes, the young guys can be successful."
The Pirates host Whitman at 8 p.m. on Tuesday at the Whitworth Fieldhouse.
Local journalism is essential.
Give directly to The Spokesman-Review's Northwest Passages community forums series -- which helps to offset the costs of several reporter and editor positions at the newspaper -- by using the easy options below. Gifts processed in this system are not tax deductible, but are predominately used to help meet the local financial requirements needed to receive national matching-grant funds.
Subscribe to the sports newsletter
Get the day's top sports headlines and breaking news delivered to your inbox by subscribing here.
---