Sports > High school sports
'I just go out and wrestle': Mead's Keemani Benavides, born deaf, finds solace and success on the mat
Feb. 6, 2023 Updated Mon., Feb. 6, 2023 at 7:31 p.m.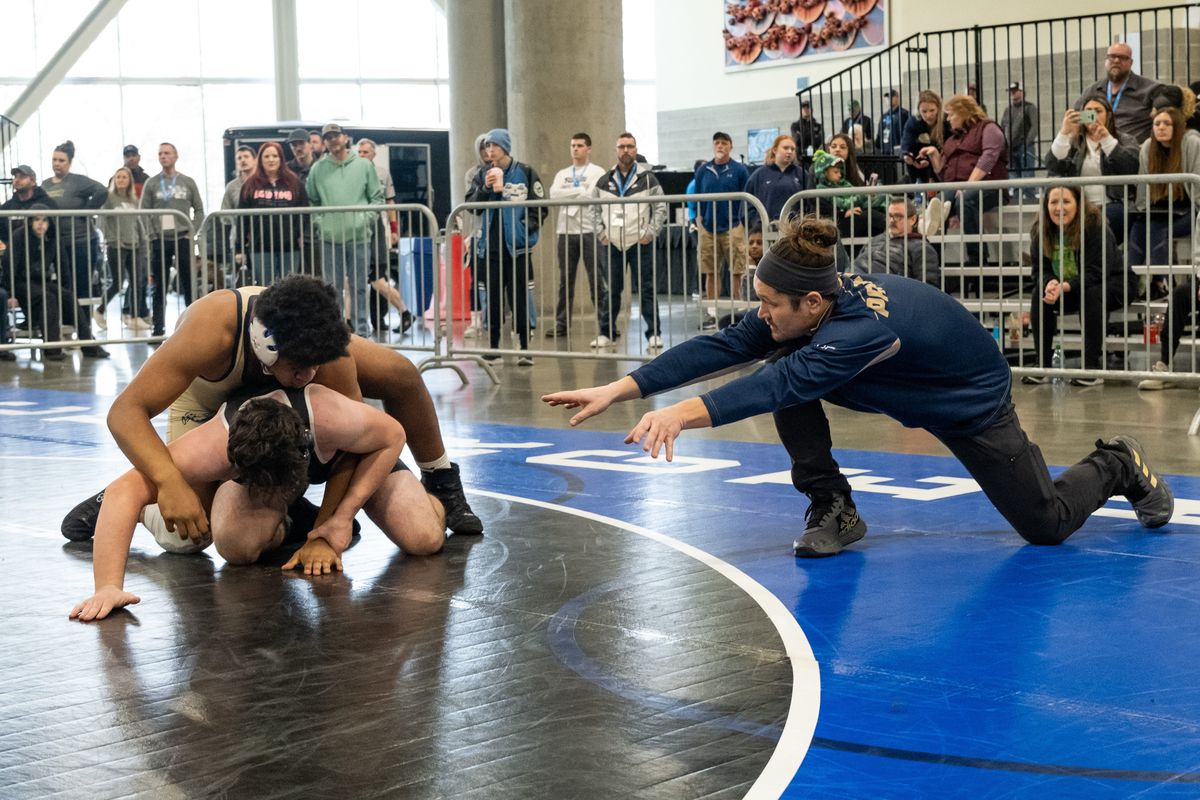 Mead interpreter Derek Hardin, right, signs instructions to Keemani Benavides, top, during the Greater Spokane League district wrestling tournament. (Madison McCord/For The Spokesman-Review)
Few sporting events create a level of sensory overload for an athlete quite like a wrestling tournament.
With several matches taking place simultaneously, coaches and fans yelling from all directions and whistles blowing nonstop, athletes on the mats have to do their best to tune out the noise.
Mead's Keemani Benavides has no choice.
Benavides, a sophomore 195-pound wrestler for the Panthers, was born deaf. That hasn't stopped him from finding success early and often for the defending 3A state champions.
"I just go out and wrestle," Benavides said. "The biggest positive of being deaf and wrestling is how quiet it is for me. I can focus more on my match."
Last Saturday at the Spokane Convention Center, Benavides notched a fifth-place finish in the Greater Spokane League district tournament, earning him a berth to regionals – which take place Friday and Saturday at Juanita High School in Kirkland.
It is the second year in a row he has earned a regional spot, where he will be joined on the mat by not only his teammates, but also interpreter Derek Hardin.
"Me and Derek met when I was in seventh grade, and when I found out that he wrestled when he was younger and he was willing to put in his time for me it meant so much," Benavides said. "I love how he is always there with me, because that shows me how much he cares about my success. We bond, make jokes and do so much together."
Unlike most coaches who are contained to one corner of the mat, Hardin spends his time just outside the boundary line – sprinting and rolling around the circle to always stay in Benavides' line of sight.
"It's important for me to always be in his eyeline and I work hard to try and always be in a position for him to see me if he needs to know something from coach," Hardin said. "I'm invested. I feel every win and loss. I'm stoked when he wins and it hurts when he loses, because he's almost like my little brother or my son. We just care so much about each other's success.
Mead coach Phil McLean says that Hardin's energy not only helps motivate Benavides, but brings a spark to the whole team.
"Derek is unbelievable. He's another coach in the room, he works out with the kids, he interprets, he does it all," McLean said. "He not only takes care of Keemani and points him in the right direction, but he takes care of so many other kids as well."
Benavides is just one example of the Panthers' depth, which helped them claim the state title last season. Mead is sending a GSL-best 22 wrestlers to regionals, where the top five placers in each weight class will advance to Mat Classic on Feb. 17-18 at the Tacoma Dome.
McLean said Benavides has all the physical tools needed to make it to state, all he's missing is the self-confidence.
"He's just really talented. He's fairly new to the sport and has no idea how good he can be," McLean said. "If he thought he was as good as I think he is, he will be great. So his biggest challenge is his ups and downs in consistency on the mat. He's just going through that belief process that most young wrestlers do."
Benavides said he understands the numerous challenges associated with his hearing loss when it comes to wrestling. With his hearing aides, Benavides said he needs an interpreter mostly as reassurance for what he thinks he's hearing. On the mat though, he is not allowed to wear his aides, making for complete hearing loss.
"The challenges are definitely not being able to hear what the coaches want without looking at them and just dealing with things like whistles and the referee," Benavides said. "And at times where I have to look at my interpreter or coach, that can be hard because I can lose focus on my opponent."
Hardin said Benavides has shown an ability to overcome any challenge, making him one of the keys to the team's success.
"What we have is very special and unique," Hardin said. "I haven't seen any other deaf wrestlers in the area for a while since I was working at Central Valley and we had a kid there years ago. But this just feels different. He's a huge part of the team both in scoring and morale. Everybody just loves him and he's so fun to watch."
Added McLean: "He obviously has a huge obstacle that he has to overcome each time he wrestles, but he has the tools to overcome that if he can believe in himself.
"And Derek is a huge part of that success and belief. It's a great combination – I just want him to know how good he can be."
Local journalism is essential.
Give directly to The Spokesman-Review's Northwest Passages community forums series -- which helps to offset the costs of several reporter and editor positions at the newspaper -- by using the easy options below. Gifts processed in this system are not tax deductible, but are predominately used to help meet the local financial requirements needed to receive national matching-grant funds.
Subscribe to the sports newsletter
Get the day's top sports headlines and breaking news delivered to your inbox by subscribing here.
---