News > Education
Washington Legislature addresses need for media literacy education in proposed bill
Feb. 6, 2023 Updated Mon., Feb. 6, 2023 at 9:10 p.m.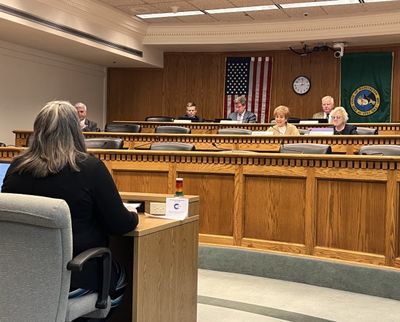 OLYMPIA – State lawmakers are debating whether a new topic should be integrated into Washington's schools: media literacy.
A state Senate committee on Monday heard public testimony on a bill intending to enhance media literacy and digital citizenship education in K-12 public schools.
Media literacy is defined in the bill as the ability to "access, analyze, evaluate, create, and act using a variety of forms of communication." This includes teaching students how to consume news media and screen for objectivity and truthfulness.
"Digital citizen" education involves teaching healthy, appropriate and responsible behavior online. This includes cyberbullying and scamming prevention, and overall internet safety.
"Students need support learning how to assess sources of information and navigate their media environments," said Jen Ligot, a social studies teacher and executive board member of The Washington State Council for Social Studies. "They also want me to share with you that they want help navigating the mental health implications that come with things like cyberbullying or doomscrolling."
The bill would require the Office of the Superintendent of Public Instruction to develop a program, operating on a two-year cycle, to integrate media literacy and digital citizenship into current curricula. Through the program, teachers would become media literacy trainers for other educators within their subject areas. The bill also directs OSPI to generate a grant program to assist educators in incorporating media literacy in their instruction.
"It's really critical as we navigate these times that we empower our students to be ready to take on this information and be critical thinkers," said Sen. Marko Liias, D-Everett, the primary sponsor of this bill.
The bill has bipartisan support, with senators from both sides of the aisle co-sponsoring. Lawmakers designed the bill with unbiased education on media literacy and included all viewpoints in this education, Liias said while presenting the bill to the committee.
"We want all of our students to be hearing and understanding across the board," Liias said. "What are the viewpoints out there in society? And how do you come up with your own perspective on these important issues?"
In the first year of the program cycle outlined in the bill, a group of teachers from each subject area would review how media literacy skills fit into current state learning standards. In the cycle's second year, the group of teachers would train their colleagues, noting any changes in state learning standards and how this will affect teaching and learning. Educators from each subject would include media literacy and digital citizenship in their respective curricula.
"The amount of time spent on phones and other electronic devices drives the need to ensure students can recognize how to evaluate information for safety and accuracy," Kristin Murphy from OSPI said. "The program outlined in this bill will help move this work forward in a meaningful way."
Public testimony was supportive, with only one testifier signed in as "other." Educator Amy Yaeger said she supported the bill, but said teacher-librarians should be involved in media literacy education due to their expertise in the subject. Other proponents for the bill echoed this sentiment.
Local journalism is essential.
Give directly to The Spokesman-Review's Northwest Passages community forums series -- which helps to offset the costs of several reporter and editor positions at the newspaper -- by using the easy options below. Gifts processed in this system are not tax deductible, but are predominately used to help meet the local financial requirements needed to receive national matching-grant funds.
Subscribe now to get breaking news alerts in your email inbox
Get breaking news delivered to your inbox as it happens.
---