News > Idaho
100 years ago in North Idaho: The biggest white pine in the world may have been found. But would it be turned into lumber?
Wed., Feb. 8, 2023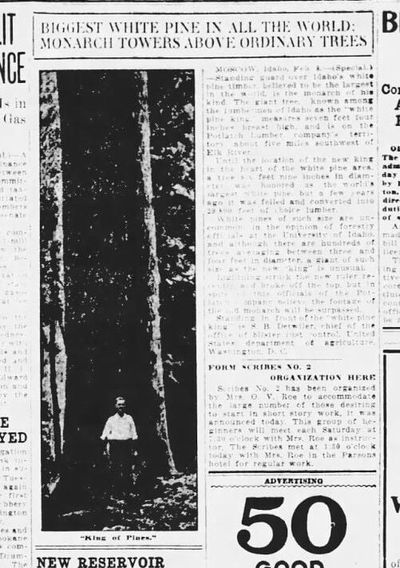 Lumbermen in North Idaho believed they had found the largest white pine in the world, about 5 miles southwest of Elk River.
At chest height, the "white pine king" measured 7 feet 4 inches in diameter. An average white pine, even the large ones, usually measured only about 3 or 4 feet in diameter.
Before this tree was discovered, the largest white pine was thought to be a tree measuring 6 feet 9 inches in diameter. Alas, that one "was felled and converted into 29,800 feet of choice lumber."
There was no indication whether the same fate awaited the new white pine king – but it was found on Potlatch Lumber Co. land.
From the men's fashion beat: The Spokane Daily Chronicle surveyed the city's tailors to find out exactly how outrageous young men's styles would be in the upcoming season.
One tailor, Fred Greif, predicted that young men's clothes would be "more extreme this spring than ever before."
The Chronicle, with obvious sarcasm, said Greif was predicting that bell bottoms would be "so wide that their ring will be heard all over the city." The paper also said that "waist lines will be pushed up to the shoulder blades and the flare of the coat will be free to flutter in the breeze."
Greif and other tailors agreed that the fad for "toreador pants," which caused a sensation earlier in the year, had already faded out.
Len Hill, another tailor, predicted that there would be an opposite reaction to the toreador pants fad. He said young men's clothes would be conservative and "sanity will rule."
Local journalism is essential.
Give directly to The Spokesman-Review's Northwest Passages community forums series -- which helps to offset the costs of several reporter and editor positions at the newspaper -- by using the easy options below. Gifts processed in this system are not tax deductible, but are predominately used to help meet the local financial requirements needed to receive national matching-grant funds.
Subscribe now to get breaking news alerts in your email inbox
Get breaking news delivered to your inbox as it happens.
---