A&E > Food
Rating the frozen pies
Wed., Feb. 8, 2023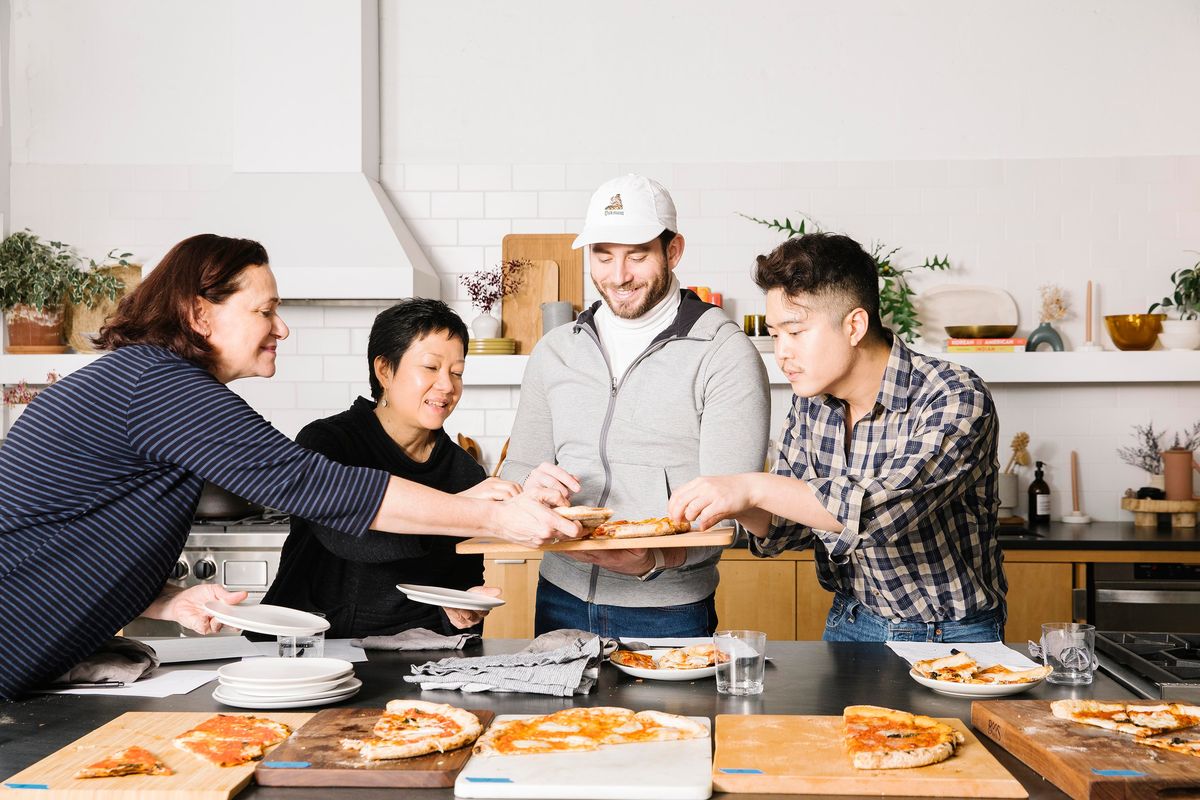 New York Times staff members Julia Moskin, left, Cathy Lo, Vaughn Vreeland and Eric Kim taste test premium frozen pizzas, in New York, Jan. 20, 2023. Four Times staff members staged a blind test to find out how frozen premium pizza rank. Food Stylist: Frances Boswell.  (HEATHER BLACK/New York Times)
With just puréed tomatoes, fresh mozzarella and basil as toppings, a margherita is the pizza most reliant on high-quality ingredients. Because it can't hide under blankets of part-skim mozzarella or highly seasoned sauce, the flavors of dough, tomato and cheese have to shine.
What happens when you subject those elements to a freezer, then ship them around the country?
To find out, I collected three of my New York Times Food and Cooking colleagues and 11 nationally available margherita pies for a blind taste test at our kitchen studio. The other testers were Eric Kim, a columnist and recipe writer; Vaughn Vreeland, a supervising producer for NYT Cooking video; and Cathy Lo, an editor.
All pies came from independent pizza makers dedicated to Neapolitan-style pies, not from global food companies such as Nestlé or Rich's. Four were nationally available pies produced for major grocery stores: Roberta's, Table 87, Talia di Napoli and Genio Della Pizza. Then we ordered all of the margherita pies available from artisanal pizzerias outside New York City through Goldbelly, an online marketplace for specialty food products: Pizzeria Delfina in San Francisco, Pizzana in Los Angeles, Pizzeria Bianco in Phoenix, La Piazza al Forno in Glendale, Arizona, Varuni Napoli in Atlanta and Dough in San Antonio. (We also included a New York stalwart, Joe & Pat's on Staten Island, to see how its margherita stacked up.)
The differences among the pies were astounding. Some had a thick schmear of tomato, others just a scrape of orange sauce; a few crusts had the puffy, raised edge characteristic of Neapolitan pizza, but others were flat, like Midwestern tavern pizza.
Surprisingly, the handmade pies shipped directly from pizzerias – often at a price of $30 or more for a single 14-inch (or so) pie – were not necessarily better tasting than the $11 supermarket ones.
Here, in ascending order, is how the four mass-market premium pizzas stacked up.
4. Roberta's: The generous slices of mozzarella melted into lovely puddles, but the skimpy tomato coating beneath them got lost. Roberta's famous crust seemed to have dried out in the freezing process; overall, it lacked flavor. "Not a fan," Vreeland said.
3. Table 87: Kim fell hard for the first bite of Table 87's tomato purée. Our panel agreed that this was the punchiest tomato element on any of the pies, but Vreeland pronounced it too sweet, "the Lunchables of frozen pizza." With its crackerlike crust, this pizza did seem likely to appeal to kids.
2. Talia di Napoli: This was the prettiest, most Italian-looking pizza of the bunch, something you might actually serve to adults. "You can smell the char," Lo said. That crucial element of a classic Neapolitan crust rarely appeared at the tasting. We liked Talia's blistered, puffy edge, but the toppings had only faint flavor.
1. Genio Della Pizza: This pizza, with its lavishly oily and salty crust, smartly avoided the dryness that plagued its competitors. "Am I getting Cheese Nips?" asked Kim, who praised its aroma, a key part of the pizza-eating experience. The proportion of tomato to crust felt right, and the crust had sourdough flavor, something we missed in the other pies.
The rest: Among the direct-from-pizzeria pies, the best cheese pull belonged to Pizzeria Bianco, and the most successful combination of chewy and crisp crust came from Pizzana. Best overall went to Delfina, in the Bay Area, for its clear, fresh flavors.
The eternal X-factor in frozen pizza is what you do to it at home. Each pizza included reheating instructions, none of which were the same, and oven temperatures ranged from 425 to 500 degrees. The brands are divided on whether to use a pizza stone, a baking sheet or just an oven rack, and they disagreed about whether pizza can or should thaw before heating.
It's fine to let these premium pies thaw; in fact, like most foods, they will cook more evenly. If you don't have a stone and don't want to risk spilling onto the oven floor, stick a baking sheet in the oven while it's heating, turn it upside down and slide the pizza onto the back. Then keep an eye on it until it's cooked the way you like it.
"I think most of us know what pizza looks like when it's done," said Chris Bianco, the founder of Pizzeria Bianco. "People are smart, and directions are overrated."
This article originally appeared in The New York Times.
Local journalism is essential.
Give directly to The Spokesman-Review's Northwest Passages community forums series -- which helps to offset the costs of several reporter and editor positions at the newspaper -- by using the easy options below. Gifts processed in this system are not tax deductible, but are predominately used to help meet the local financial requirements needed to receive national matching-grant funds.
Subscribe to the Spokane7 email newsletter
Get the day's top entertainment headlines delivered to your inbox every morning.
---