'All I knew': West Valley boys coach Jay Humphrey retires after 38 years following in his father's footsteps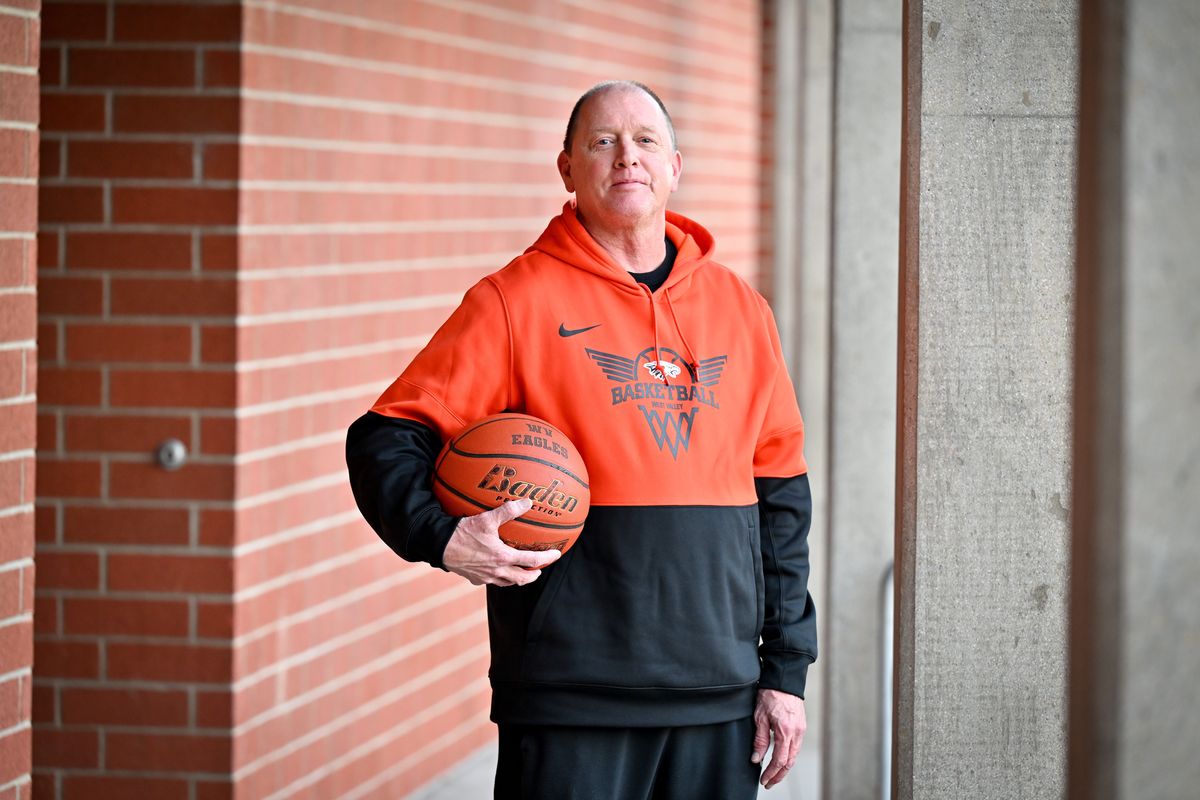 It's not unusual for a child to follow in the career path of one of their parents. For Jay Humphrey, that meant coaching high school basketball.
"I've been going to football and basketball practices since second grade," Humphrey said Wednesday afternoon before heading into practice with the boys team at West Valley – his final team in a coaching career spanning 38 seasons.
"It's just what I know," he said. "In Ritzville, kids grew up to be farmers and then they took over the farm. And that's all they knew.
"I was in the gym or on the football field with my dad, so that's all I knew. And I didn't really do it to follow him. It's just what I did, it's what I knew."
Humphrey will retire from coaching at the end of this season, but he hopes that won't be for a few more weeks yet.
Chip off the old block
Jay tells a story about when he was in the fourth grade. His teacher reached out to his parents suggesting they hold him out of school on the days his dad would be coaching in a game because he was "bouncing off the walls and being too disruptive in class."
Jay's dad, Denny Humphrey, coached at Cheney, LaCrosse, Chewelah and Ritzville (where Jay graduated in 1979) for 33 years and amassed a coaching record of 552-276. When Denny Humphrey retired in 2002, he was fourth on the all-time wins list in the state and is now 13th.
"I can't match what he did," Jay Humphrey said. "There's no way of doing that. But he's obviously left a great example of being about the team and not being an individual."
Denny Humphrey will be recognized in March when the first boys high school basketball all-star game in the region is named after him.
"I think it's a great, great thing for him to be honored for all he did, because he deserves it," Jay Humphrey said.
Humphrey has inherited certain things, besides just X's and O's, from his father.
"I don't know about specifics, but he'd say stuff like, 'Hey, maybe you guys want to pass it to our team this time.' He would be very sarcastic with that kind of stuff," he said. "One thing I've heard is, when I sit on the bench – if I do sit down – I pull up my socks a lot, and that's what my dad did all the time, too. So that's kind of a trait, I guess."
Jay doesn't know where he stands on the all-time list, since he has "no idea" what his coaching record is. Neither does the state coaches association, which doesn't list Jay Humphrey on its all-time coaching leaders list – despite clearly qualifying.
"I think that kind of goes along with my philosophy and what I've told these guys and every team I've had," Humphrey said. "And this is from my dad – it's never about me. It's always 'us.' It's always our team, and how we do – our coaches, our players. I have never been into individual wins, losses. Any of that kind of stuff. It doesn't really matter to me."
Friendship forged in battle
West Valley athletic director Jamie Nilles, another hall of famer, has kept track. In 14 seasons at West Valley, Humphrey is 205-110 with two league titles – with at least two more games to go. The Eagles host undefeated Pullman in the regular-season finale on Friday, then the single-elimination District 8 tournament starts Monday.
After graduating from Ritzville, Humphrey played at Whitworth for two years and Whitman for two more. He started his coaching career directly after college as an assistant and C squad coach at Central Valley in 1985. After three years at CV, he took the head coaching job at North Central for five years (44-67), then went to University for six (44-83).
He spent three years as an assistant at Community Colleges of Spokane, then was an assistant at Shadle Park to Tim Gaebe until Nilles hired him as an assistant at West Valley for one year before taking over.
In his career, Humphrey's overall record is 293-260.
"I was very fortunate to be able to bring him on as an assistant in my last year as a head coach," Nilles said. "It just was a natural transition because of the person he is and just the experience he had at North Central and U-Hi."
Humphrey and Nilles met, unsurprisingly, on a basketball court.
"Jamie and I have been friends for 20-plus years," Humphrey said. "One night I remember playing at the Falls (Spokane Falls CC), he just busted my mouth up with an elbow. And then not too long after that I was smart enough to try to get him to play with us on our team."
"He didn't want to guard me down low," Nilles said. "And I didn't want to run and guard him off all the screens he ran off of."
Time for one last go
"It just feels like time," Humphrey said. "I think it's good for both me and West Valley. I think it's probably time for a new voice. I feel like I could do it for a number of years still, but just feels like it's the right time."
"He's a new grandfather," Nilles said. "I think he really enjoys that time. And he's looking forward to that stage of it. The practices, he still loves, I think the games are really special for him. I think it's really the other stuff that can wear on you."
Humphrey is happy to go out on his terms with a good team – on and off the court.
"I thought we could be pretty good, and we've been really good, and it's been a great group to work with," he said. "I thought about giving it up after last year, but I knew what we had coming back, and I knew the type of kids we had, and I wanted to be around these guys."
The Eagles are 17-2 overall and 8-1 in the GSL 2A, a game behind Pullman with Friday's home showdown looming. Pullman won the first battle 58-40 on Jan. 24, the only game this season the No. 1 Greyhounds have been held to fewer than 60 points.
"I don't know that we've overachieved – maybe some people think that." Humphrey said. "We're not very big, but we are fast. We have big hearts. We compete. We have to win with our defense and rebounding because we can have some tough nights shooting. The kids have bought into the defense, playing tough defense, playing together. We are a team."
"I don't know where it's going to end up, but it's been a great ride so far."
"This is a perfect Jay Humphrey team," Nilles said. "There's not one really total all-star on it, but the kids are bought in to play the right way, which Jay always has – teams that play the right way. He probably learned that from Denny back in the day.
"It'd be nice for him to cap it off with a nice run."
Humphrey is guaranteed two more games, but he hopes the ride lasts a few more than that.
District 8 advances two teams to crossovers against the second- and third-place teams from the Central Washington Athletic Conference for bids to state this season. The league champ gets a home game; the runner-up will have to travel several hours to play.
"It's the toughest league in the state – just getting out of here is so darn tough," Humphrey said. "Last year we got one (bid to state) and we were ranked seventh in the RPI and didn't get to go. And now it's still gonna be tough that we combined with the CWAC. It's gonna be a tough road for sure.
"It's by far the most competitive and some might say the most unfair. I mean, every year we're leaving teams at home that should be playing in Yakima."
A chance for reflection
Humphrey has been so busy this season he hasn't had the chance to look back much unless he's prompted into it.
"I think everybody has things they think they should have done differently," he said. "I think every year you can improve.
"There's things that you look back at, individual years, and you think, 'I should have done this different, I should have done that differently.' This kid, whatever. Offense, defense … whatever. There's 100 different things. I think I've tried to learn and get better with every year.
"No matter how old you get, you can still get better, and I believe that with all my heart."
Humphrey gave thanks to those he's worked with the past 37 years.
"I would personally like to thank all the administrators and assistant coaches I've had, especially here at West Valley. This has been a very challenging job – but a very rewarding job. And I've had total support from the administration. I've got the best coaching staff in the world. Great guys. And great kids."
Nilles will miss having his good friend around every day and has valued their personal and professional relationships.
"I don't ever have any worries about, you know, having parent problems or stuff like that because he's always done a good job with that stuff," Nilles said. "He's fair, he communicates well. I'm really happy for him. It's one of those things where we'll look back when it's finally done and remember all the good times that we've had.
"We just have to keep winning and get a few more home games out of this."
Humphrey saved the last thank-you's for the most important people in his life – his wife Debbie and children Zack and Jenna.
"It was my wife and kids who put up with a grumpy guy for 37 years," he said. "And that's not easy. They've been very supportive. I've been gone, and even when I'm home I'm not home kind of mentally, you know, so I'm just thankful for them all."
---