A&E > Art
Pacific Northwest and South African beadwork exhibits open at Museum of Arts and Culture
Thu., Feb. 9, 2023 Two new exhibits, displaying beadwork from cultures on opposite ends of the globe, open this month at the Northwest Museum of Arts and Culture.
"Plateau Pictorial Beadwork: The Fred L. Mitchell Collection," featuring art by members of the Columbia Plateau tribes, opens to the public Sunday. A compilation of South African pieces, "Ubuhle Women: Beadwork and the Art of Independence," debuted last week.
Tisa Matheson, the museum's American Indian collection curator, said beadwork by Columbia Plateau tribes in modern-day Washington, Idaho and Oregon has often been overlooked by art critics.
"It's conveyed as craft, not art," said Matheson, a member of the Nez Perce Tribe. "This is definitely an art form."
The 80 pieces in the exhibit, most of which date back to the late 1800s and early 1900s, come from the vast collection of former Walla Walla mayor and firefighter Fred Mitchell. Matheson has spent dozens of hours over the last week preparing and cleaning the items with toothbrushes and a vacuum.
"Plateau Pictorial Beadwork" features bags, vests, gloves and cradleboards, all brilliantly colored with glass beads. Many of the pieces include scenes of horses, elk, bald eagles and patriotic symbols – even George Washington.
Matheson said the exhibit will give the public a glimpse into a "stylized art form that is special to this region."
Beadwork is a painstaking, costly process. Matheson said some of the items on display may have taken the artist well over a year to create.
"It was a form of wealth," she said. "It's like their version of Louis Vuitton."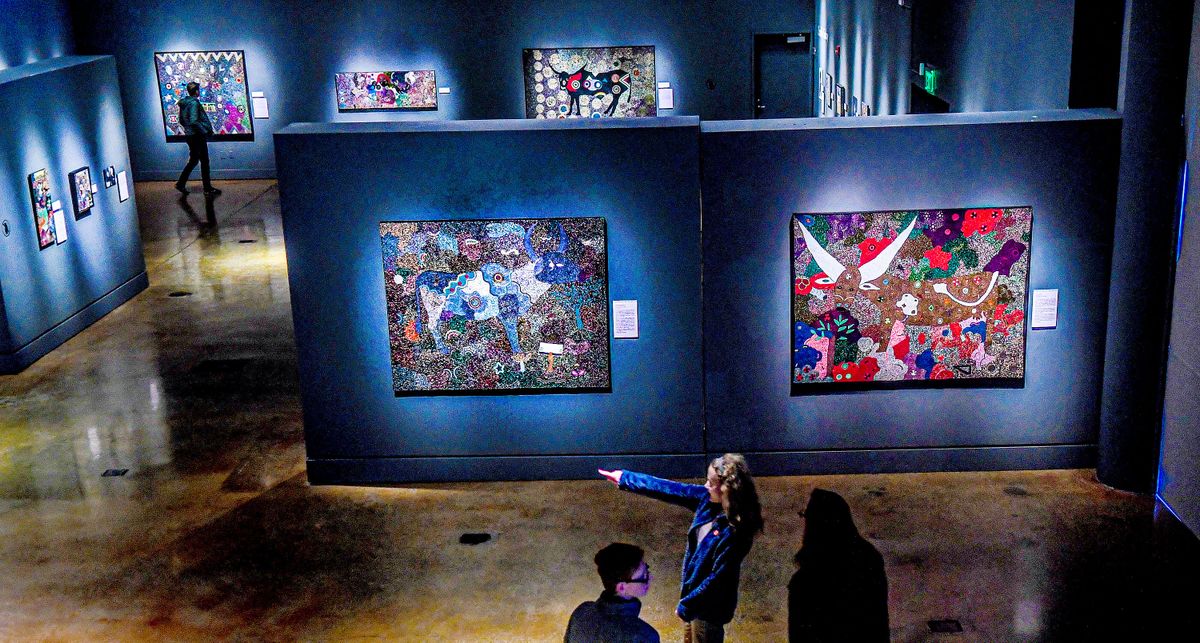 A small crowd roams through the Northwest Museum of Arts and Culture exhibition of beadwork from the South Africa Ubuhle Beads collective on Wednesday. Included in the exhibition is beadwork of Northwest Plateau Tribes from Fred L. Mitchell's premier collection. (Kathy Plonka/The Spokesman-Review)
While "Ubuhle Women" also features beadwork, the two exhibits have little in common aesthetically.
The South African panels, made of Czech beads and always sewn into black cloth, are more abstract.
Some are portraits of Boran cattle, depicted in brilliant reds and blues. Others are intricate, indecipherable explosions of color.
In a video that accompanies the exhibit, Bev Gibson describes the panels as "just so extraordinarily beautiful, there's nothing to understand."
Gibson and Ntombephi "Induna" Ntobela founded the Ubuhle collective in 1999. The project helps rural South African women market their work and achieve financial independence.
"Ubuhle Women" will run through April and "Plateau Pictorial Beadwork" will be open through May 14.
Local journalism is essential.
Give directly to The Spokesman-Review's Northwest Passages community forums series -- which helps to offset the costs of several reporter and editor positions at the newspaper -- by using the easy options below. Gifts processed in this system are not tax deductible, but are predominately used to help meet the local financial requirements needed to receive national matching-grant funds.
Subscribe to the Spokane7 email newsletter
Get the day's top entertainment headlines delivered to your inbox every morning.
---