Gonzaga rewind: Examining WCC tiebreaker scenarios, Hunter Sallis' play against USF and Drew Timme's first half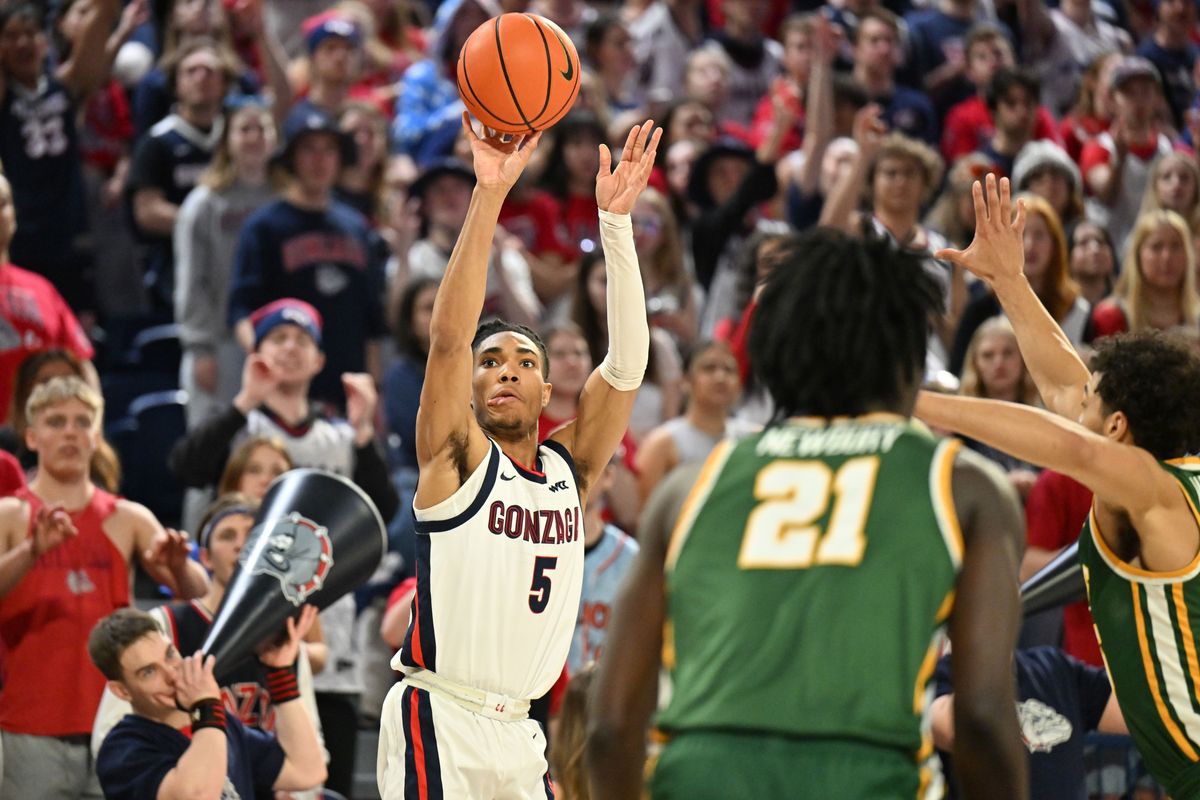 Gonzaga celebrated Dan Dickau's jersey number in a pregame ceremony at McCarthey Athletic Center on Thursday.
The Bulldogs celebrated another offensive masterpiece in a convincing 99-81 victory over San Francisco. Less than an hour after the action finished in Spokane, Gonzaga's fanbase had another reason to celebrate.
Three weeks after Loyola Marymount ended Gonzaga's 75-game home win streak, the Lions played the role of West Coast Conference spoiler again, picking off first-place Saint Mary's on Thursday night in Los Angeles.
LMU became the first WCC team to notch wins over Gonzaga, Saint Mary's and BYU in the same season. The upset closed the gap between the Gaels and the Bulldogs at the top of the standings with five conference games remaining for both teams.
LMU's wins over Saint Mary's and Gonzaga could create an interesting scenario if both the Gaels and Bulldogs win out before playing each other on Feb. 25 in the final game of regular-season WCC play. If the Bulldogs beat the Gaels in Spokane, both would finish with identical 14-2 records.
In that case, the first two tiebreakers – head-to-head record and record against other WCC opponents – would not be useful to determine the top seed at the conference tournament. The WCC would resort to the Gaels' and Bulldogs' NCAA NET ranking.
Saint Mary's dropped one spot to No. 7 in the NET rankings with Thursday's loss in L.A. while Gonzaga remained at No. 12.
The Bulldogs handled their own business on Thursday, nearly hitting the 100-point mark for the sixth time this season while rebounding from Saturday's overtime loss in Moraga, California.
"They're coming off a loss, tried to get that point across to our team," USF coach Chris Gerlufsen said. "Knew they were going to come out with some aggression early on."
We take a look at some of the key developments from Gonzaga's 20th win in our latest rewind.
Sallis sizzles
By at least a few measures, Hunter Sallis turned in the best game of his sophomore season.
The guard made the most of his 17 minutes off Gonzaga's bench, scoring a season-high 13 points on 3-of-5 shooting from the floor. Sallis made a 3-pointer and hit all six free-throw attempts.
Sallis brings value on both ends of the floor for Gonzaga, but the Omaha, Nebraska, native has widely been thought of as a defensive specialist, with his lateral quickness, length and instincts.
On the contrary, Gonzaga coach Mark Few indicated Thursday the former five-star recruit still needs to make up ground on the defensive end of the floor – perhaps even more than on offense.
"We've been asking Hunter and wanting Hunter – for a lot of things, it's been more defensive issues for Hunter than it has been on offense," Few said. "He's making good plays on offense, it's just physically being able to get through screens and not letting guys hit him and collapse him and letting them lay it in at the other end."
At 6-foot-5 and 180 pounds, Sallis has to find ways to compensate for his naturally thin frame when guarding bigger, stronger guards/wings.
He chased down Logan Johnson for a highlight block in Saturday's game at Saint Mary's and stuffed 7-1 USF center Saba Gigiberia midway through the first half of Thursday's win.
"I thought he was better," Few said. "He had a better presence defensively. He made some plays and I think he's getting more and more comfortable."
Sallis has become more reliable on the offensive end, especially as an outside shooter. After missing his first four 3-pointers in WCC play, Sallis has made five of his past 10 and he's shooting 32.3% from behind the arc after making 26.3% as a freshman.
"(We're) running him at the point and he's getting more and more comfortable," Few said. "He's kind of one guy on our team that can make those feel plays, make those ball-screen reads and deliver the ball where it needs to be."
First-half Timme
Drew Timme's finished with a stat line that resembled many of the others the senior forward has posted this season.
He scored 21 points on 8-of-11 shooting from the field. He hit 5 of 9 from the free-throw line and pulled down four rebounds.
Typical Timme, right? Not quite.
Timme's final numbers were more or less his first-half numbers as the All-American only played 5 minutes after halftime, picking up his third foul early in the second half and never returning to the game. Of Timme's 21 points, 20 came in the first half and he didn't attempt a shot from the field in the second half.
With the exception of a post-holiday tuneup against NAIA Eastern Oregon, Timme's 20 minutes were a season low. Under different circumstances, Gonzaga may have put its leading scorer back on the floor, but the Bulldogs continued to pad their lead when Timme came out of the game with 15 minutes, 28 seconds left.
"The other group was playing better," Few said. "The other group was playing better defense and we extended the lead, so we just kind of went with that."
Timme, Gonzaga's highest-usage player and the Bulldogs' minutes leader (32.4 per game), was able to get some rare rest. Timme has played more than 30 minutes in all but two WCC games . He logged 30-plus minutes in only five conference games last season.
"I thought Timme responded. Obviously, he did not have a great game against us the first time," USF coach Chris Gerlufsen said. "I thought he was tremendous tonight."
In Gonzaga's 77-75 win at USF last month, Timme was held to the least-efficient shooting performance in his career as a starter, making 3 of 16 from the field.
Timme claimed sole possession of Gonzaga's career record for field goals, making his 801st early in the first half, and converted seven more while helping the Bulldogs establish a 20-point lead in the first half.
Timme worked around USF defenders with a variety of post moves and paid homage to his NBA idol, Dallas Mavericks star Dirk Nowitzki, with a one-legged, fadeaway jumper in the first half. Timme, who grew up in a suburb of Dallas, spoke about his fondness for Nowtizki in the latest episode of his "Gimme Timme" Podcast.
"Drew is hard to deal with," Gerlufsen said. "We had a game plan. I don't think we necessarily executed the defensive game plan like we did in game No. 1."
No issues for Hickman
Starting point guard Nolan Hickman played 25 minutes and didn't deal with any lingering effects from a foot/ankle injury suffered near the end of the overtime period in Moraga last Saturday.
Hickman missed two practice days earlier in the week but was a full practice participant on Wednesday, according to Few.
"He didn't practice until yesterday and he went full, so that's kind of where we got a feel that he was ready to go," Few said. "So I'm sure he'll be sore today after all that."
The sophomore scored just four points on 2-of-8 shooting from the field, but he grabbed six rebounds and added two assists, one block and one steal.
"We expect it from him. He's a dog, he's a tough kid," Rasir Bolton said. "He's probably been through injuries in high school, so we didn't know how his ankle was, but he told us he was good and taped it up. So once he said he's good, we're rocking with him."
---