News > Idaho
For the Elliss family, 'a distant dream' of family football culminates in a literal Super Bowl brotherhood
Feb. 11, 2023 Updated Mon., Feb. 13, 2023 at 9:44 a.m.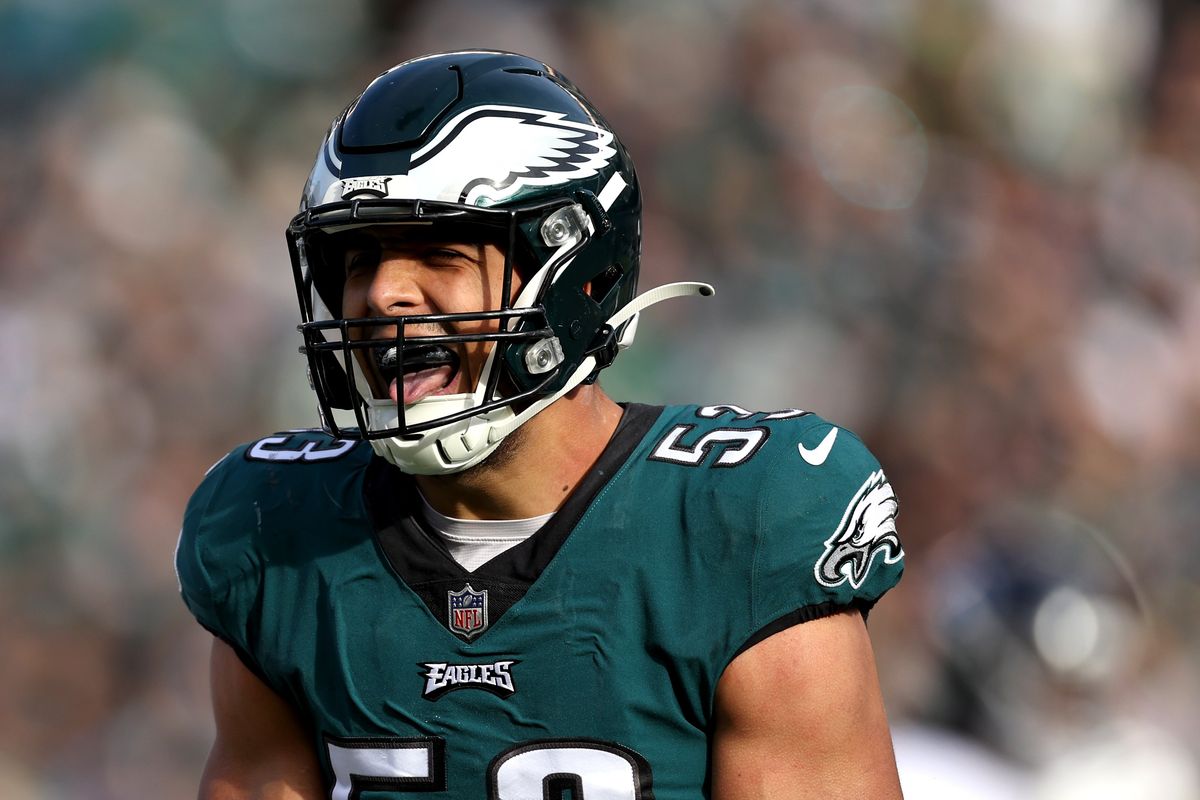 Former Idaho standout Christian Elliss is a special teams player for the Philadelphia Eagles. He also has two brothers, Kaden and Noah, who are former Vandals with NFL ties: Kaden plays for the New Orleans Saints, and Noah was on the Eagles' offseason roster. Their father, Luther, a former Idaho assistant now at Utah, played nine seasons for the Detroit Lions. (Getty Images)
Playing football at the highest level – call it an Elliss family tradition.
Luther Elliss spent 10 years as a defensive tackle in the NFL. Now, three of his sons are in the league. And on the sport's grandest stage, the Elliss family will be well-represented.
"We've been able to continue what we've been doing for quite some time," Luther said.
Christian Elliss, a second-year pro and University of Idaho graduate, is a backup linebacker and special-teams standout for the Philadelphia Eagles.
Noah Elliss, a rookie defensive tackle and also a former Vandal, is out due to an injury sustained in the offseason, but he's also a member of the Eagles' organization. He'll watch his brother from the sideline.
Luther will be in the crowd, surrounded by friends and relatives – including sons Kaden (New Orleans Saints) and Jonah (Utah Utes) – at State Farm Stadium in Glendale, Arizona, to watch Philadelphia take on Kansas City in the Super Bowl. Kickoff is set for 3:30 p.m. Sunday.
"I'm just so proud of my boys," said Luther, a former Vandals assistant. "This is the apex of our profession. It's the biggest game, and here they are.
"I'm so grateful. I get to see my son play in the Super Bowl. I can't explain (the feelings). It's really unique."
Christian Elliss has recorded 12 tackles in eight appearances while playing about 70% of special-teams snaps in those games. Watch for No. 53 in Philadelphia green on punts, kickoffs and field-goal defense during the big game.
"I've dreamt about this since I was a kid," Christian said by phone last week between team meetings. "It's an amazing opportunity. I'm just excited to get out there with the guys. I really love this team, so it's a blessing from God."
Asked what advice he's given his son about playing in the Super Bowl, Luther said, "I told him it's just another game.
"Once the ball is kicked off, you kind of overcome that first exhilaration and just play. Don't overthink it. Do what you've been doing all year. There's a reason you got activated and are doing well. He's had that mindset since camp, and he's done really well."
Luther never played in a Super Bowl during an NFL career that spanned 134 games from 1995-2004, but he appeared in three playoff games in the mid-1990s and served as team chaplain for the Denver Broncos' Super Bowl championship team in 2016.
A first-round pick out of Utah in 1995, Luther played nine seasons with Detroit and one in Denver, and twice was named a Pro Bowler.
"I didn't even get a sniff," Luther said. "It'd be interesting to see how many guys who go through the league make it to the Super Bowl. I bet it's a very slim number. I know a lot of my teammates in Detroit and Denver didn't make the Super Bowl. It's one of those things like, 'Wow, that's really special.' So, enjoy it, take it all in and have the best time, and have no regrets."
Christian got his opportunity in early December and didn't look back. He toiled on Philadelphia's practice squad for the first 12 weeks of the season, then received a call-up for the Eagles' Dec. 4 game with Tennessee. He has been a fixture in Philadelphia's special-teams units since.
"A few guys got injured and that opened the door for me, so I was put on special teams to add a little bit of juice, add a little bit of fire," he said. "Luckily, I've been able to do that."
Christian had five tackles in that game and earned praise from teammates and coaches for laying down a couple of highlight-reel hits. He provided a boost to Philadelphia's production on punt returns and coverage on kickoffs – areas in which the Eagles had struggled during the first half of the season.
"That game really set the tone for me," he said. "I have that jersey saved and framed now. That game set a new starting point for my NFL career, gave me an opportunity to be on a bigger platform. That first punt return, I smacked somebody. That was probably the most memorable play and the one that started it all."
Christian has played a few dozen defensive snaps this season as the primary backup at weakside linebacker. The 6-foot-3, 230-pounder was on the field for the final three possessions of Philadelphia's blowout win over San Francisco in the NFC championship on Jan. 29.
"I'm just joyful about what I've been given," he said.
"We always talked about it when we were kids, what we can do as a family – being athletic and smart enough to take our game to the big leagues. We were all so excited when Kaden got drafted," Christian added of his older brother, who was selected by New Orleans in the seventh round in 2019. "Even when Noah and I didn't get drafted, we were still available and getting opportunities, and it led to this."
The past two months have been a gratifying period of Christian's career following a trying rookie season.
Christian went undrafted in 2021 after a decorated career at Idaho, which included two first-team All-Big Sky selections and 266 tackles – a top-20 mark in program history – in four years as a key contributor for the Vandals. He plugged away in the obscurity of practice squads as a rookie, first with the Minnesota Vikings, then the Eagles and San Francisco 49ers. Philadelphia re-signed Christian last in the 2021 season. He made his NFL debut in Week 18 and inked a reserve/future contract in January 2022.
"I'm so excited for my brother and the year he's had, and celebrating him," Noah said. "Knowing what type of season he had and seeing him reaping the rewards, I'm so proud."
Noah declared for the draft after an impressive 2021 season at Idaho and earned an invite to the NFL combine. A hamstring injury during the combine hurt his chances of being drafted, but Noah landed a free-agent deal with Philadelphia shortly after the 2022 draft concluded. In July, Noah sustained an ACL tear while training with Christian.
"That was a bummer for me, but talking with the (Eagles) coaches, they told me to use this as an opportunity to learn the playbook and be more prepared on the mental side, because that's a big hurdle for most people in the league," Noah said by phone from his hotel room in Arizona.
"(Before the injury), I was able to show more of myself and they were impressed. They liked how I moved at my size (6-4, 350). They're just excited to see more of me when I come back, fully healed. I used this off period to benefit myself. I want to show them the type of player they expect me to be, the type of player I know I can be."
Noah and Christian have been teammates for most of their lives. The two prepped at Judge Memorial in Salt Lake City and Valor Christian in Denver, then reunited in Moscow in 2019.
"It's kind of crazy to think about," Noah said. "We've played on basically every level of football together."
Christian signed with the Vandals out of high school in 2017. Noah initially signed with Mississippi State in 2017 as a four-star DT prospect, but didn't end up playing for the Bulldogs. He stepped away from football for a stretch to focus on his studies before reviving his football career at Idaho. Noah appeared in 21 games in three seasons with the Vandals, and his best season was his last – he recorded 46 tackles and 6½ tackles for loss in 2021.
In college, he played under Luther, who worked as Vandals defensive line coach from 2017-21.
Kaden, Christian and Luther Elliss were at Idaho together during the 2017 and '18 seasons. Kaden left the Vandals as a program great, a four-year starter who played multiple positions – primarily linebacker – and captured NFL interest by virtue of his versatility.
Kaden, like his brothers, had to overcome a hurdle early in his career. He suffered a season-ending knee injury in September of his rookie season with New Orleans.
"It hasn't been perfect. It's been quite a journey," Luther said. "It's helped build character and give them the strength and fortitude to go through tough times.
"Whatever opportunity you get, be the best you can be. … These kids have taken that to heart."
Kaden proved his worth as a special-teams contributor and reserve defender over the next two seasons. He enjoyed a breakout season in 2022, starting 11 games at outside linebacker and totaling 78 tackles and seven sacks.
"He's put in a lot of hard work, and it's shown," Luther said of his oldest son. "The best compliments you can get are when your teammates and coaches speak highly of you. They say, 'We know what he brings.' It's the greatest compliment when people around you recognize your work. He's been prepared for this opportunity, and when he got it, he played really well. It's something I tell my kids, and not just my (sons), but my defensive line guys – 'You never know when your opportunity is going to show. You gotta be ready for that moment.' "
Much of Luther's coaching career has coincided with his sons' playing careers. Luther coordinated the defense at Judge Memorial in Utah for a couple of seasons before the family moved to Denver so he could take the chaplain job with the Broncos.
"I don't know how many dads can say they coached their sons from Pop Warner all the way through college. Now, I've done four," said Luther, the defensive tackles coach at the University of Utah, where he mentors another of his sons – Jonah Elliss, a graduate of Moscow High who started eight games for the Utes at defensive end as a sophomore last season.
"It's become a family affair, enjoying football," Luther added.
The Elliss boys weren't pressured to pursue careers in the sport. But following in their father's footsteps – adding more chapters to the Elliss football tradition – was an idea that began to form naturally when they were young.
"It was something we talked about," Noah said. "It was a distant dream when we were little, just thinking that one day it would be cool to be in the NFL, of course, because our dad was there, as well. It's funny how those small conversations became reality."
Local journalism is essential.
Give directly to The Spokesman-Review's Northwest Passages community forums series -- which helps to offset the costs of several reporter and editor positions at the newspaper -- by using the easy options below. Gifts processed in this system are not tax deductible, but are predominately used to help meet the local financial requirements needed to receive national matching-grant funds.
Subscribe now to get breaking news alerts in your email inbox
Get breaking news delivered to your inbox as it happens.
---