Gonzaga's Julian Strawther comes up clutch again vs. BYU, sparks 88-81 victory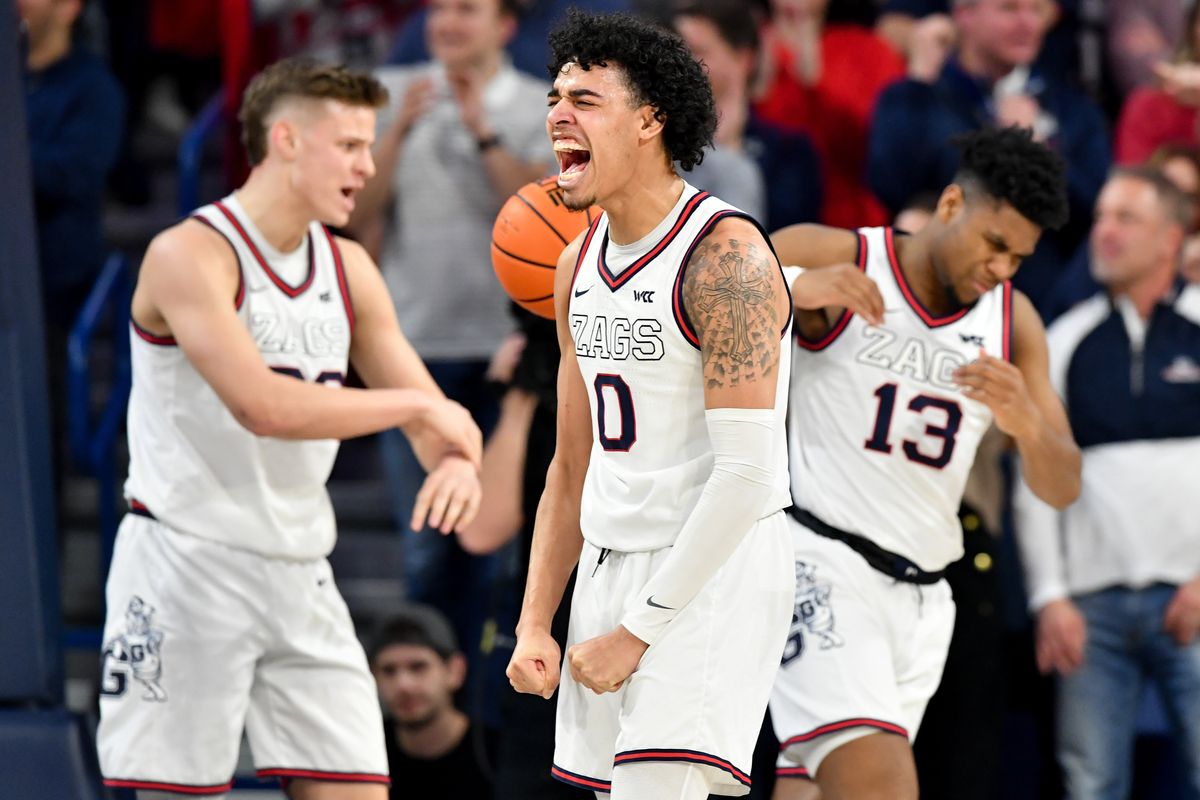 BYU apparently brings out the best in Julian Strawther, especially in crunch time.
Strawther led No. 16 Gonzaga back from another late-game deficit against the Cougars, hitting a pair of 3-pointers that gave the Zags the lead for good en route to an 88-81 victory Saturday night in front of a packed house at McCarthey Athletic Center.
Strawther, whose 3-pointer in the closing seconds fueled Gonzaga's 75-74 comeback win in Provo, Utah, last month, broke the Cougars' hearts again in BYU's last trip to the Kennel as West Coast Conference members.
Strawther scored 17 of his game-high 26 points in the second half, even after sitting out for 5 minutes after picking up his fourth foul. It took the junior wing all of 13 seconds after returning to hit a 3-pointer to knot the score at 71 with 4:09 remaining.
"When I picked up my fourth I was really disappointed in myself. I didn't have any in first half and came out in second half and picked up four," Strawther said. "I felt like I was playing really well and (then) I left my guys stranded out there. I knew when I got back in the game I was going to try to make an impact and pick up where I left off."
Gonzaga needed much more to finish off the Cougars, who led by as many as six points in the second half. Rasir Bolton hit a second-chance 3-pointer after Anton Watson's offensive rebound and Strawther added three free throws when he was fouled on a 3-point attempt.
Bolton hit 6 of 6 free throws in the final 25 seconds.
Gonzaga (21-5, 10-2 WCC) stayed within one game of first-place Saint Mary's, which handled Portland 81-64 to improve to 22-5, 11-1 in conference. BYU fell to 16-12, 6-7.
"What a ballgame," Zags coach Mark Few said. "That was an intense game from the jump. It always is with BYU. Again, we just found a way to win. Guys did a great job of sticking to it, because there were stretches there where it wasn't good, not only for the squad but for particular guys. But they didn't hang their heads, and they gave us a chance to pull it out in the end.
"We had a little Kennel magic there."
The Cougars, who will join the Big 12 Conference next season, built a 63-57 lead with 8:35 left before the Zags staged a rally that brought the crowd back into the game. Malachi Smith scored five points and Watson shook off a rough night at the foul line by hitting two free throws. Still, BYU led 71-68 prior to Strawther's back-to-back 3s.
"It was really big time because he was in foul trouble," Few said. "I asked him he was ready to go and we called his number right when he came in. He had several baskets, but obviously those 3s were huge."
Gonzaga made just three 3s in first 35 minutes before Strawther drained two and Bolton connected from deep in a 2-minute span. Strawther also forced a missed shot by BYU's Dallin Hall in the lane with 1 minute left and the Zags leading by two.
Drew Timme finished with 19 points, seven rebounds and matched his career high with eight assists. Watson chipped in 12 points and six boards and Bolton added 13 points.
Gonzaga turned around a halftime rebounding deficit to win the glass 34-33. The Zags also limited BYU to one 3-pointer in the closing 20 minutes after the Cougars hit six in the first half.
"It was a war, man," Timme said. "They have a good team and they always play us well. It's a nice little parting gift from the Kennel to them, I guess. It was a grinder. We were just chopping wood the whole game. They were making some tough shots, but getting Julian back was huge and it just opened the floor up so much more. When you have a guy like that you just try to throw him the ball as much as you can, especially when he has it going."
Fousseyni Traore and Spencer Johnson each had 17 points for the Cougars.
Gonzaga started quickly again, scoring the game's first six points and taking a 14-5 lead on Strawther's first 3-pointer.
The Cougars clawed back on the strength of 3-pointers – seven in the opening half, including two that were banked in – and eight offensive rebounds that led to a 10-4 edge in second-chance points.
The Zags' offense started quickly, too, but their shooting percentage tailed off and their turnover total went up as the half progressed. BYU took its only lead, 37-34, on Noah Waterman's 3-pointer with 22 seconds left in the half.
---