Sports > Gonzaga basketball
Recap and highlights: Julian Strawthers comes up in crunch time as No. 16 Gonzaga holds on to beat BYU 88-81
Feb. 11, 2023 Updated Sat., Feb. 11, 2023 at 10:35 p.m.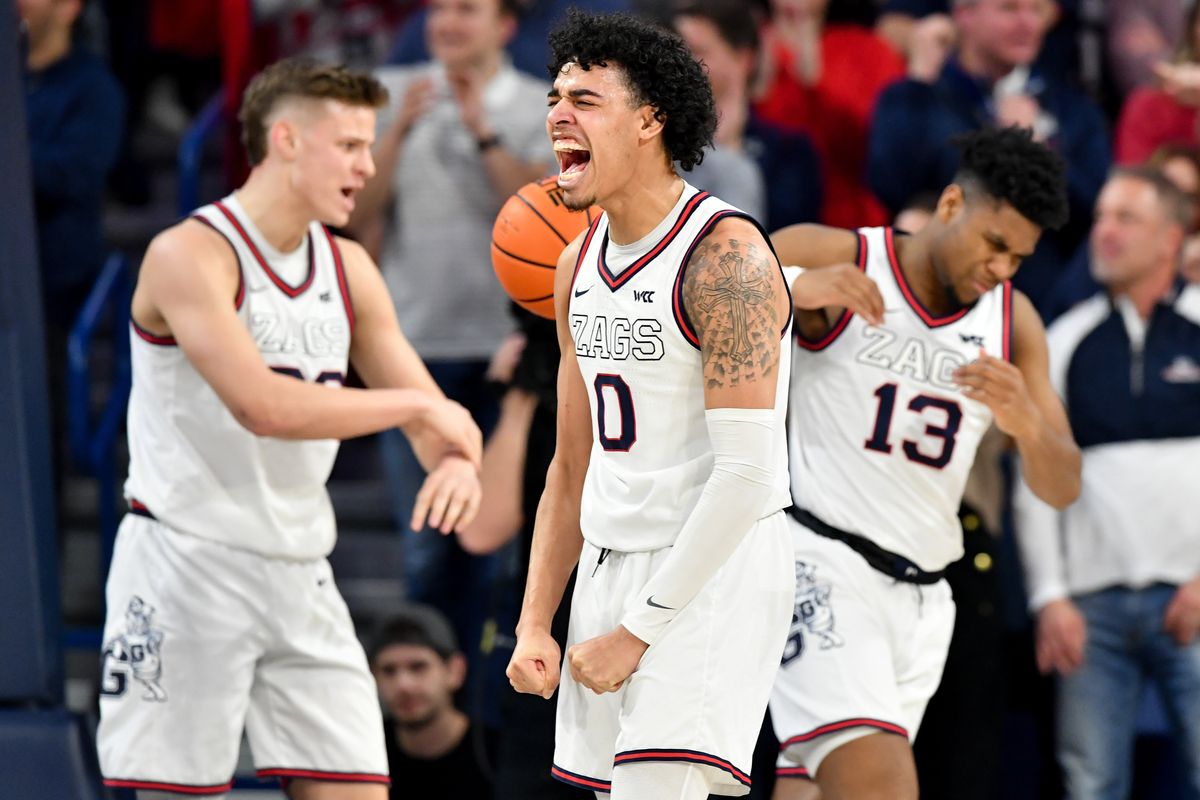 Gonzaga Bulldogs guard Julian Strawther (0) screams in celebration as forward Ben Gregg (33) and guard Malachi Smith (13) celebrate after Smith drew a foul during the second half of a college basketball game on Saturday, Feb 2023, at McCarthey Athletic Center in Spokane, Wash. Gonzaga won the game 88-81. (Tyler Tjomsland/The Spokesman-Review)Buy a print of this photo
Julian Strawther has made a habit of hitting big shots against Brigham Young.
The Gonzaga wing made a pair of 3-pointers and converted three free throws in the final minutes to lift the Bulldogs over the Cougars 88-81 on Saturday at the McCarthey Athletic Center.
Strawther, who scored a team-high 26 points, tied the score at 71 at the 4:09 mark and gave the Zags the lead on the next possession with another 3-pointer. He made a BYU defender off-balanced with a jab step deep behind the 3-point line, before getting a friendly roll on the go-ahead shot.
The 16th-ranked Bulldogs (21-5, 10-2) didn't win it there.
After a stop, Strawther collected a tipped rebound from Anton Watson, an passed across the court to Rasir Bolton for another 3-pointer. Later on Strawther was fouled on a 3-point attempt, up by two with 36 seconds left, and made all three foul shots.
Bolton made six free throws in the final 24 seconds to put it away. He finished with 13 points, one of four Bulldogs in double figures. Drew Timme added 19 points and eight assists. Watson scored 12.
The Cougars (16-12, 6-7) led for 13 minutes, 45 seconds in the second half.
Foussey Traore and Spence Johnson led BYU with 17 points apiece.
Gonzaga remains one game behind Saint Mary's in the WCC standings, after the Gaels earned a bounce-back win over Portland Saturday.
The Bulldogs will travel to California for a pair of road games at Loyola Marymount on Thursday and at Pepperdine on Saturday. The Lions beat GU on Jan. 19.
Youtube
First half
19:43 – GU 2, BYU 0: Timme makes the first shot attempt of the game through contact and draws a foul. He misses the free throw.
Tipoff delayed five minutes due to Stanford-Arizona game, still underway on ESPN2. Game will start on ESPN News.
14:34 – GU 16, BYU 14: Johnson makes a 3-pointer for the Cougars at the first media timeout, closing the gap.
BYU opens the game 4-for-5 on 3-pointers to keep up with the Zags, who made 7 of 9 attempts from the field.
11:54 – GU 18, BYU 14: Sallis turns a couple of turnovers into points with assists down the court to Timme, who is up to six points, tied for the team high with Strawther.
9:13 – GU 22, BYU 18: Saunders is called for a flagrant foul on Gregg as both players go for a loose ball. Gregg makes both free throws.
Courtney Vandersloot, who had a jersey ceremony during the women's game this afternoon, was recognized during an earlier timeout.
6:32 – GU 26, BYU 20: Both offenses have cooled. BYU 1 of their last 8 from the field and 8 of 21 in the game. Timme leads GU with 10 points.
3:59 – GU 32, BYU 30: Bolton checks in with a pair of buckets for the Zags, which hold a narrow lead at the U4 media timeout.
Halftime
Waterman made a 3-pointer with 25 seconds remaining in the half to give Brigham Young its first lead of the game, a 37-34 advantage over Gonzaga it takes into halftime.
The Cougars shot better on 3-point attempts than their total from the field, making 7 of 16 3s.
Gonzaga shot 50% from the field, but went 2-for-9 on 3-pointers. It closed the half with no points and three turnovers in the final 2:26.
Timme leads the Zags with 10 points, while Strawther adds nine. Johnson leads BYU with 11.
Second half
16:27 – BYU 43, GU 40: Cougars holding onto their three point lead early into the second half. 
12:00 – BYU 52, GU 49: Timme briefly ties the score at 49, but Waterman converts a 3-point play. Both teams with 15 points in the half. 
8:28 – BYU 63, GU 57: Cougars have made 6 of their last 8 attempts, as the Bulldogs are having a tough time getting any stops.
Gonzaga pulled within one point, but Strawther was called for a flagrant foul, which resulted in four-straight points for the Cougars. Johnson leads three BYU scorers in double figures with 15 points. Timme and Strawther have 17 apiece for GU, but Strawther is on the bench with four fouls.
7:32 – BYU 63, GU 60: Smith collects a loose ball and makes a key 3-pointer to cut the Cougars lead in half. Bulldogs get a stop and have possession at the U8 media timeout.
5:23 – GU 68, BYU 67: Zags take the lead and then both teams trade baskets. Traore makes the latest for the Cougars, who then call a timeout.
4:21 – BYU 71, GU 68: Traore makes a dunk and reverse layup on consecutive possessions to put the Bulldogs back in front. Zags call a timeout.
2:02 – GU 77, BYU 75: Strawther makes a pair of 3-pointers and then finds Bolton for another with a cross-court pass. Timme fouls Ally Atiki on the other end, who makes a pair of free throws.
0:37 – GU 79, BYU 75: Strawther makes the first two free throws of three to extend the Zags lead. GU is in good shape to hold on for the win.
Pregame
Every time two teams take the court this season an upset seems to be waiting, not only in the West Coast Conference, but across the country.
Saint Mary's was the WCC's latest victim, falling to Loyola Marymount in overtime on Thursday. The Lions, who also beat Gonzaga on Jan. 19, leveled the playing field in the conference with five games remaining.
Both the 15th-ranked Gaels and 16th-ranked Bulldogs can win out and claim the WCC title.
That will be easier said than done.
Gonzaga hosts Brigham Young today at 7 p.m. in the McCarthey Athletic Center, two days after the Bulldogs (20-5, 9-2 WCC) enjoyed a comfortable bounce-back win over San Francisco. The game will be broadcast on ESPN2.
The Cougars' (16-11, 6-6) week hasn't been as enjoyable. BYU lost to Pepperdine 92-80 on Thursday, after opening the month with routs of LMU and Pacific. The Cougars have lost four of their last six games.
These teams last met in Provo, Utah on Jan. 12, when Gonzaga's Julian Strawther sank a go-ahead 3-pointer with nine seconds left to stun a sold-out crowd of nearly 19,000 at the Marriott Center. The Bulldogs won 75-74 and trailed by as many as 10 points with five minutes left.
Today's game will be the last between Gonzaga and BYU in a regular season WCC game, as the Cougars will join the Big 12 next season.
Series history
Gonzaga holds a 23-7 all-time series lead over BYU, winning each of the last six meetings. The Cougars last won in Spokane on Feb. 25, 2017.
Team stats
Individual leaders
Game preview
More on the Zags
Local journalism is essential.
Give directly to The Spokesman-Review's Northwest Passages community forums series -- which helps to offset the costs of several reporter and editor positions at the newspaper -- by using the easy options below. Gifts processed in this system are not tax deductible, but are predominately used to help meet the local financial requirements needed to receive national matching-grant funds.
Follow along with the Zags
Subscribe to our Gonzaga Basketball newsletter to stay up with the latest news.
---