Sports > High school sports
District 8 4A: Kylee Fox leads Richland romp over Central Valley girls in semifinal; Bears boys bounced by Hanford
Feb. 14, 2023 Updated Tue., Feb. 14, 2023 at 11:51 p.m.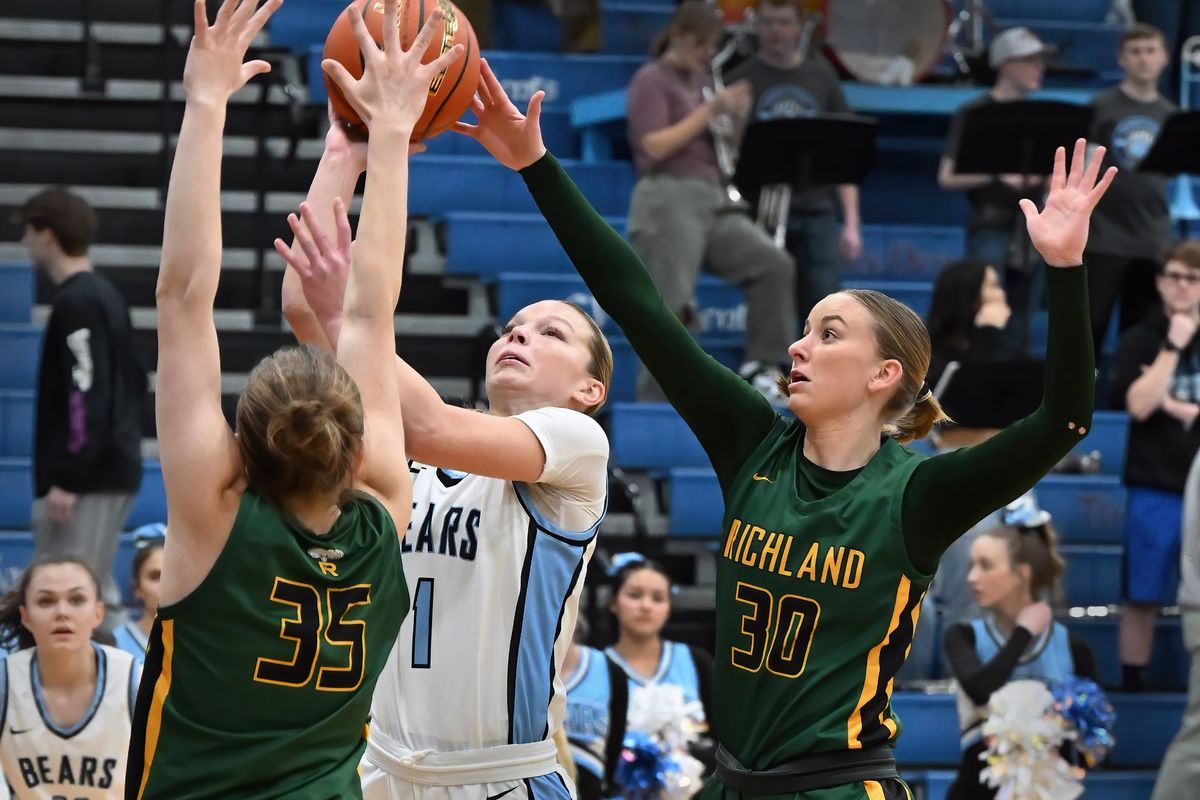 Central Valley's Autumn Agnew shoots over a pair of Richland defenders during Tuesday's District 8 4A semifinal girls basketball game at Central Valley. (Colin Mulvany/The Spokesman-Review)Buy a print of this photo
The Central Valley girls basketball team has been involved in some lopsided games in the past. Usually, they've been on the winning end.
On Tuesday against Richland, however, the shoe was on the other foot. The Bombers had a 20-point lead early in the second quarter and never let up.
Kylee Fox led four in double figures with 22 points and visiting fourth-seeded Richland (17-5) handled top-seeded Central Valley (16-6) 80-52 in a District 8 4A semifinal at CV.
Maggie Smith scored 21 points, Macie Milum had 16 and Mackenzie Schulz added 12 for Richland.
Central Valley was led by Autumn Agnew with 14 points and Eden Sander with 10.
Richland advances to the district title game on Saturday against Kamiakin. Central Valley will host Gonzaga Prep, a 72-30 winner over Pasco, in a loser-out on Thursday.
"It's just postseason basketball. That's a solid team over there," Central Valley coach Felice Orrell said.
"Our shots weren't falling and we tried to battle. Our rotations were slow. We tried to make some adjustments, but we dug ourselves a really big hole."
Orrell said she'll have no problem getting the Bears up to face G-Prep on Thursday.
"Short memory, right?" she said. "We've got to flush this and get ready to go at practice and then battle to see if we can keep an opportunity to get to state."
Smith and Fox hit early 3-pointers as Richland raced out to a 14-6 lead midway through the first quarter. Fox made another 3 late in the quarter and the Bombers led 22-8 after one.
Milum made a short jumper and a 3 to push Richland's lead to 33-20.
Fox drove for a contested layup then made a long 3 and the Bombers led 47-25 at halftime.
Richland opened the second half with an 11-0 run, with Schulz scoring three times in the paint, all assisted by Fox. The Bombers went 10 of 15 at the line in the quarter and led 68-37 heading into the fourth.
Agnew picked up her fifth foul – all in the second half – early in the fourth quarter.
"We definitely need her experience here and in games like this in our postseason," Orrell said.
Boys
Hanford 70, Central Valley 61: Carter Fewel came off the bench to score 28 points, including 20 in the fourth quarter, and the Falcons (3-19) eliminated the Bears (2-20) at CV.
Andrew Dearman added 16 points and Jaden Morales had 10 for Hanford. Central Valley was led by Daniel Crowley with 19 points, Chase Chalich with 15 and Kyelan Bressnee with 13.
A close game throughout, Hanford pulled away in the fourth quarter after two CV players were hit with technical fouls following a scrum under the basket.
"It was two teams trying to figure out a way to win," Central Valley coach Mike Laws said. "There were a couple of loose balls – and a couple of big calls.
"The double technical was like, yeah, well, probably. But it really took all the wind out of our sails."
Chalich got off to a hot start, scoring five points in the first quarter to lead CV to a 13-11 lead .
Fewel entered the game in the second quarter and put up a pair of 3-pointers and the Falcons led briefly.
CV answered with Daniel Crowley, who made three buckets in the frame and the Bears led 30-29 at halftime.
Fewel hit two more 3-pointers in the first 2 minutes of the fourth to put Hanford up by six. His third 3 of the quarter made it 53-42 with 5 minutes left.
Breesnee hit a pair of 3s to get it close, but CV was hit with the double technical and Fewel hit 3 of 4 at the line to make it 62-57 with 1:38 to go.
The Bears were assessed another technical a few moments later following a foul and Hanford hit 2 of 4 to put its lead at eight.
Fewel made 6 of 8 at the line in the fourth.
Local journalism is essential.
Give directly to The Spokesman-Review's Northwest Passages community forums series -- which helps to offset the costs of several reporter and editor positions at the newspaper -- by using the easy options below. Gifts processed in this system are not tax deductible, but are predominately used to help meet the local financial requirements needed to receive national matching-grant funds.
Subscribe to the sports newsletter
Get the day's top sports headlines and breaking news delivered to your inbox by subscribing here.
---