A&E > Entertainment
Stream on Demand: 'Sharper' crafts a twisty con with Julianne Moore and Sebastian Stan
Feb. 14, 2023 Updated Thu., Feb. 16, 2023 at 3:28 p.m.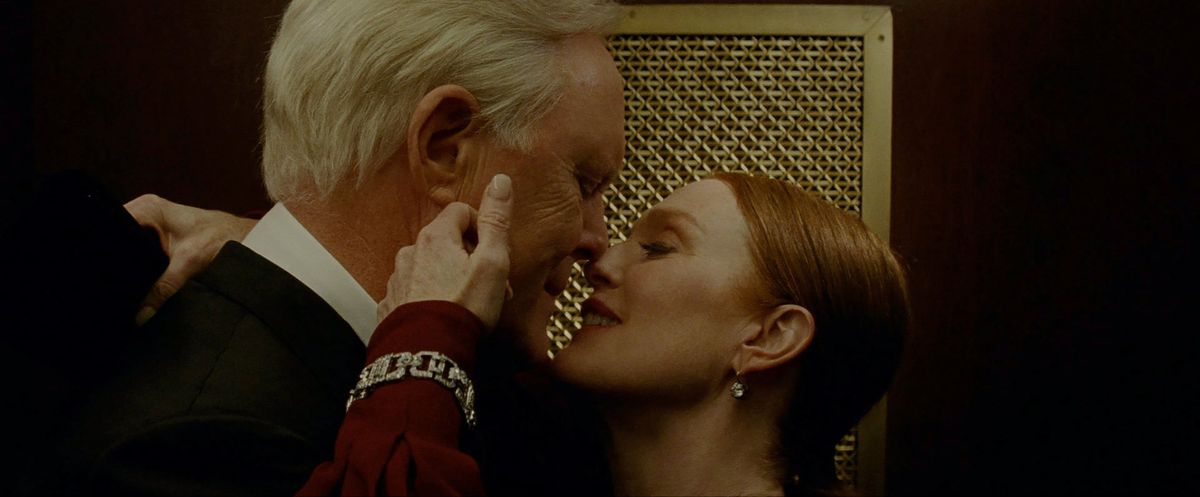 John Lithgow and Julianne Moore co-star in the twisty con thriller "Sharper." (Apple TV+)
What's new for home viewing on Video on Demand and Netflix, Hulu, Disney+, HBO Max, Amazon Prime, and other streaming services.
Top streams for the week
The con artist thriller "Sharper" (2022, R) stars Julianne Moore and Sebastian Stan as a pair of grifters who entangle a college student (Briana Middleton) in a scheme involving a shy bookstore owner (Justice Smith) and a Manhattan billionaire (John Lithgow). The film, directed by Benjamin Caron, dissects and reconstructs the classic con thriller to tell its story in reverse and keep the audience guessing just who is conning who. It's a twisty little story with a sometimes mean-spirited edge. Streams a week after a limited theatrical release. (Apple TV+)
Tilda Swinton is a literary scholar and Idris Elba an ancient Djinn released from his prison in a bottle in "Three Thousand Years of Longing" (2022, R), a lovingly-told fantasy based on a short story by A.S. Byatt. Three wishes are involved, of course, but director George Miller is more interested in telling a story of love and disappointment that spans three millennia, and he fills the screen with deliriously beautiful images of mythical imagination. (Prime Video and MGM+)
Set in an alternate reality past, the dramedy "Hello Tomorrow: Season 1" (TV-MA) stars Billy Crudup as the optimistic leader of a team of salesman hawking timeshares on the moon in 1950s suburban America. His optimism in a better tomorrow inspires his coworkers and customers but leaves him teetering on the brink of disappointment. Three episodes available, new episodes on Fridays. (Apple TV+)
The third and final season of "Star Trek: Picard" (TV-14) reunites U.S.S. Enterprise Capt. Jean-Luc Picard (Patrick Stewart) with members of his former crew. Gates McFadden, LeVar Burton, Michael Dorn, Jeri Ryan, Marina Sirtis, Jonathan Frakes and Brent Spiner all make appearances. New episodes on Thursdays. (Paramount+)
The wary coexistence of humans and faerie folk threatens to descend into war in the second and final season of "Carnival Row" (TV-MA), set in a fantasy version of 19th century London where the magical beings are oppressed by the human majority. Two episodes available, new episodes on Fridays. (Prime Video)
The British horror thriller "Red Rose: Season 1" (TV-MA) follows a group of teens who download an app that hacks their phones and their lives, blackmailing them into performing increasingly dangerous tasks. (Netflix)
True stories: Jada Pinkett Smith produces and narrates "African Queens: Njinga" (TV-14), a documentary miniseries about the life of the 17th century warrior queen of Ndongo and Matamba. (Netflix)
Pay-Per-View / Video on Demand
Steven Spielberg draws from his own childhood for his family drama "The Fabelmans" (2022, PG-13), which was nominated for seven Academy Awards, including best picture.
Netflix
"The Law According to Lidia Poët: Season 1" (Italy, TV-MA, with subtitles) dramatizes the life of the real-life 19th century woman who fought to become Italy's first female lawyer.
Hulu
The documentary series "Planet Sex with Cara Delevingne" (TV-MA) explores the joys, mysteries, and changing nature of human sexuality
Amazon Prime Video
The eight-episode Western "The Head of Joaquín Murrieta" (Mexico, TV-MA, with subtitles) stars Juan Manuel Bernal as the real-life outlaw known as the Mexican Robin Hood in 1851.
Sean Axmaker is a Seattle film critic and writer. His reviews of streaming movies and TV can be found at https://streamondemandathome.com.
Local journalism is essential.
Give directly to The Spokesman-Review's Northwest Passages community forums series -- which helps to offset the costs of several reporter and editor positions at the newspaper -- by using the easy options below. Gifts processed in this system are not tax deductible, but are predominately used to help meet the local financial requirements needed to receive national matching-grant funds.
Subscribe to the Spokane7 email newsletter
Get the day's top entertainment headlines delivered to your inbox every morning.
---