'Like home': GSL defensive MVP Brandon Thomas commits to walk-on at Eastern Washington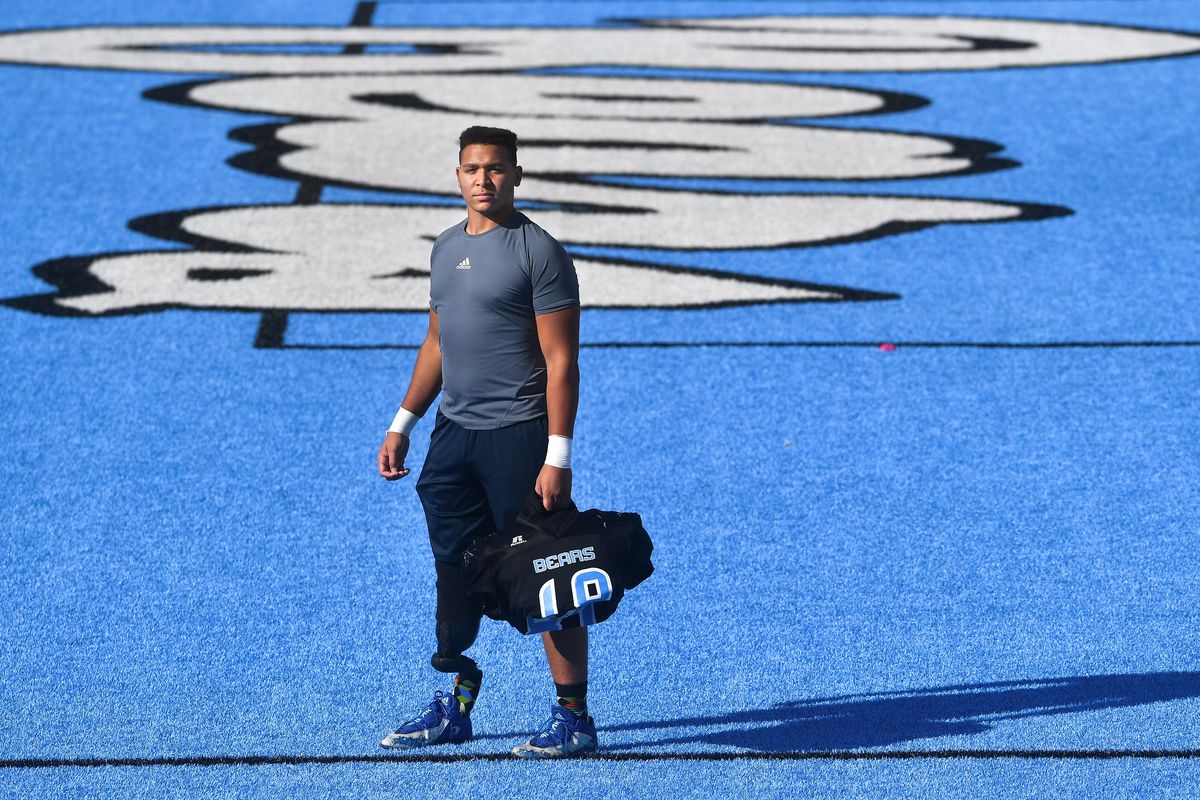 Brandon Thomas is similar to many high-profile high school senior football players, weighing offers of where he might want to play in college.
But Thomas is unlike any of those others. He is attempting to become a college football player with a prosthetic leg.
Ultimately, familiarity played a huge role in his decision – him with the school and the school with him.
Thomas posted on social media on Tuesday he committed as a walk-on to Eastern Washington in Cheney.
He said the Eagles will be looking at him as a defensive end following his Greater Spokane League defensive MVP season at linebacker for Central Valley.
"Eastern is kind of like home to me," Thomas said. "That's the biggest reason why I chose it. It has everything I needed."
Thomas' father, Devon, a senior associate athletic director at Gonzaga, was an assistant athletic director at EWU from 2018-2021.
"I've been going to camps there since elementary school," Brandon said. It made for a natural decision.
"That's a good way of putting it. Everything kind of fit. I've always wanted to play D-I ball. The community that supported me throughout my cancer journey and even through high school is going to still be able to watch me play at home. And that's a big thing for me."
Thomas' story is well-known but bears repeating.
While training with the CV track team in early 2020, Thomas – who was a first-team All-GSL linebacker as a sophomore – felt something wasn't right with his lower-right leg. After treating it for what he thought was a sprain, tests and X-rays eventually revealed a more serious diagnosis: cancer. Specifically, osteosarcoma – a form of bone cancer.
The doctors told Brandon, and his parents Devon and Melanie, the best course of treatment would be amputation. Surgery, months of chemo and therapy – physical and emotional – followed.
Thomas was granted a medical exemption for an additional year of high school. Just 15 months after surgery, he returned to play with a prosthetic and earned all-league honorable mention his junior year.
As a senior, he totaled 119 tackles – including 17 tackles for loss – and an interception return for a touchdown.
Those kinds of numbers jump off the page for any linebacker. But with the COVID exemption and ease of the transfer portal in college, high schoolers are finding offers more scarce.
"Why would you take a high school senior when you can take a (college) veteran who's already played?" Thomas asked.
Thomas had opportunities elsewhere but felt like Eastern was the best fit, regardless of the situation. He doesn't mind walking on to be comfortable.
"It's not demeaning for me," he said. "I know that I'll keep proving myself to whoever I need to. I'm not afraid of work. Obviously, (EWU) knows I have a prosthetic. They know that there's some things I'm not going to be able to do. But from a football standpoint, I think they know that I'm still going to go out and compete and try to start."
He didn't feel that comfort level everywhere.
"I think there was hesitancy from a lot of college coaches because they don't know," he said. "I'd be the first person to start, play a full game with a prosthetic."
It could take the Eagles as much time to get adjusted to Thomas as him to the school. It's just another challenge for Thomas to overcome.
"I don't mind it," he said. "That's just me, though. I've worked this hard already. I'll just keep proving myself. If I have to earn a spot on the team, that's what I'll do."
He's anxious to get going on his "next chapter."
"I love football. Any chance I get to play football, there's an exciting feeling I get. I'm excited to live with the guys. Be on a new team. Meet new people. Everything that football has to offer at a college standpoint is what I'm looking forward to."
Thomas had some words for his family, coaches and medical staff who helped through his challenges.
"Thank you. I'm so thankful for everything they've done for me. They are the reason I am able to get into a prosthetic. They're the reason I am here right now. All the people that have supported me up until now are what keeps me going."
And what does he say to the doubters?
"All the comments, 'Oh, maybe he can't do it,' or 'He has a prosthetic leg, no one's done it before.' All those kind of comments don't really bother me because I have so many people that believe in me and I know that I can do whatever I put my mind to. I can't express how helpful that is to my mindset."
---