News > Features
Parents turn to Spinning Babies to work muscles and ligaments, easing pregnancy, labor
Fri., Feb. 17, 2023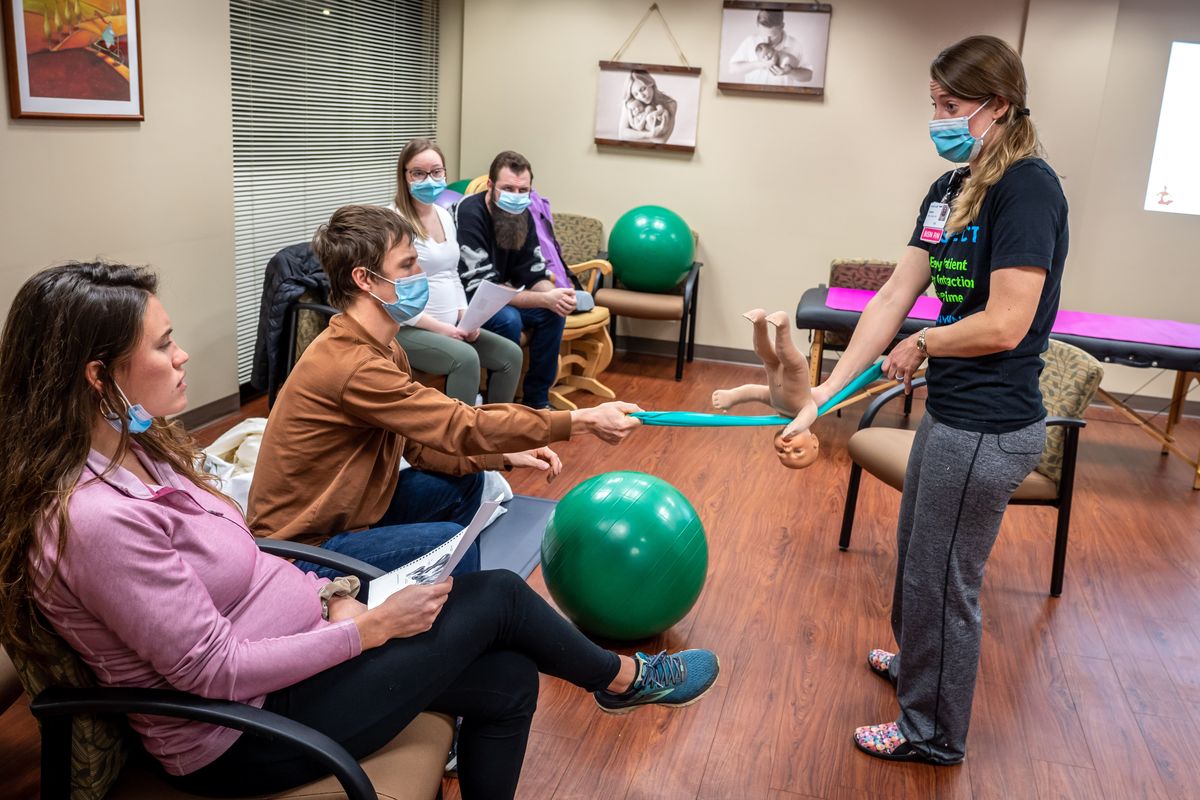 In the Spinning Babies parent class, nurse Laura Kaiser, on right, demonstrates how a baby passes through the pelvic muscles during childbirth with expecting couples Michelle and Henry Herman, at left, and Zoë Larzelier and Anthony Crook on Feb. 8. (COLIN MULVANY/THE SPOKESMAN-REVIEW)
Stretches, hip openers, ball squeezes and a touch of yoga took center stage for expectant parents in a recent class with an unusual name – Spinning Babies.
They didn't find any stationary bicycles, but rather followed body stretches designed to reduce discomfort in pregnancy and ease labor. At MultiCare Deaconess Hospital, instructor Laura Kaiser taught the two couples to do exercises for the many ligaments and muscles that support the pelvis.
A nurse in the hospital's family birth center, Kaiser said the Spinning Babies title makes more sense if you describe both how a baby descends during labor and a physiological approach to caring for the body in pregnancy.
"People always ask me about, why Spinning Babies, and it really comes from the idea that your pelvis is kind of like a lock and the baby is a key," Kaiser said. "In order for the baby to get through the pelvis and be born, it has to spin through the pelvis like a key in a lock, and it has to unlock different stages of the pelvis."
Traditional childbirth classes focus more on what to expect during labor, the birth process and possible interventions such as a cesarean birth or use of epidurals, Kaiser said. Spinning Babies centers on becoming familiar with the body during pregnancy and labor, along with how to support what it's naturally meant to do.
"One of the first things we do is look at how we can move our bodies every day with certain daily activities that take roots in yoga and physical therapy," she said. "It's more about preparing the body holistically and physically."
Instructors teach about the pelvis, organs affected, and all the connecting ligaments and muscles that can either be "too tight, too loose or tweaked in some way." That can affect the space available for the baby, Kaiser added.
The pelvis is dynamic and meant to open, she said.
"The more you move," she said, "the more you're opening the pelvis in different ways."
She said the class methods help as a baby grows during pregnancy, and support the birth. A growing baby puts stress on the mom's body, and hormones are released during pregnancy that cause other changes.
"The class is there to help support an easier childbirth, but it's not solely that," Kaiser said. "Its purpose is to educate participants about their bodies and how they can use their own body and their own movements to enhance what their body has, make it more limber and more open."
Zoë Larzelier, who was 29 weeks pregnant, and Anthony Crook are expecting their first baby. They attended on Feb. 7. In the same class, Henry and Michelle Herman also are preparing for first-time labor. She was 34 weeks pregnant.
The four of them created a human model of the connected ligaments, muscles and organs affected.
"It's cool to understand all what's going on inside, all the different parts and some of the practical stretching," Michelle Herman said. "I heard about the class and wanted to come to prevent tearing and prevent a C-section."
Larzelier said she'll now do the stretching daily.
"I just want more comfort, and stretching is a big one," she said.
Crook added, "It's hard to find something that she can do that's pregnancy safe."
Among stretches, Kaiser taught them a standing windmill-like move with a slight spinal twist, as well as a calf stretch from the heel up to the lower spine. The couples supported each other in a squat position for flexibility.
Kaiser also taught about stretching the psoas, a muscle that "drapes across the pelvis and cradles everything." A psoas stretch involves a kneeling lunge with a posterior pelvic tilt. She showed a sitting posture, as well, on an exercise ball with knees slightly lower than the level of the hips, while letting the belly be a hammock for the baby.
The classes started in November, with registration available online for $100 per couple at MultiCare Deaconess INW childbirth classes. Upcoming classes are scheduled for March 21 or 23.
Midwife Gail Tully, of Minneapolis, created Spinning Babies education. It first went online in 2001. The class was better known early on among pregnant women seeking to turn a breech baby, but the methods have shown broader benefits for all pregnancies and births, Kaiser said.
Kaiser said she got certified to teach expectant parents about Spinning Babies because she saw the differences.
"I got very passionate about physiological birth and helping parents move and position themselves to help the baby descend," she said. "It's understanding what the body does, how hormones interact, how the baby is trying to turn, how the mom's pelvis needs to open, how the mom's psyche needs to be calm and relaxed … to release more oxytocin so they have stronger contractions. That's all part of the physiological understanding of birth."
A partner often takes the class to support some exercises, but that's not required, Kaiser said. She shows ways to use a chair or wall.
Lauryn Knudson, a nurse who gave birth to a girl on Feb. 3, took the class in December. She thinks Spinning Babies reduced her pain in pregnancy and then supported labor progressing quickly, although this is her second child.
"I did mostly the stretching every day and some work on the labor exercises," Knudson said. "I feel like the stretching really helped with both my back and my pelvic pain – they completely went away toward the end of my pregnancy."
She learned more about how stretches help the mom's body adjust.
"I do think the pelvic stretching exercises and the work on the labor ball really helped bring the baby down and helped me go into labor naturally," Knudson said.
Local journalism is essential.
Give directly to The Spokesman-Review's Northwest Passages community forums series -- which helps to offset the costs of several reporter and editor positions at the newspaper -- by using the easy options below. Gifts processed in this system are not tax deductible, but are predominately used to help meet the local financial requirements needed to receive national matching-grant funds.
Subscribe now to get breaking news alerts in your email inbox
Get breaking news delivered to your inbox as it happens.
---