Sports > High school sports
Mat Classic XXXIV: Mead places nine wrestlers en route to 3A team title defense
Feb. 18, 2023 Updated Sat., Feb. 18, 2023 at 10:16 p.m.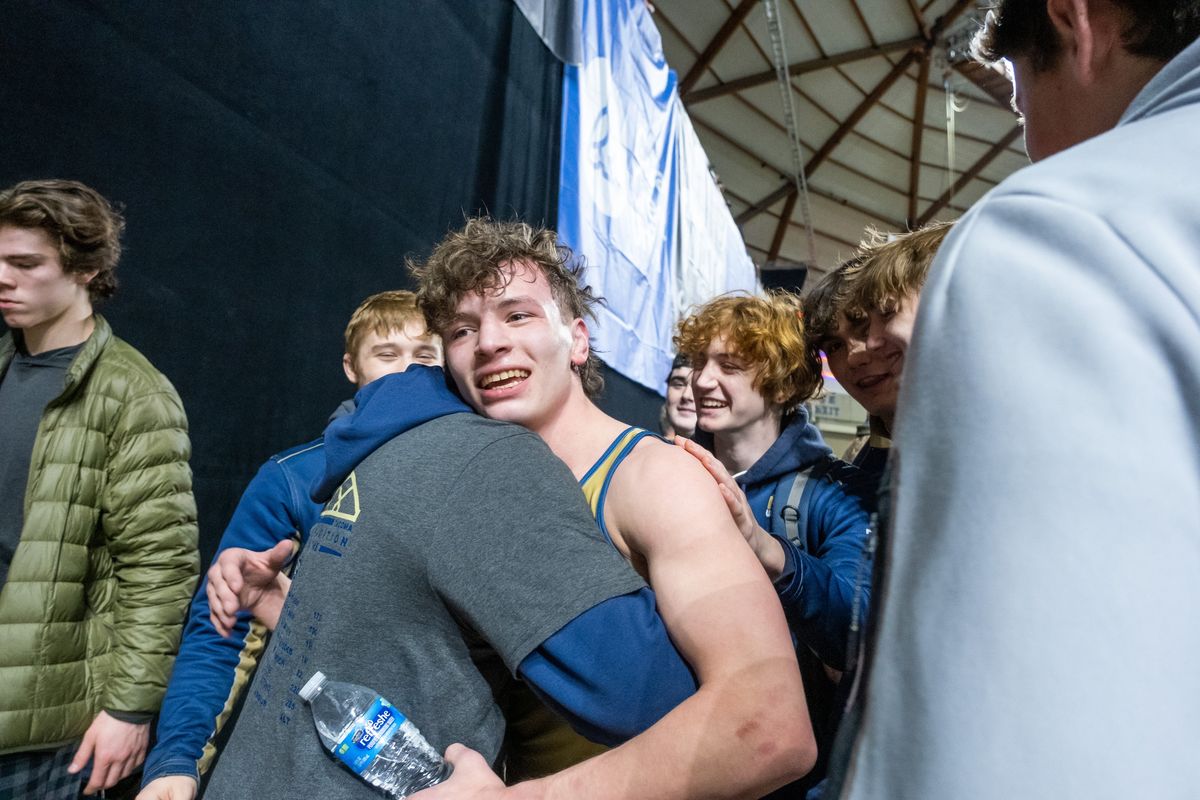 Mead's Josh Neiwert, facing, is embraced after winning the 132-pound 3A state title at Mat Classic XXXIV on Saturday at the Tacoma Dome. (Madison McCord / The Spokesman-Review)
TACOMA – Mead coach Phil McLean has been around long enough to know that tournament wrestling is a numbers game.
He also knows that there is more than one way to win a state championship.
Mead successfully defended its 3A team title Saturday at Mat Classic XXXIV in the Tacoma Dome behind the strength of nine medalists.
"The kids just found their heart and grit both days, all day," McLean said. "And then when everyone wants out because they didn't reach their goal, our guys stuck with it and added huge points by coming through the back door.
"Last year, we won this thing with seven finalists, and this year we had one, so that just shows how important depth is."
Even with having less semifinalists and finalists than the crowded field chasing them, Mead's depth proved to be the difference in racking up 199.5 points to the second-place 172.5 of Hermiston (Oregon).
"Coach always tells us that no matter where you are in a bracket to go out and wrestle hard because everything adds up," Mead senior Chris Grosse said after his third-place finish. "Even in those blood rounds, you have to perform. Fifth, sixth, third – it doesn't matter because they add valuable points as we showed today."
Not saying that Mead is without top-end talent.
After taking second last year at Gonzaga Prep, Josh Neiwert claimed the 132-pound title with a 3-1 decision over Stanwood's Tyler Rhue to pace the Panthers.
"I have my second-place medal hung up in my bathroom, and I look at it every morning," Neiwert said. "That pushed me so hard every day to go and get that title, and now I have it along with adding another team title."
Adding third-place finishes for Mead were Billy Weisgerber at 113, Austin Justice at 160 and Chris Grosse at 195.
"If you look at our district and our region is just makes this so much more awesome because of how challenging it is to win," McLean said. "The team we won with last year was so much different than this year, but I'm just grateful to get to watch these guys work and succeed."
Mt. Spokane turned its three finalists into one winner in Jarom Liljenquist at 195. The Wildcats earned a fourth-place finish with 161 points – one point back of third-place Stanwood.
Behind the Wildcats in fifth was University with two champions .
Freshman standout Czar Quintanilla began his quest to become a four-time champion with a first-round pin over Hermiston's Carlos Cervantes.
His older brother, Q'veli, capped an outstanding prep career with a 16-0 technical fall over Yelm's Lake Harris to become a three-time winner at Mat Classic.
"I'm really just living up to my brothers right now and the example they've set," Czar said. "I'm trying to be better than they are and I took the first step today."
2A
Three wrestlers from the Greater Spokane League reached the championship finals but had to walk away with runners-up medals.
Pullman brothers Israel and Ivan Acosta dropped tough contests at 138 and 145, respectively, and West Valley's Logan Utecht fell at 132 .
Pullman earned a fifth-place finish in the team standings.
4A
Central Valley's Blaine Beard, the Greater Spokane League's lone semifinalist, finished fourth at 126 , battling back through the consolation bracket following a loss in the semis.
Beard, a junior, earned his second Mat Classic medal after finishing seventh last year.
CV's Bayden Beard, Danner Smith and Lewis and Clark's Bridger Cloninger all added seventh-place finishes.
The Bears were the highest-placing team at 16th.
Local journalism is essential.
Give directly to The Spokesman-Review's Northwest Passages community forums series -- which helps to offset the costs of several reporter and editor positions at the newspaper -- by using the easy options below. Gifts processed in this system are not tax deductible, but are predominately used to help meet the local financial requirements needed to receive national matching-grant funds.
Subscribe to the sports newsletter
Get the day's top sports headlines and breaking news delivered to your inbox by subscribing here.
---