News > Spokane
Grant County ranchers fined $268,000 for damaging rare wetlands
Sun., Feb. 19, 2023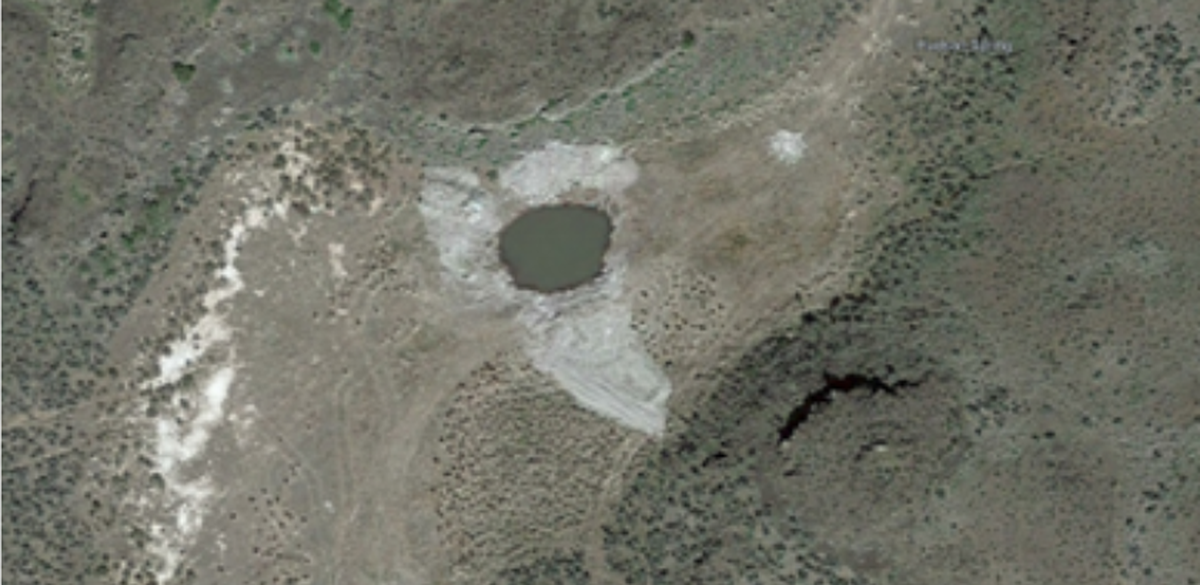 An alkali wetland on the King Ranch seen in April 2021. (Google Earth)
A Grant County ranch owes Washington's environmental protection agency more than a quarter-million dollars after damaging nearly two dozen rare wetlands.
The Washington Department of Ecology has fined King Ranch owners Wade and Teresa King $268,000 for excavating deep pools in 23 alkali wetlands near Coulee City. The state Department of Natural Resources has revoked the King Ranch's grazing lease due to the incident.
Stephanie May, communications manager for Ecology's Eastern Region Office, said it isn't clear why the King Ranch dug up the wetlands.
"We haven't been able to tell what they were trying to do," May said. "They haven't been responsive to us."
The Kings did not respond to requests for comment.
The Department of Ecology learned of the illegal wetland excavation thanks to a tipster.
A member of the Confederated Tribes of the Colville Reservation, who was hiking the area in February 2021, alerted the Washington Department of Fish and Wildlife after seeing equipment on federal land.
The Department of Fish and Wildlife in November 2021 told the Department of Natural Resources about the suspicious activity. After visiting the site and seeing the damage, DNR in December 2021 told the Department of Ecology, the agency that enforces Washington's environmental laws.
Ecology estimates the King Ranch excavated and filled in 6.4 acres of wetland and damaged another 1.8 acres of wetland buffer.
The activity happened between January and April 2021, primarily on state land. Two of the wetlands were on federal land and three were on private property owned by the King Ranch.
Wetlands are protected by both state and federal law. Thousands of species rely on wetlands for habitat and the marshy areas also provide valuable services for humans. They mitigate flooding risks by storing water and clean polluted water before it enters rivers, lakes or oceans.
The King Ranch damaged alkali wetlands, a rare type found in the desert-like landscapes east of the Cascades. Alkali wetlands are mineral-rich and can take thousands of years to form.
May said she isn't certain the 23 wetlands will fully recover. Ecology and the Department of Resources hope to restore the 18 wetlands on state land. The King Ranch has been ordered to restore the three wetlands on private property.
Ecology doesn't issue such big fines often.
"Our role really is to get compliance," said Brook Beeler, director of Ecology's Eastern Region Office. "We do a lot of other work before we get to a penalty."
Beeler said the department weighs a handful of factors when levying a fine.
The extent of the environmental damage is important. Beeler said Ecology also considers whether the violator broke the law for economic gain. Penalties tend to be lower when the offender made an honest mistake and cooperates with Ecology to fix the problem.
Many Ecology fines are only a few thousand dollars. Small penalties for spilling oil or sewage are common.
Still, six-digit fines aren't unheard of.
Cooke Aquaculture paid a $332,000 penalty in 2019 after one of its net pens collapsed in August 2017 near Cypress Island and roughly 250,000 Atlantic salmon escaped into the Puget Sound. The state Legislature responded by passing a law that will eliminate nonnative fish farming in Washington's marine waters by 2025.
The King County Wastewater Treatment Division received a $361,000 fine in 2017 after a treatment facility failure caused sewage to flow into the Puget Sound.
Electron Hydro, a company that runs a 26-megawatt hydropower project on the Puyallup River in Pierce County, received a $501,000 fine in 2020. Electron used discarded, artificial sports turf as a liner cushion during a construction project. A current swept the turf, full of shredded bits of rubber, downstream. As part of a settlement, Electron in 2022 agreed to pay a $100,000 fine and contribute $401,000 toward an environmental project aimed at improving water quality and fish habitat in the Puyallup River.
Farmer Ron Fode, and landowners from whom he leases land, received multiple penalties in 2017 totaling $618,000 for illegally pumping water from the depleted Odessa Aquifer to water crops near Moses Lake. State law prohibits pumping from the aquifer when water from the Columbia River is available. Ecology issued three separate penalties: The landowners and Fode received a $103,000 fine for irrigating 65 acres of alfalfa. Fode received a $206,000 fine for irrigating 130 acres of hay. Fode and landowners Randy and Michelle Kiesz received a $309,000 fine for irrigating 335 acres of alfalfa and potatoes. Fode's case is still in litigation, but a ruling by the state's Pollution Control Hearings Board in 2019 would have reduced his penalties to $260,000.
The U.S. Department of Energy received a $1.1 million fine in 2020 after failing to release data needed by Ecology for oversight of the Hanford Nuclear Reservation. The Department of Energy appealed the penalty and eventually paid $540,000.
Stericycle-Tacoma received a $1.9 million fine in 2019 after mismanaging hazardous waste. The company in 2018 started a large fire after improperly handling 510 drums of tetrazole, a chemical used to inflate airbags. Stericyle-Tacoma eventually paid $2.2 million after Ecology found additional violations.
The King Ranch has 30 days to pay its fine or appeal to the state's Pollution Control Hearings Board.
Local journalism is essential.
Give directly to The Spokesman-Review's Northwest Passages community forums series -- which helps to offset the costs of several reporter and editor positions at the newspaper -- by using the easy options below. Gifts processed in this system are not tax deductible, but are predominately used to help meet the local financial requirements needed to receive national matching-grant funds.
Subscribe now to get breaking news alerts in your email inbox
Get breaking news delivered to your inbox as it happens.
---