Wanted: Interns who can make TikTok hits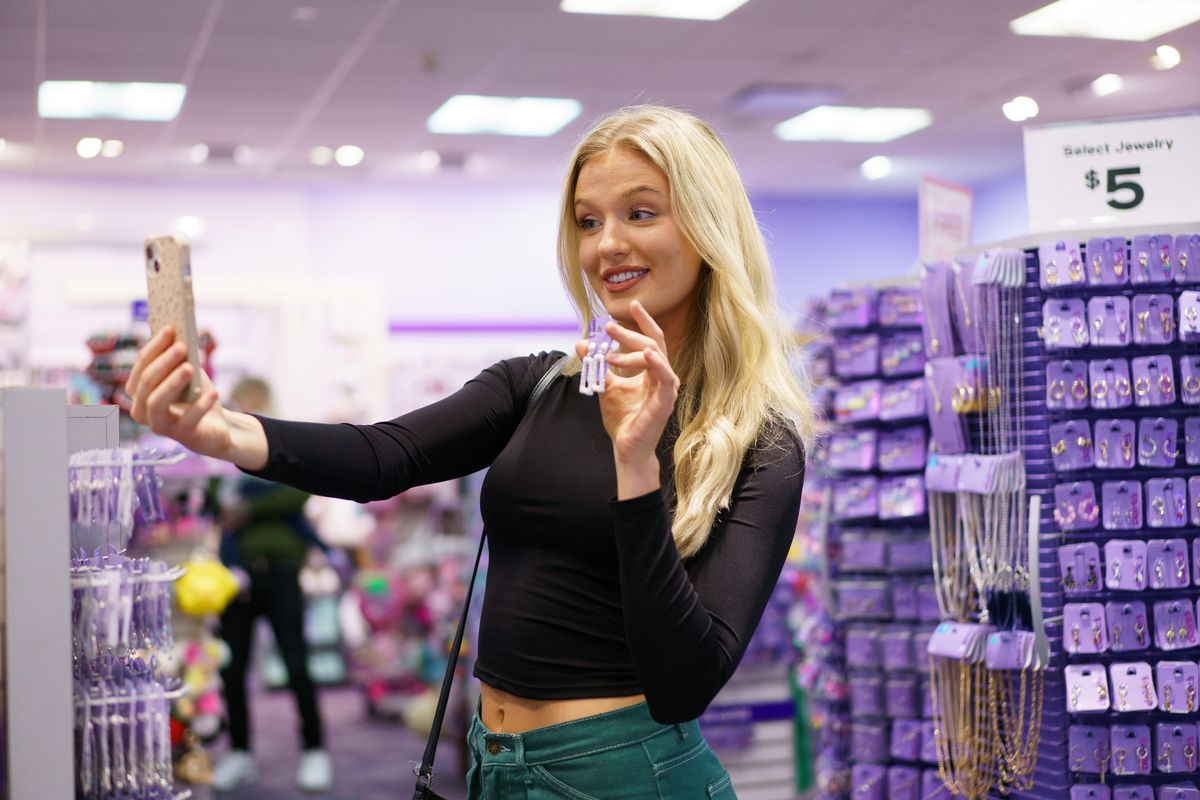 When Mary Clare Lacke, a 20-year-old student at the University of Missouri, interned at Claire's in the summer, one of her tasks was to help the teen accessories company with its nascent TikTok account. It didn't take long for her to produce a hit – though it wasn't one that the retailer saw coming.
In an 11-second video, Lacke riffed off a pranking trend inspired by Kris Jenner to promote a style of the retailer's earrings.
"My team was just like, 'We're not 100% sure what this is, but go for it,' " Lacke said. "And then it became the most successful video that the account has seen." The video generated 1.5 million views and 20,000 new followers for the company's TikTok account.
Now, Lacke is one of four new TikTok "college creators" working as interns for the brand during the school year, churning out fresh videos every week that they often star in themselves. Claire's is keen to hire even more student creators.
Making TikTok content for brands is the hot new gig. As the social media platform continues to explode in popularity, brands are hiring college students and other young people – sometimes with pay and sometimes with college credits – to help them navigate the app, which can confuse newcomers with its trending voice snippets and song clips, unique vernacular and endless videos. Job sites have recently been peppered with listings for "TikTok content creator interns," who are being asked to make and appear in videos promoting tropical ice cream, sunflower seeds, bubble tea, malls and more.
The hope is to connect with young people and even what some marketers call "Generation Zalpha" – combining the generations born after the mid-1990s with those born in 2010 and beyond – and ultimately drive sales.
Whole Foods and luggage company Travel Pro recently posted job ads for interns to help them build their presence on TikTok. A marketing agency in Dallas has been seeking a student to be its "chief TikTok officer" during the summer to help its clients with the app. And the Rosedale Center, a mall in Roseville, Minnesota, just hired two TikTok creator interns after successfully introducing the role last year.
Kristin Patrick, Claire's chief marketing officer, who popularized the term "Generation Zalpha" to describe the retailer's target audience, said the success of Lacke's video prompted its creator program.
"It really helped us realize the importance of having college students engaged with the Claire's brand and sort of be the face of the brand, especially on TikTok," she said. "They're the ones really using the app every day and really understanding what resonates."
Marketers have long turned to young people to help them navigate new social platforms. But their efforts around TikTok are unique, partly because interns are becoming the face of those brands. The companies are keen to figure out an app that beat Instagram and Snapchat to become the most frequently used social media channel by 12- to 17-year-olds, according to a Forrester Research survey last year. And in the past couple of years, some brands like Duolingo and Hasbro's Nerf have hired people in Generation Z as full-time employees to take charge of their TikTok accounts, but they are not the norm.
"If you think about the number of brands with a really strong TikTok presence, it's less than a handful, compared to brands with a strong Instagram presence, which is literally everyone," said Mae Karwowski, CEO of influencer firm Obviously. "Video is so much harder for brands to do, and then the direct face nature of TikTok doesn't fit into their current models.
"It makes a lot of sense to hire people that are young and get it," she added.
And the younger generation appears interested. Frutero, a tropical fruit ice cream brand founded in May 2020, said it was inundated with more than 250 applications after advertising its TikTok creator internship. (Desired skills included "humor and meme-making abilities.") Although Frutero has only three full-time employees, it was considering hiring three or four interns to make TikTok videos based on so much interest in the job, said Vedant Saboo, a co-founder.
Ice cream consumers, Saboo said, are mostly children, Gen Zers and people older than 50. And even as the company's ads on Facebook and Instagram have reached millennial and older consumers, Saboo, 31, said the brand hit a wall with younger people. Frutero raised enough money to hire a marketing agency, he continued, but, ultimately, he wasn't enthusiastic about "professional content creation."
"I don't know why, but it is just not the raw feel that is there on TikTok," he said. "I have found that most of these agencies who employ millennials, they do not understand the rawness of TikTok as well as young people."
He added, "The best way to do it is just to hire college interns."
He was optimistic that an intern – or interns – could make compelling TikTok content to help Frutero promote its work with farmers in Colombia and popularize ideas like pairing its ice cream with churros. College students are also more likely to know what's popular and even achieve the holy grail of a viral trend, Saboo said, speaking admiringly about the moment last year when a pasta recipe was shared so widely on TikTok that it prompted feta cheese to temporarily sell out at some grocers. "That's content which you do not see going on Facebook or Instagram," he said.
Another brand called Smackin' Sunflower Seeds, founded in 2019, has also looked for a TikTok intern to help expand its channel, which already has more than 160,000 followers. Its founders consider the position, which drew more than 100 applicants, as the addition of a "cast member," underscoring the visibility of interns in these positions.
"We view our TikTok channel as a TV show," said Cole Schaefer, a co-founder of the brand. Its account, he said, has attracted followers by sharing the founders' story of trying to build a snack brand for Gen Zers. "We wanted to bring in other characters and other personalities," he said.
Schaefer, 24, said that he was inspired by the bit characters that appear in videos from YouTube megastar Mr. Beast and Gary Vaynerchuk, the entrepreneur, and that the intern would play a similar role for him and his co-founder. "They're going to show their face in the videos once in a while," Schaefer said, but mostly they will be capturing "what the brand is and produce content around that."
The Rosedale Center, the mall in Minnesota, recently received more than 50 applicants for its TikTok creator internship program, which has produced content showing students promoting Auntie Anne's pretzels and new stores. Few malls have seized on TikTok, so "it was a great way to set us apart and fish where the fish are," said Molly King, Rosedale's marketing manager.
King, 53, said she believed people all of ages could make popular TikTok content, but it was useful to work with students because the mall, which has about 5,700 followers on the app, is trying to attract Gen Z shoppers.
Last year, an intern's TikTok post about the mall's new Lululemon store showed how influential content on the app could be, after it attracted 100,000-plus views and drove crowds to the opening. "It was like, Oh, my gosh, this really works," King said. It wasn't just younger people, she said, but "younger people and their mothers with the credit card."
Lacke, the student working with Claire's, said that she understood why brands wanted college students to help with their TikTok posts, adding that young people tend to know what is funny and relevant on the app.
"It does have a very unique way of posting, and I could see how maybe it would be confusing to upper-level managers who may not be on TikTok," she said. "But for college students and Gen Z in general, it kind of comes naturally."
This article originally appeared in The New York Times.
---