News > Nation/World
Biden visits Kyiv, Ukraine's embattled capital, as air-raid siren sounds
Feb. 20, 2023 Updated Mon., Feb. 20, 2023 at 8:55 p.m.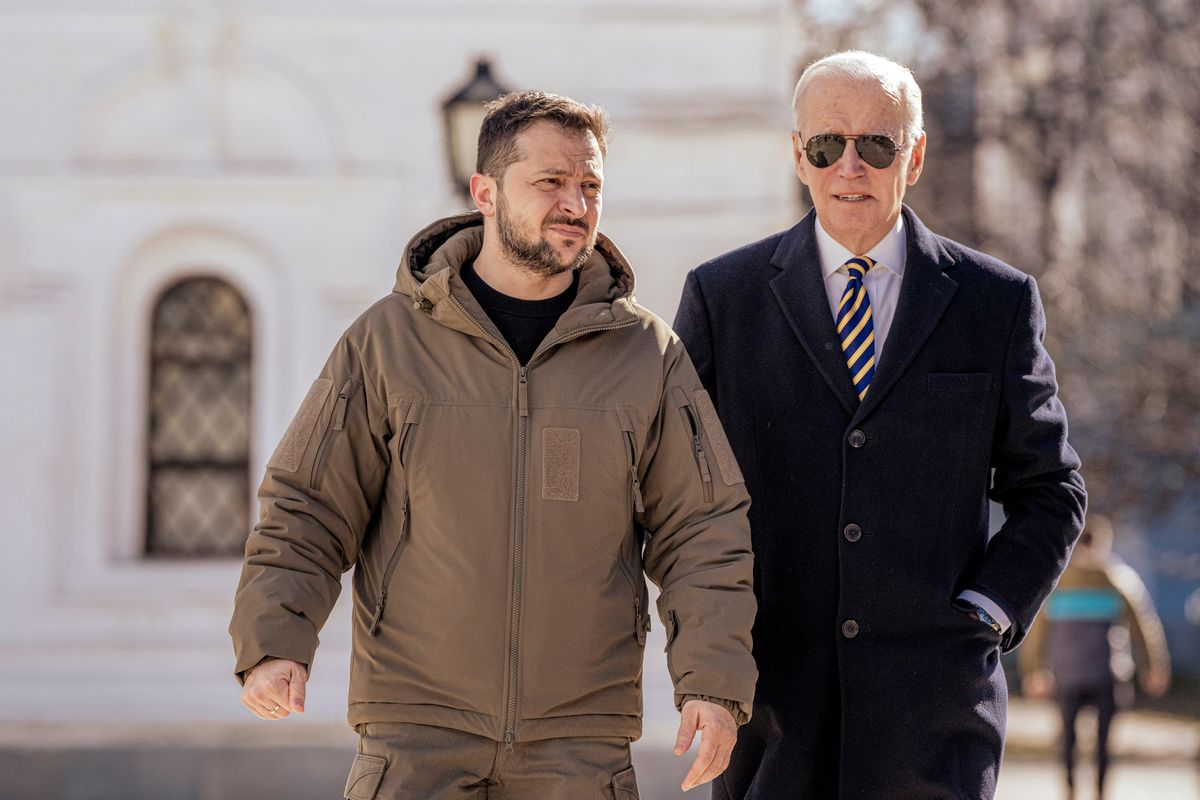 President Joe Biden, right, is escorted by President Volodymyr Zelenskyy of Ukraine as he visits Kyiv, Ukraine's embattled capital, on Monday, Feb. 20, 2023. Biden announced more military aid for Ukraine and met with Zelenskyy in a dramatic show of support days before the anniversary of Russia's invasion.  (Daniel Berehulak /The New York Times)
KYIV, Ukraine – President Joe Biden made a surprise trip to the embattled capital of Ukraine on Monday, traveling under a cloak of secrecy into a war zone to demonstrate what he called America's "unwavering support" of the effort to beat back Russian forces nearly a year after they invaded the country.
Biden arrived unannounced early Monday to meet with President Volodymyr Zelenskyy, and the two stepped out into the streets of Kyiv even as an air-raid siren sounded, a dramatic moment captured on video that underscored the investment the United States has made in Ukraine's independence.
"One year later, Kyiv stands," Biden declared at Zelenskyy's side in Mariinsky Palace, the gilded ceremonial home of the Ukrainian president. "And Ukraine stands. Democracy stands."
"Thank you so much for coming, Mr. President, at a huge moment for Ukraine," Zelenskyy said.
Biden promised to release another $500 million in military aid in coming days, mentioning artillery ammunition, Javelin missiles and howitzers, but he did not talk about the advanced arms that Ukraine has sought. Zelenskyy told reporters that he and the president spoke about "long-range weapons and the weapons that may still be supplied to Ukraine even though it wasn't supplied before."
Biden joined Zelenskyy for a visit to St. Michael's monastery in downtown Kyiv, where the sun glittered off the golden domes as the air-raid alarm wailed. Trailing two soldiers bearing a wreath, the two leaders walked along the Wall of Remembrance, where portraits are on display of more than 4,500 soldiers who have died since Russia illegally annexed Crimea in 2014 and first fomented a rebellion in eastern Ukraine.
The air-raid alarm had stopped by the time Biden got back into his motorcade and departed the monastery. The alarms sound almost daily in Kyiv, but the blare of the siren added to the bristling tension of the moment. Ukrainian officials have been warning that Russia was planning a large-scale missile bombardment to be timed to the anniversary of the war.
The alarm Monday morning was triggered by a Russian MiG fighter jet taking off in Belarus, which borders Ukraine to the north. A missile from a MiG fired from Belarus can hit a target in Kyiv in under 20 minutes.
Biden had already been scheduled to arrive in Warsaw, Poland, on Tuesday morning for a two-day visit, and White House officials had repeatedly brushed off questions about whether he might also travel to Ukraine while in Europe. Indeed, the White House on Sunday night issued a public schedule for Monday showing the president still in Washington and leaving in the evening for Warsaw, when in fact he was already half a world away.
But the president has made U.S. support for Ukraine the centerpiece of his argument for a revitalized alliance in Europe, and he had told advisers that he wanted to mark the anniversary of the invasion as a way of reassuring allies that his administration remained committed.
Biden slipped out of Washington in the dark of night without notice. Air Force One took off at 4:15 a.m. on Sunday East Coast time. Just a few reporters sworn to secrecy and deprived of their telephones were brought with him, along with Jake Sullivan, the president's national security adviser; Jen O'Malley Dillon, his deputy chief of staff; and Annie Tomasini, the director of Oval Office operations.
The reporters traveling with him were allowed to send a pool report to other journalists only after his arrival and were not permitted to further describe how he traveled to Kyiv while he was still in the country. A U.S. official, who asked not to be identified, confirmed that after a trans-Atlantic flight to Poland, Biden crossed the border by train, traveling for nearly 10 hours to Kyiv as other U.S. officials have in recent months because flying into a war zone is unsafe. He was to leave on a similar train trip and then, after crossing the border, head to Warsaw.
It was an arduous journey for an 80-year-old president, who nonetheless appeared energized by the opportunity to come in person. Wearing a blue suit with a blue and yellow striped tie, the colors of the Ukrainian flag, Biden arrived in Kyiv at 8 a.m. local time.
"It's good to be back in Kyiv," he told Ambassador Bridget A. Brink, who was waiting for him.
He took a motorcade through streets that had been cleared of any local traffic to Mariinsky Palace, where he was greeted by Zelenskyy, wearing his signature black sweatshirt with dark green pants and beige boots.
"Thank you for coming," Zelenskyy said, shaking Biden's hand.
Biden asked after Zelenskyy's children. Asked by a reporter about his goal for the trip, Biden said it was to show that the United States was "here to stay," adding, "We're not leaving."
During a meeting inside the palace, Zelenskyy thanked Biden again. "I really appreciate that President Biden, American society, have been from the very beginning" of the war "together with us."
Biden told him, "It's presumptuous of me to say this, but I thought it was important that the president of the United States be here the day that the attack began." (The anniversary of the invasion is Friday.) He added: "I thought it was critical that there not be any doubt, none whatsoever, about U.S. support for Ukraine in the war."
There was speculation swirling on social media all morning about a possible visit by Biden as police closed streets and Ukrainian officials hinted that an important dignitary was arriving. Crowds gathered at barricades erected outside St. Michael's in the hopes of catching a glimpse of what was happening.
Andriy Yermak, a top adviser to Zelenskyy, said it was a "historic visit" that underscored the partnership between two countries fighting to preserve democracy.
"Believe me, Joe Biden's visit is strategic," Yermak said in a statement. "A lot of issues are being resolved and those that have been stuck will be sped up. Our common goal is the victory of Ukraine over Russia and the triumph of Ukrainian soldiers and Western weapons."
Biden arrived in Ukraine's capital at a pivotal moment of the war, both at home and abroad. Some of America's staunchest allies have pressed Ukraine to begin negotiating a peace deal that might involve giving up territory to Russia. And in the United States, the newly installed House speaker, Kevin McCarthy, and some of his fellow Republican lawmakers have demanded an end to what they call "a blank check" for the war effort.
A new Associated Press-NORC Center for Public Affairs Research poll last week found public support for aid to Ukraine softening, with 48% of Americans in favor of sending arms, down from 60% in May. Biden sought to reassure Ukrainians: "For all the disagreement we have in our Congress on some issues, there is significant agreement on support for Ukraine."
Biden, who has since left Kyiv, is scheduled to meet with President Andrzej Duda of Poland on Tuesday morning and deliver a speech from the Warsaw Castle that afternoon. President Vladimir Putin of Russia is expected to speak the same day, creating a split-screen image of the two leaders making their separate arguments about the war.
Russia's invasion of Ukraine has turned into a long, brutal slog, with Ukrainian forces – backed by the United States and other Western allies – putting up a fierce fight. But Putin's forces, bolstered by an army of private soldiers conscripted into service, have begun a fresh assault on those positions even as Russia continues its practice of bombarding civilian infrastructure in cities across Ukraine.
Russia's state media quickly started using Biden's visit as evidence of the Kremlin's claim that the West is waging a proxy war against Russia.
"We're not at war with Ukraine, certainly not with the Ukrainian people," the RIA Novosti state news agency quoted an analyst as saying. "The Kyiv authorities embody an instrument of the collective West."
Biden's visit to Kyiv recalled the secret missions flown by Presidents George W. Bush, Barack Obama and Donald Trump to Iraq and Afghanistan during the height of the wars in those countries. But bringing a president into Ukraine without the sort of U.S. troop presence that was on the ground in Iraq and Afghanistan, much less control of the airspace, presented a security challenge of a vastly different magnitude. U.S. warplanes were spotted flying over Poland near the border, but officials said they did not enter Ukrainian airspace.
Biden's visit follows Zelenskyy's own high-profile visit to Washington just before Christmas Day last year, his first trip outside Ukraine since the start of the Russian invasion, as he pleaded with Western leaders to provide more support.
Zelenskyy made that appeal during meetings with Biden at the White House and in an emotional speech to Congress. Like Biden's trip to Ukraine, Zelenskyy's visit was kept secret until the eve of his arrival for security reasons.
Two days after Zelenskyy's speech, Congress approved nearly $50 billion in additional emergency aid for Ukraine, much of it military equipment aimed at allowing the country to fight back against Russia. That pushed the total amount of U.S. aid approved for Ukraine since the war started past $100 billion.
Initially, Biden and his top aides were reluctant to use the money to provide Ukraine with the most advanced weapons systems, capable of being used to attack deep into Russian territory. The president said he was wary of giving Putin an excuse to escalate the conflict more broadly.
Biden remains opposed to supplying U.S. fighter jets, but his resistance to sending other equipment has softened. The president announced last month that he would provide M1 Abrams tanks to Ukraine this year, and his administration has committed to delivering a Patriot air defense battery to the country and training Ukrainian troops to use it.
There has been some fraying of the domestic coalition in the long year of war, and Biden is under pressure from all sides, including those who oppose sending so much taxpayer money to a far-off war and others who insist the United States needs to do even more in the face of Russian aggression.
But some former U.S. diplomats said Biden had opened the door to criticism because he had not made the most expansive case possible for supporting Ukraine.
John Herbst, a former U.S. ambassador to Ukraine and a senior director at the Atlantic Council, said the president needed to be more direct about describing why support for Ukraine was vital to American interests.
"Instead of saying simply, we will stay with Ukraine as long as it takes, we would say, we have a vital interest in delivering a strategic defeat to Putin or Ukrainian victory or both," Herbst said.
This article originally appeared in The New York Times.
Local journalism is essential.
Give directly to The Spokesman-Review's Northwest Passages community forums series -- which helps to offset the costs of several reporter and editor positions at the newspaper -- by using the easy options below. Gifts processed in this system are not tax deductible, but are predominately used to help meet the local financial requirements needed to receive national matching-grant funds.
Subscribe now to get breaking news alerts in your email inbox
Get breaking news delivered to your inbox as it happens.
---