Sports > Gonzaga basketball
'He's just a pure winner.' Dusty Stromer putting final touches on historic prep career before heading to Gonzaga
Feb. 20, 2023 Updated Mon., Feb. 20, 2023 at 9:34 p.m.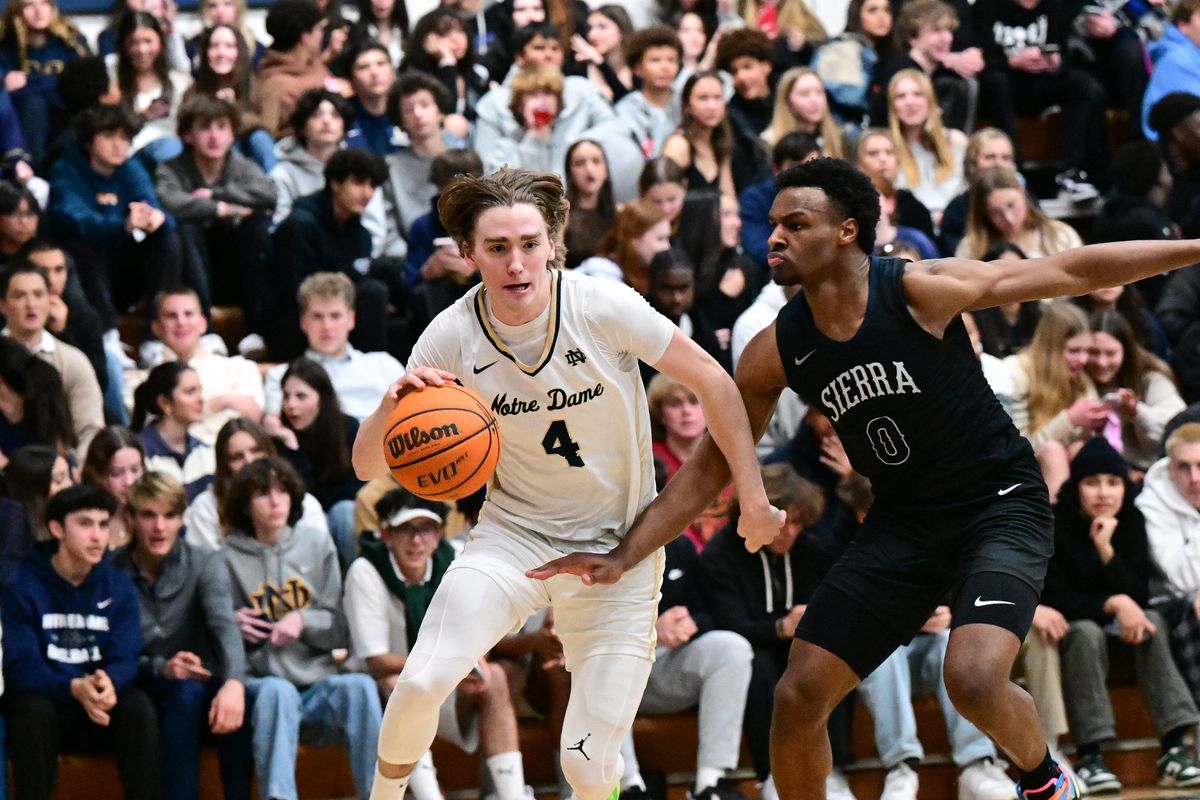 Sherman Oaks Notre Dame's Dusty Stromer drives against Sierra Canyon's Bronny James, son of NBA star LeBron James, during a high school basketball game on Friday in Sherman Oaks, Calif. (Tyler Tjomsland / The Spokesman-Review)Buy a print of this photo
LOS ANGELES – It's a reality Matt Sargeant will have to confront soon, but the basketball coach at Sherman Oaks Notre Dame is vowing to hold it off as long as he can.
Dusty Stromer's days in a Notre Dame uniform are numbered. Sargeant was reminded once again on Friday night after another complete performance from his steady senior in a comfortable 70-53 win over Sierra Canyon in the Open Division playoffs.
The statistics weren't necessarily eye-popping, but Stromer still managed to score 15 points on 6 of 14 shooting, including 3 of 7 from the 3-point line, knocking down a few late 3s that allowed Notre Dame to build a 15-point lead.
With his future Gonzaga coach Mark Few and Bulldogs assistant Roger Powell sitting four rows behind the Notre Dame bench, Stromer dished out four assists, grabbed two rebounds, took a steal the other way for a two-handed dunk and set the tone for a defense that held Sierra Canyon to one of its lowest outputs of the season.
Moments after the final buzzer, Stromer was approached by a group of children seeking autographs and photos from the fair-haired star. A half-hour later, he appeased a line of high school classmates – at least a dozen of them – who wanted their photo taken with Stromer. He politely declined a dinner invitation from one classmate.
This is what a routine night has come to look like for Stromer – the winning plays, the winning itself and all the attention that's come with it.
Sargeant isn't prepared for the routine nights to become a thing of the past.
"I'm going to miss him the person more than I'm going to miss the player," the Notre Dame coach said. "I'm close with him and it's going to be weird not having him in a Notre Dame uniform. I don't even want to think about that yet."
Wins over Bronny James-led Sierra Canyon are starting to become routine, too. The oldest son of the Los Angeles Lakers star and new NBA career scoring leader has played in two of the three Notre Dame-Sierra Canyon matchups this season.
Stromer's team is unbeaten in those three games, winning 66-62 on Jan. 27, 88-61 on Feb. 1 and 70-53 on Friday.
Stromer's first field goal in Friday's matchup came on an NBA-range 3-pointer in the first quarter. He made a corner 3 in the fourth quarter despite James clipping his shooting hand on a closeout, then drained a college-range, pull-up 3 later in the period to extend Notre Dame's double-digit lead.
"I just try to do everything I can to win the game," Stromer said, "and when I'm being guarded the way I was being guarded, I just try to get my guys involved and just get the win at the end of the day."
Stromer doesn't have James' 6.9 million Instagram followers and he's not considered a top-five prospect in Southern California by recruiting service 247Sports.com. Unlike James and AAU teammate Jared McCain, a Duke signee who joined Stromer on a visit to Gonzaga last year, he wasn't selected for the prestigious McDonald's All-American Game.
But, if judged by wins and losses, Stromer's high school career would rival that of any player in the Los Angeles metropolitan area over the past four years.
Sargeant did some digging to learn that Stromer is the only player since the 1960s to join Notre Dame's varsity team as a freshman and win at least 20 games every season he's played. Stromer opted out of playing in Notre Dame's abbreviated spring season as a sophomore due to COVID-19, but the Knights went 22-11 his freshman season and 21-8 last year. They currently sit at 22-10 with a chance to reel off a few more wins in the upcoming CIF state playoffs.
"He's basically built this program, he's been the linchpin," Sargeant said. "He's just a pure winner and that's representative of that. It's him."
Unlike the growing number of high school standouts who've bounced from one program to another for more exposure, or joined other stars to form super teams, Stromer's stayed put in Sherman Oaks in L.A.'s San Fernando Valley. Others have come to him, though.
Stromer's still Notre Dame's go-to scorer – look no further than the double teams he drew in Friday's playoff game – but the Knights' starting lineup features Duke signee Caleb Foster and Houston commit Mercy Miller, top-40 players in their respective recruiting classes who transferred last summer.
It's partially the power of Notre Dame's program, and the school's location in sunny Southern California, but it's mostly the power of Stromer.
"I don't even know if someone like (Creighton freshman/former Notre Dame player) Ben Shtolzberg stays if he doesn't get to play with Dusty," Sargeant said.
Stromer isn't always the best player on the floor for Notre Dame these days, but sharing the spotlight hasn't been an issue for the laid-back, low-maintenance senior. If anything, Stromer figures it gives him a preview of the environment he'll find himself in at Gonzaga, especially early in his college career.
"It's been nothing but great," Stromer said. "Just to learn how to play with two great guards has been a blessing to me. … I think this is perfect to prepare me for college, I'm going to be playing with other great guards and got to learn how to play together with other great players and make yourself effective as much as you can."
The four-star prospect, who chose Gonzaga over Arizona, UCLA and Houston, has grown three inches and added 15 pounds to his frame since he was a freshman. In addition to the physical transformation, Stromer says he's spent considerable time working on his mental approach to the game this season.
"I think mentality is one of the better things I've figured out this season, just staying levelheaded and not getting too high or too low," he said. "Because the season is crazy, high school basketball you never know what you're going to get, so just keeping a level head is what I've been working on."
It's helped that Stromer learned how to handle the growing attention and popularity he's received over the last four years in Sherman Oaks.
He's not James or McCain, but Stromer still has a strong following with more than 148,000 followers on Instagram. For context, Drew Timme, Gonzaga's current leader in that category, has approximately 90,000 followers.
"There's a microscope on him every game he plays, and it takes a certain toughness to be able to handle that when you're his age," Sargeant said. "I think as the season's gone on he's just gotten better and better and in big games he's shown up. I think it's a testament to just how mentally tough he is. He's going to get a bunch of that in college, I know that."
Stromer became a priority recruit for Gonzaga almost as soon as Few's staff laid eyes on the 6-foot-6, 180-pound prospect – a dead-eye 3-point shooter who's comfortable in the pick-and-roll and capable of guarding three or four positions on defense.
"He looks like a Zag, he is a Zag," Powell said. "I knew it the first time I saw him. I was like, 'He's a Zag.' "
With his strong basketball sense and deliberate, fundamental approach to the game, Stromer embodies what the Bulldogs generally look for.
"Thankfully we got him because he's just going to be able to fit right in," Powell said. "He just has that Julian (Strawther) type game, Corey Kispert type game that I think really fits us. He can really shoot it, he's really athletic, plays hard, he's tough. The thing I like about him the most is he makes the right basketball plays.
"He doesn't force shots and finds his teammates. That's something that, just the level of toughness you can win with, so I'm excited about his development."
Stromer signed a letter of intent to play at Gonzaga in November and he's seen the Bulldogs in person a handful of times, both before and after giving his commitment. Those experiences haven't disappointed.
Stromer's first unofficial visit to Spokane coincided with Gonzaga's 86-74 win over No. 5 Texas on Nov. 13, 2021. Stromer and McCain visited last February, taking in a 74-58 win over Saint Mary's, and Stromer returned in October for Kraziness in the Kennel.
Twenty-four hours before leading Notre Dame to a playoff win, Stromer made a short trip to Gersten Pavilion in Los Angeles to watch his future teammates put on an offensive clinic in Gonzaga's 108-65 win over Loyola Marymount.
"That was unbelievable," Stromer said. "I've never seen a college basketball game halftime score at 68 points. It's ridiculous. That looked like a lot of fun and I can't wait to be a part of that.
"… Last night they looked really, really good and I think this team can be really, really good. They looked great."
A smile swept across Stromer's face when he saw Few and Powell walk through the doors of his high school gym Friday night. He exchanged high-fives with both GU coaches before the game – "those are my guys," Stromer said – and spent five to 10 minutes catching up afterward.
"Of all the kids I've coached, I'm really excited to see how he plays and sort of what kind of college player he's going to be, because I think he's going to be a great one," Sargeant said. "I'm stoked to see Few get the best out of him."
Stromer has been in communication with future teammates such as Australian forward Alex Toohey, Gonzaga's other commit in the class of 2023. He's developed friendships with current Bulldog players and last spring he made contact with Kispert, who's in his second NBA season with the Washington Wizards, to gather more information before making his commitment.
"I just asked him a few questions before I committed, just to see what I was getting myself into," Stromer said. "Great guy, unbelievable player and a guy I for sure model my game after."
Stromer is moving to Spokane in June. That day can't come soon enough for Gonzaga's coaching staff.
"Our class, we've got guys, him and Alex Toohey, two guys that just really, really value what Gonzaga brings and they fit," Powell said. "I'm excited, they're going to have some great years, some great games, some great experiences in Spokane. Can't wait to get them there."
Meanwhile, Stromer's coaches at Notre Dame will fend off those thoughts as long as they can.
"It's going to make me teary-eyed," Sargeant said. "I can't talk about that."
Local journalism is essential.
Give directly to The Spokesman-Review's Northwest Passages community forums series -- which helps to offset the costs of several reporter and editor positions at the newspaper -- by using the easy options below. Gifts processed in this system are not tax deductible, but are predominately used to help meet the local financial requirements needed to receive national matching-grant funds.
Follow along with the Zags
Subscribe to our Gonzaga Basketball newsletter to stay up with the latest news.
---