News > Features
Local ballerina, 17, plans leap toward being a professional dancer after first place award
Mon., Feb. 20, 2023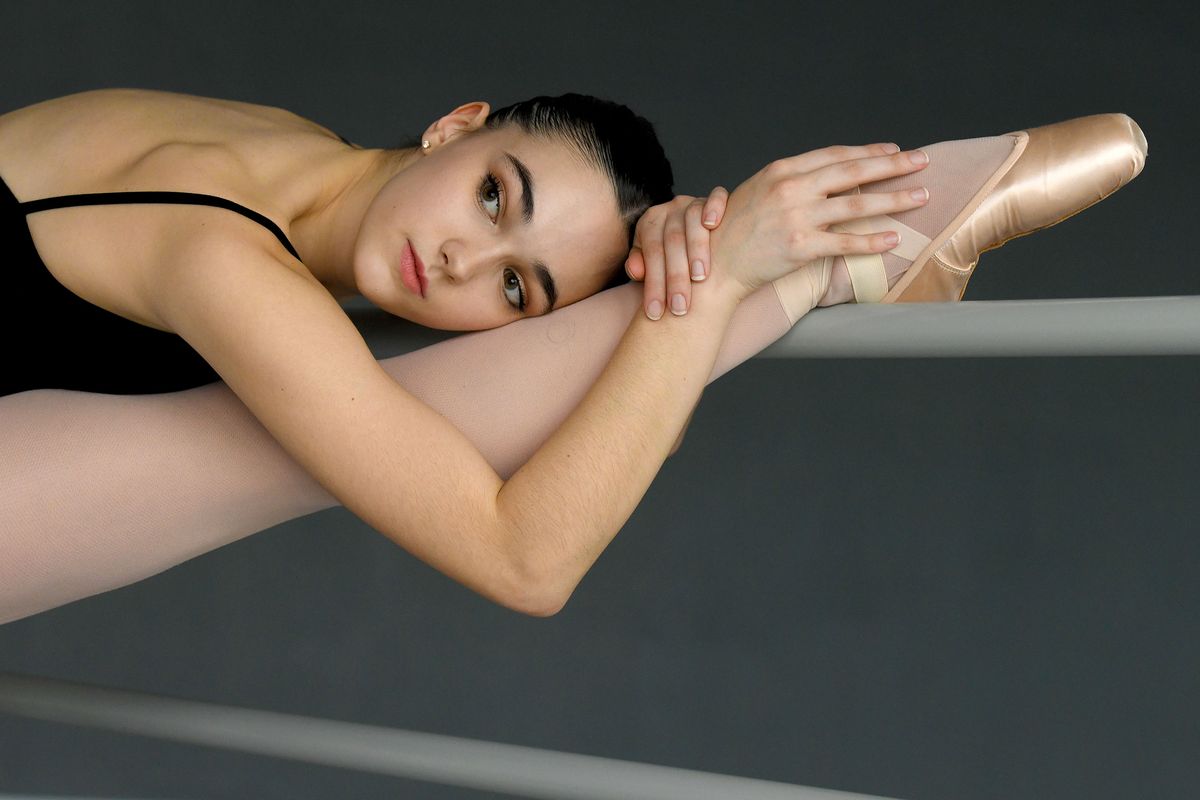 Avery Denney, 17, is photographed at Company Ballet School in Spokane Valley on Jan. 24. She just won first place in the Youth America Grand Prix and is hoping to attend the international finals in Tampa, Fla. in April. (Kathy Plonka/The Spokesman-Review)
She's been dancing since she was 2, and now Avery Denney has taken a leap closer to her goal of becoming a professional ballerina – after receiving a first-place award in January.
The Rathdrum resident, 17, took the top position in a senior classical ballet division of the Youth America Grand Prix, among about 145 solos. She then got invited to the event's international finals in Tampa, Florida, which begin April 3. Denney plans to go with her coach Jonna Maule, who runs Company Ballet School in Spokane Valley.
Denney said her dancing in the January contest got high marks mainly for her solo from the "Don Quixote" ballet. She also did two other solos, one from "Giselle" and a Princess Florine variation from "Sleeping Beauty."
"They each got different scores, but they take the highest score, so the solo that I placed highest for and the one I'm taking to finals is a variation from Don Quixote; technically, that's what I placed with," Denney said.
"I was completely shocked because I honestly thought there was no way that I would place first. There was a lot of incredible talent there."
The judges typically give a short comment, she said. "One judge said, 'Beautiful interpretation of Kitri,' which was the character I was portraying (from Don Quixote)."
The Youth America Grand Prix is the largest student ballet audition and scholarship competition in the world, offering more than $300,000 in scholarships to professional schools worldwide.
At the contest in 2022, Avery got a third-place award and a full scholarship to the Harid Conservatory in Boca Raton, Florida, where she had four weeks of intensive training, Maule said.
Denney has a GoFundMe toward expenses to go to the 2023 finals. Her coach said the event can propel a student's future.
"It's a really important event, and it can really jump-start a dancer's career in the industry," said Maule, who had another student, Clara Vazanko, who received the same first-place title in 2018 at age 15.
"When going to the finals, there are scholarship classes and artistic directors from major professional ballet companies from all over the world who will either be there in person watching these dancers or viewing online, so the dancers can get opportunities from all over."
The Youth America Grand Prix has three divisions, including pre-competitive ages 9-11; junior, 12-14; and senior, 15-21. There are two categories: classical division and contemporary division.
For the classical solos, dancers perform the original choreography from classical ballets.
Maule said with the first-place award in January, Denney wasn't guaranteed a spot in the finals and had to wait for an invitation. The nod came in an email on Jan. 14.
To reach her career goals, Denney clocks about 20 hours weekly in dance classes, mostly in ballet at Maule's school but also training at other studios for jazz, tap and hip-hop lessons.
At Company Ballet, she takes classes Monday through Saturday. Each session is followed by a rehearsal, which stretches longer on Fridays and Saturdays.
To reach higher levels, it isn't unusual to devote such time on ballet skills, while getting a toe into other styles, she said.
"It's actually pretty standard for someone who wants to be a professional dancer, and I definitely do want to go professional. A lot of kids actually move away from home at 13 or 14 to go to basically a ballet boarding school.
"That wasn't really an option for me, so I'm trying to get in as much training as I possibly can to keep up with the caliber of training that the competition is getting."
She also works part time at a store, Bou Cou Dancewear in Coeur d'Alene. Denney graduated early at age 16 from North Idaho Stem Charter Academy, with a high school diploma and an associate degree from North Idaho College.
Denney now takes classes from Lewis Clark State College, while working on a bachelor's in business. The Lewiston-based college has a center in Coeur d'Alene, but she takes mostly online courses.
She's danced in some local performances, including as part of year-end productions at two studios and in the recent "Traditions of Christmas" show in Coeur d'Alene. She got to be among dancers in the show's kick line, similar to the Rockettes.
Her family has other dancers. "I have a little sister who also dances, and my mom is my tap teacher," she said.
Both parents have been "incredibly supportive." It often means travel, such as to a recent trip to Salt Lake City for a contest.
"In Salt Lake, I got an offer from the Oklahoma City Ballet to be a trainee there, which is super exciting, but I'm definitely still in the process of making decisions. That position would depend on my schedule when I reach out, probably the next school year, though.
"It's starting to look like more of a possibility that I'll be moving somewhere at the start of the next school year. I don't know where because it depends on the offers, but definitely the plan in the next one to two years is to go to a full-time school or be in a trainee or apprentice position."
Most ballet companies have trainees or apprentices, or a second company that helps a dancer work into the main company, she said.
"My dream company right now is Ballet West, which is in Salt Lake City, but honestly the chance to dance for any professional ballet company would be a dream come true."
Local journalism is essential.
Give directly to The Spokesman-Review's Northwest Passages community forums series -- which helps to offset the costs of several reporter and editor positions at the newspaper -- by using the easy options below. Gifts processed in this system are not tax deductible, but are predominately used to help meet the local financial requirements needed to receive national matching-grant funds.
Subscribe now to get breaking news alerts in your email inbox
Get breaking news delivered to your inbox as it happens.
---