News > Nation/World
Plains 'smiling peanut' gets face-lift as residents prepare to say goodbye to Jimmy Carter
Feb. 20, 2023 Updated Mon., Feb. 20, 2023 at 11:32 a.m.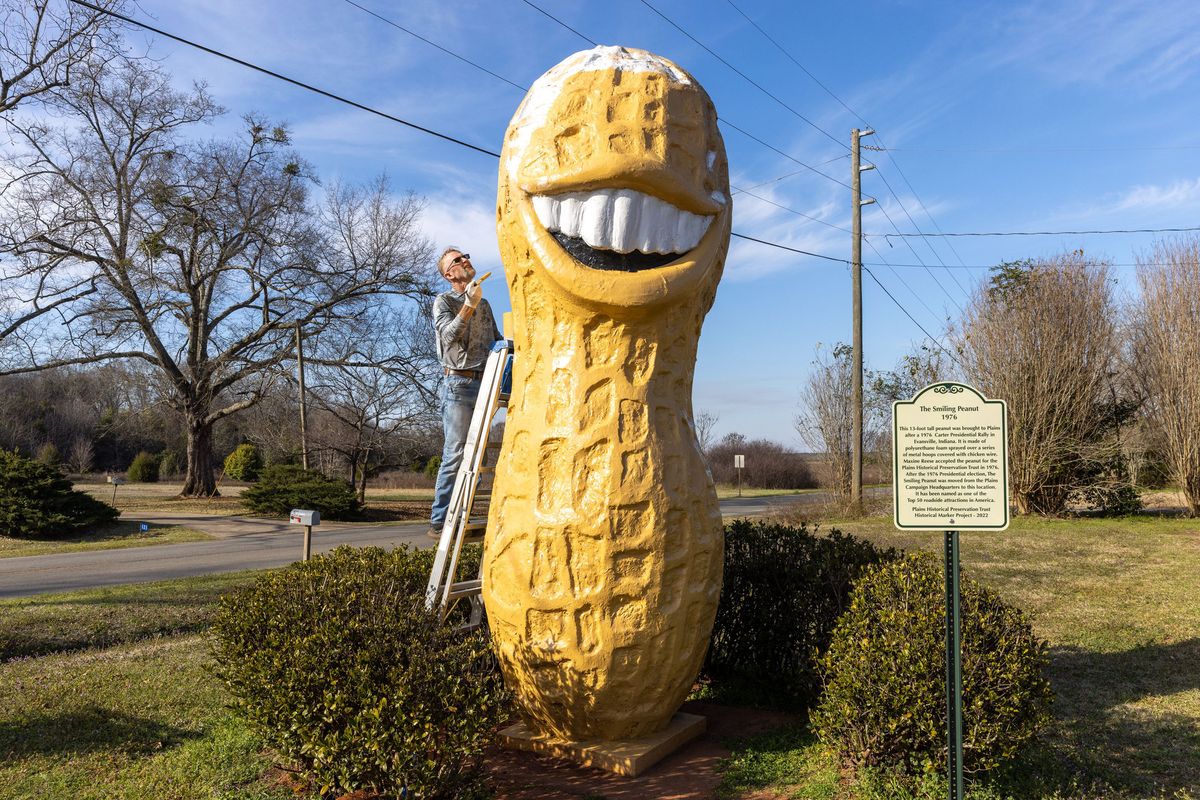 Plains resident Michael Dominick paints the Smiling Peanut in Plains on Sunday, Feb. 19, 2023.   (Arvin Temkar/The Atlanta Journal-Constitution/TNS)
PLAINS, Ga. — Michael Dominick got the call last week that the city's "smiling peanut" statue that sits on Georgia Highway 45 heading into Plains' downtown needed to be spruced up.
Every few years for the past two decades, Dominick said he has been tasked with putting a fresh coat of paint on the 13-foot-tall peanut, which was made out of hard Styrofoam in 1976 as part of former President Jimmy Carter's campaign — and bears his signature smile. The last time he painted the statue was in 2019.
"Mr. Jimmy, he doesn't like that it's got the smile on it," Dominick said Sunday as painted the peanut, in the shade of "peanut."
With news of Carter's move to hospice care, traffic to Plains is expected to pick up.
Dominick said he planned to paint the peanut Saturday morning and before Carter's family announced that the former president was opting to forego additional medical intervention, but he ended up having to work. Now, he said, the peanut will be fresh for what will eventually be crowds of people wanting to pray for Carter and his family.
Dominick, a lifelong Plains resident, said the peanut has moved around the city for nearly 50 years, but found its home on Buena Vista Road just outside of an RV parking lot.
"This thing, years ago, used to be in a park downtown and an RV backed into it and knocked it over," Dominick said. "So they moved it down here to an RV park. I'm like, 'That was good, y'all.'"
The peanut is a tourist attraction, catching the eye of visitors heading into Plains for a glimpse of the place the former president spent most of his life.
Dominick, who currently works for the post office but spent decades working as a painter, said he loves having the opportunity to paint the peanut.
Residents walking by Sunday afternoon thanked Dominick for working on the peanut.
"I do enjoy it," he said. "It's the weirdest thing I've ever painted."
Local journalism is essential.
Give directly to The Spokesman-Review's Northwest Passages community forums series -- which helps to offset the costs of several reporter and editor positions at the newspaper -- by using the easy options below. Gifts processed in this system are not tax deductible, but are predominately used to help meet the local financial requirements needed to receive national matching-grant funds.
Subscribe now to get breaking news alerts in your email inbox
Get breaking news delivered to your inbox as it happens.
---