Sports > High school sports
S-R Showcase: All-Stars from across Greater Spokane League, Eastern and Central Washington, North Idaho align for memorial basketball games
Feb. 20, 2023 Updated Fri., March 17, 2023 at 2:13 p.m.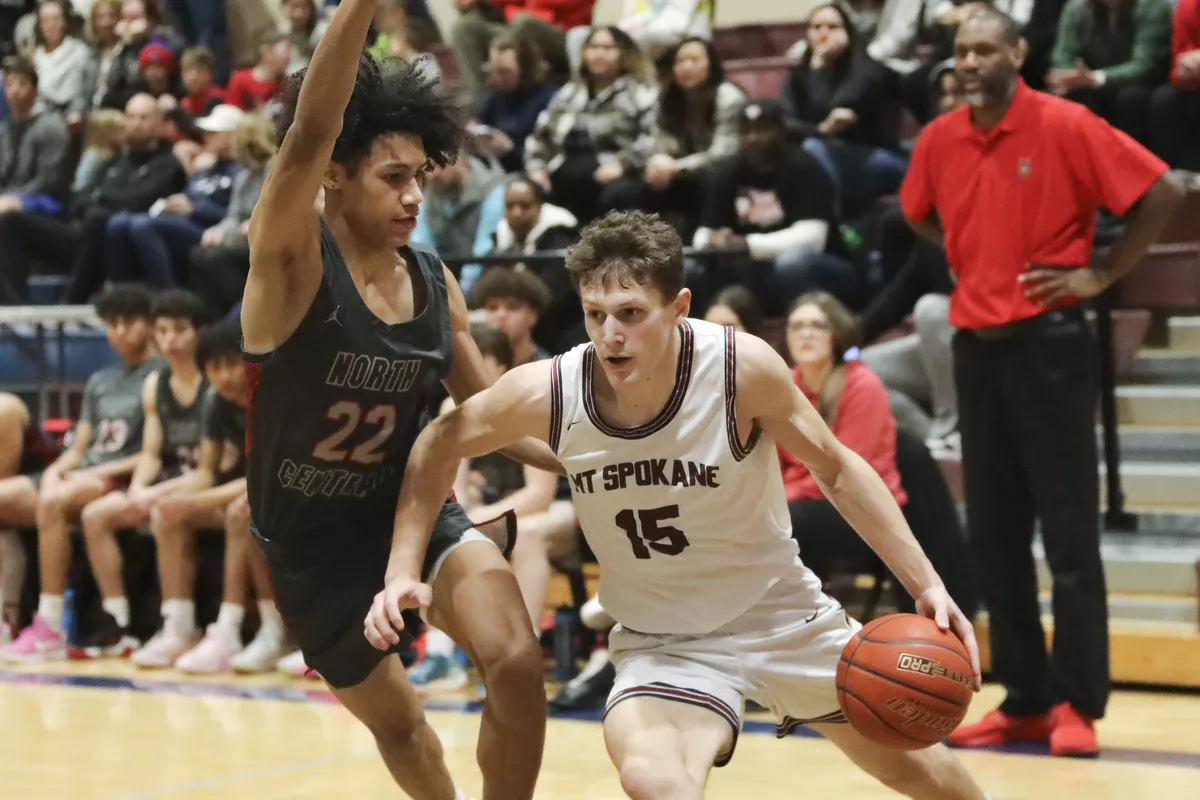 Mt. Spokane forward Maverick Sanders drives to the hoop against North Central on Feb. 11, 2023. (Cheryl Nichols/For The Spokesman-Review)
Washington state titles are still to be decided but The Spokesman-Review High School Basketball Showcase – presented by STCU – is right around the corner.
The event, featuring the Denny Humphrey Memorial Boys All-Star Game and the Jack Blair Memorial Girls All-Star Game, is March 14 at Lewis and Clark High School. The girls game is at 5:15 p.m. and the boys tip at 7.
Ticket are $8 in advance, $10 at the door. Advance tickets can be purchased at spokane7tickets.com.
The games feature all-stars from the Greater Spokane League ("Metro") against the best from the region's smaller schools, North Idaho, the Mid-Columbia Conference and the Columbia Basin Big 9 ("Region").
Each of the GSL schools are represented between the two Metro teams, and MVPs and all-league players from several leagues east of the Cascades dot the rosters.
Metro boys
Coached by longtime Shadle Park coach Tim Gaebe, the Metro boys team will feature all-league caliber players from each of the three classifications within the league: 4A, 3A and 2A.
Returning all-league forwards Maverick Sanders of GSL champion Mt. Spokane and Evan Stinson of Cheney highlight the boys Metro team. Stinson has been injured for several weeks but hopes to be able to return for the game.
Mt. Spokane guard Ryan Lafferty joins his teammate Sanders on the squad.
Three other teams have two players on the Metro team: Gonzaga Prep forward Jamil Miller and guard Henry Sandberg, Ferris guards Reese Snellman and Dylan Skaife, and University guard Tyler Nelson and post Shane Skidmore.
Guard Eli Williams (North Central) and guard Liam Blanchat (Mead) round out the upper division's members.
Joining the team from the 2A ranks are guard Xavier Santana (Clarkston), forward Luke Holecek (East Valley), guard Dujuan Haney (Rogers) and forward Grady Walker (West Valley).
Jaedyn Brown, the reigning GSL 2A MVP from league champ Pullman, was invited but has a prior commitment.
Region boys
The Region team brings together all-stars from across Eastern and central Washington and North Idaho and in a word, it's stacked.
This team is led by 6-foot-10 University of Virginia commit Blake Buchanan of Lake City. He'll be joined by teammate guard Kolton Mitchell.
Also playing from the Gem State are forward Alexander Nipp (Coeur d'Alene) and guard Kase Wynott (Lapwai).
The MCC sends four: forward Grant Olson (Hermiston), forward Peter Dress (Kamiakin), guard Jonah Gebers (Kennewick) and guard Josh Woodard (Richland).
The Big 9 is represented by guard Eamon Monahan (Eastmont) and Ellensburg forward Gavin Marrs, who was invited but will miss the game due to injury.
There are several players from the Spokane-area smaller schools as well. Boen Phelps and Gabe Schulhauser from Freeman, and 2B stars Tennessee Rainwater (Davenport) and Avi West (Northwest Christian) fill out the Region team.
Girls Metro
Recently retired coaches Mike Arte (Gonzaga Prep) and Jim Redmon (Lewis and Clark) will co-coach the girls Metro team.
GSL champ Mead sends a pair, returning first team all-league guard Teryn Gardner and forward Natalie Braun. Central Valley has two as well – guards Autumn Agnew and Eden Sander.
There are three more returning all-leaguers – Lucy Lynn (Gonzaga Prep), Eliannah Ramirez (University) and Bryten Gumke (Mt. Spokane).
Rounding out the upper division participants are guard Kayla Jones (Ferris), guard Vy Tran (Lewis and Clark), guard Kaydin Renken (Ridgeline) and forward Hannah Hamilton (North Central).
Reigning GSL 2A MVP Chloe Deharo from West Valley joins the squad, along with Clarkston guard Kendall Wallace and Shadle Park guard Kyleigh Archer.
Girls Region
Retired Post Falls coach Marc Allert heads up the girls Region team.
Idaho 5A state champion Coeur d'Alene sends two to the girls Region team – forward Madi Symons and guard Teagan Colvin. They'll be joined by fellow North Idaho stars Capri Sims (Post Falls) and Avery Waddington (Lake City).
There are five players from the MCC: Chiawana forward Malia Ruud, Kamiakin forward Maddy Rendall and guard Nikole Thomas, Kennewick guard Haylee Johnson and Richland guard Kylee Fox.
The Big 9 sends West Valley (Yakima) guard Laiken Hill.
The smaller Spokane-area schools are represented by Jaycee Goldsmith (Freeman), Darian Herring (Deer Park), Brynn McGaughy (Colfax) and Mia Pierce (Upper Columbia).
Local journalism is essential.
Give directly to The Spokesman-Review's Northwest Passages community forums series -- which helps to offset the costs of several reporter and editor positions at the newspaper -- by using the easy options below. Gifts processed in this system are not tax deductible, but are predominately used to help meet the local financial requirements needed to receive national matching-grant funds.
Subscribe to the sports newsletter
Get the day's top sports headlines and breaking news delivered to your inbox by subscribing here.
---