News > Features
The Full Suburban: When it comes to cellphones and kids, the right approach takes finesse
Mon., Feb. 20, 2023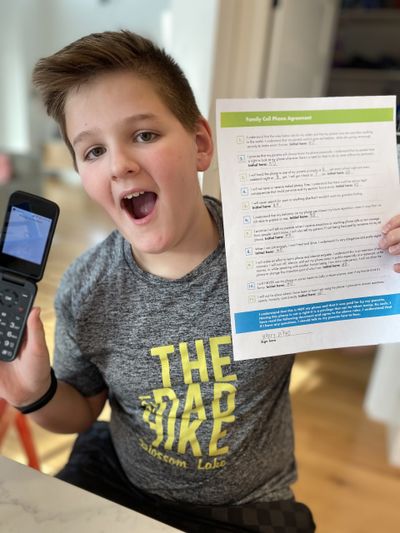 I am not a particularly out-of-the-box thinker. I really like the box. In fact, I prefer it if someone explores the box for me, assures me that everything within the box is OK, and then gives me the go-ahead to proceed with the plan for the box.
However, there is one way in which I, and Logan along with me, am definitely thinking outside the box: we wait longer than most to give our kids access to smartphones and social media. According to a 2019 Common Sense Media survey, more than half of American kids own a smartphone by the age of 11.
If you're a Ditto kid, you can expect to receive a bare-bones flip phone (yes, they still exist) sometime during middle school. If the flip phone experience goes well, you'll probably get a smartphone near the beginning of high school, at which point you will also be added to our family group chat, where you will be bombarded daily with memes and video clips that I think are hilarious.
Thirteen-year-old Henry was our most recent child to enter the cellphone world when we handed him a brand-new flip phone a few weeks ago. The phone has oversize numbers printed on large buttons and is probably geared more towards a baby boomer with failing eyesight than a kid in middle school. But Henry was thrilled to take this next step toward being a real, functioning teenager.
Once our kids graduate from flip phone to smartphone, we are still pretty selective on what applications we'll allow them to have. In particular, we restrict their access to social media, making them wait to get some apps, and not even allowing them to get others.
Only time will tell if this is the right approach. We never allowed our oldest daughter, Lucy, to have TikTok, even though she dropped many a hint throughout her high school years. And then, literally the day we dropped her off at her college dorm, she reminded us that we promised that when she moved away, we would remove the parental controls from her phone. We begrudgingly did it, and within 20 seconds, she had added TikTok to her phone and began scrolling through video after video. Now, six months later, she is a prolific TikTok consumer.
"I feel like we created the TikTok equivalent of the kid whose parents never let her have candy, and then when she's at her friend's house for a sleepover she goes absolutely sugar crazy," I said to Logan. And that may be true.
But I felt somewhat vindicated a few weeks ago when U.S. Surgeon General Vivek Murthy said that he believes it's detrimental to give children access to social media too young.
"The skewed and often distorted environment of social media often does a disservice to many of those children," he told CNN.
Logan and I were eyewitness to the negative effects of just such a "distorted environment" –not through social media but through cellphones in general – when one of our daughters turned 12 years old and we allowed her to have several of her friends over for a sleepover.
Not wanting to go through the entire sleepover with cellphones as a distraction, we decided that once her friends arrived, they would place their phones in a basket, where Logan and I would keep them safe and sound until the end of the party. The girls were a little hesitant to part with their phones at first, but once we assured them that they could use them any time they really needed to, they were fine.
The party went great, and all the girls got along fantastically until the next morning, when almost all of them came to us to request their phones so they could check in with their parents. We passed the phones out and let them head down to the basement for a while. Within ten minutes, most of the girls were texting each other (while sitting in the same room) and were embroiled in a mean-words-feelings-hurt fight.
When we caught wind of what was going on, Logan surreptitiously shut off the Wi-Fi and the girls lost their connection. Almost immediately, the little Mr. Hydes were returned to their normal, delightful Dr. Jekyll selves. The contrast was so stark, Logan and I have never forgotten it.
I don't know if our out-of-the-box thinking regarding cellphones and social media will make any difference for our kids. But from what I've seen, it certainly couldn't hurt to try.
Julia Ditto shares her life with her husband, six children and a random menagerie of farm animals in Spokane Valley. She can be reached at dittojulia@gmail.com.
Local journalism is essential.
Give directly to The Spokesman-Review's Northwest Passages community forums series -- which helps to offset the costs of several reporter and editor positions at the newspaper -- by using the easy options below. Gifts processed in this system are not tax deductible, but are predominately used to help meet the local financial requirements needed to receive national matching-grant funds.
Subscribe now to get breaking news alerts in your email inbox
Get breaking news delivered to your inbox as it happens.
---