Sports > Outdoors
49 Degrees North adds all-day uphill skiing route
Feb. 22, 2023 Updated Fri., Feb. 24, 2023 at 6:16 p.m.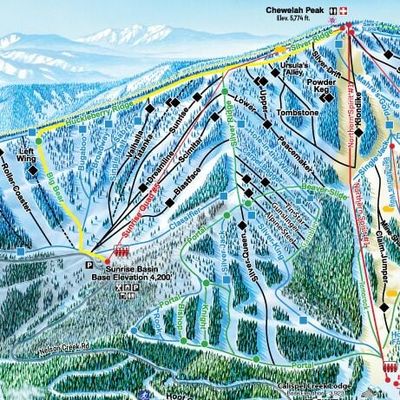 49 Degrees North has added a dedicated all-day uphill skiing route and will be selling both day and season uphill passes.
The route starts at Sunrise Basin, ascends the Big Bear run and continues on Huckleberry Ridge to the summit. Uphill -only day tickets will cost $15 and the resort will offer an uphill -only season pass, although the price of that has not been determined, said Rick Brown, director of skier and rider services.
In the past. 49 Degrees had allowed uphill travel on nonoperating days and before and after the resort opened. This season, however, the resort started running seven days a week during the season, meaning there was no uphill access during the day. To remedy that, Brown said, resort management devised a route and the necessary signage.
The new route has good sightlines, Brown said, but the resort will require uphill skiers wear ANSI Class 2 high visibility vests. Those will be available to rent in Cy's Café.
The resort will also require a pass to ski uphill before and after operating hours. Starting in November, an uphill pass will be required for all uphill travel regardless of whether the resort is open or not.
"We have to put a date on it at some point," Brown said. "We never know. This season, who would have thought we would be open on the 11th of November? We are out there maintaining slopes even that early in the season. Even when we're not open, we're making snow."
It's also a question of liability, he said. By requiring a pass of some kind and outlining specific policies, the resort is shielded from some of the liability concerns.
49 Degrees North is the second area mountain to offer all-day uphill access. Mt. Spokane implemented a similar policy in 2021. Both resorts operate on public land. Mt. Spokane is on Washington State Park land and 49 Degrees North is on U.S. Forest Service land. Both have concessionary agreements, a legal framework that allows businesses – such as ski resorts – to operate on public land. Brown said adding an uphill route fit under the existing concessionary agreement.
Uphill skiers ascend a mountain using nylon 'skins,' which grip the snow. Skiing uphill in a resort allows participants to get in a workout while still in the relatively safe and controlled environment of a ski resort, unlike backcountry skiing, which exposes users to more objective hazards such as avalanches.
Both backcountry skiing and uphill skiing have grown in popularity, with Snowsports Industries America estimating that more than 6 million Americans tour in the backcountry each year.
"This is a big step forward, in my opinion, in our little ski market," said Travis Nichols, a backcountry skier and uphill skier who helped develop Mt. Spokane's policy.
Nichols believes that uphill skiing will eventually be a mandatory amenity for any successful ski resort.
"There was a time when terrain parks were a controversial amenity, now you can't operate a viable winter recreation area without one," he said.
To view the new policy at 49 Degrees North, visit ski49n.com and search uphill policy.
Local journalism is essential.
Give directly to The Spokesman-Review's Northwest Passages community forums series -- which helps to offset the costs of several reporter and editor positions at the newspaper -- by using the easy options below. Gifts processed in this system are not tax deductible, but are predominately used to help meet the local financial requirements needed to receive national matching-grant funds.
Subscribe to the sports newsletter
Get the day's top sports headlines and breaking news delivered to your inbox by subscribing here.
---