A&E > Food
A vegetable soup that delicately balances sweet and sour
Wed., Feb. 22, 2023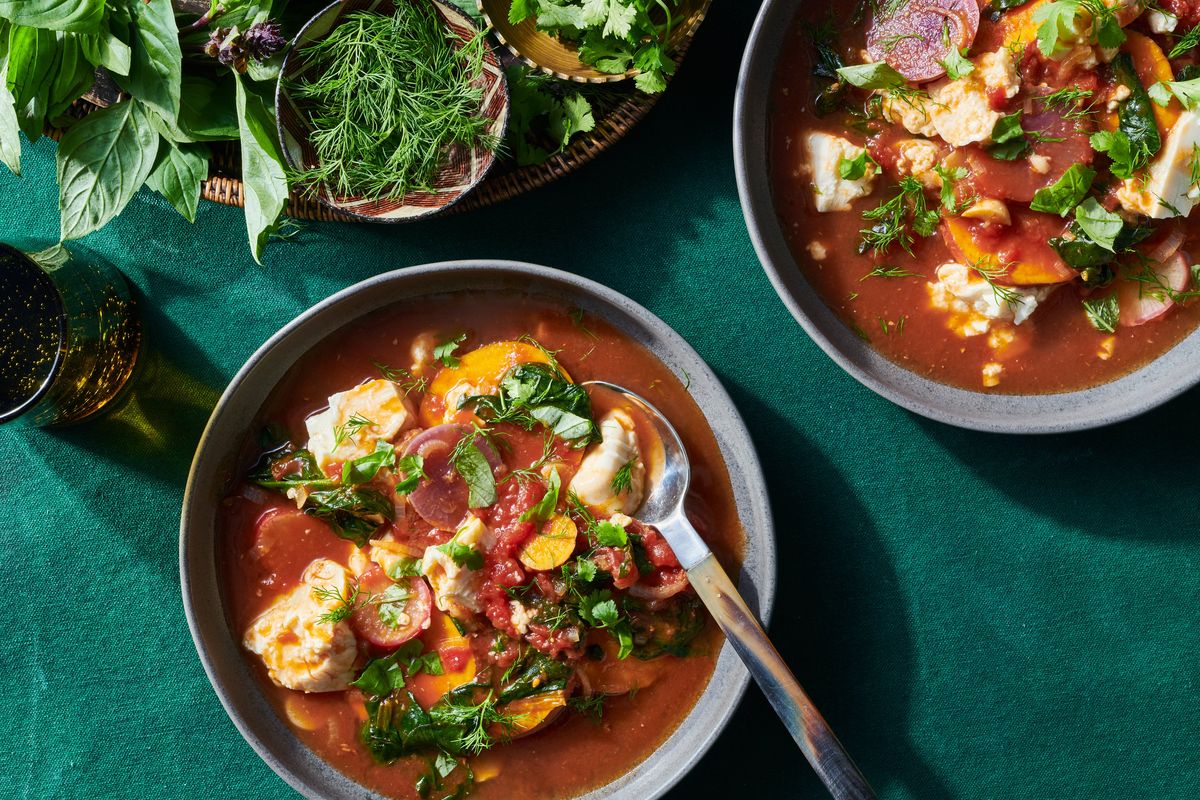 Full of lemongrass, tamarind and tofu, this light winter dish is a little different each time you make it – and that's part of the allure, Yewande Komolafe writes. (New York Times)
I am a lover of soups that seamlessly balance contrasting flavors – the herbed, spicy bite of a classic Lagosian pepper soup or the coconut creaminess and tomatoey sharpness of a moqueca. I've written about the restorative nature of brothy soups and the comfort of umami-rich stews like maafé.
Soups that delicately combine sweet and sour, however, excite me most, especially during the long winter months. And the chase for the right ingredients at the perfect moment to yield that symmetry is particularly thrilling to me. In a matter of miles, citrus, herbs and chiles can all taste different, even within the same season – which means the end result will, too. As close as I may come, I may never exactly produce the same dish twice. It's part of what makes cooking feel fleeting.
This is why tamarind has always been among my favorite ingredients: It always manages to surprise me. Lively with deep notes, tamarind awakens the senses. Its tartness will make you pucker, while its sourness introduces itself gently, surrounding the palate but not quite taking over. I love this subtlety. I would always rather be eased into acidity, something that tamarind does so well.
There are plenty of options to consider when buying tamarind. You can start with the whole fruit, which can be found as pods or as a brick of pulp, to make your own purée. Or, for convenience, you can find jarred purées and concentrates with varying degrees of acidity, depending on how much the sauce has been cooked down. I find the taste, smell and texture to differ distinctly from brand to brand. The logical part of my mind is frustrated by this, but the culinary part of my mind knows that this is where the excitement begins.
In this light, brothy soup, packed with a delicious punch from tamarind, lemon grass, ginger and chiles, the interplay of ingredients means it's a dish that's ever-changing, and that's part of its allure. The recipe is most closely modeled after some of my favorite versions of the Sundanese soup sayur asem, the slightly sweet lemon grass and galangal-infused broth of Isan-style tom klong pla and Timorese fish in sour broth. Like those, this soup provides a wonderful base for variation and nods to convenience: It's full of what I can get at the grocery store this time of the year. The root vegetables – slices of daikon and sweet potato – are poached just long enough to be tender but maintain a slight bite. Tofu, soft or silken, absorbs the ingredients' essences and melts in your mouth with every spoonful.
It is a soup that's all about balance. The first spoonful is both sweet and sour, with a deeply rich color that belies an effortlessly sippable broth. Fresh herbs like dill and cilantro are the finishing touches – one last welcome surprise in a soup that's deftly filled with them.
Vegetable Soup With Tamarind and Lemon Grass
2 tablespoons neutral oil, such as grapeseed or canola
2 shallots, halved lengthwise and thinly sliced
4 garlic cloves, peeled and thinly sliced
2 lemon grass stalks, trimmed, cut into 4-inch-long pieces and smashed with the side of a knife
1 (2-inch) piece fresh ginger, trimmed, cut into 4-inch-long pieces and smashed with the side of a knife
1 (141/2-ounce) can whole peeled tomatoes with their juices
1 to 3 green Thai chiles, sliced or whole, depending on your heat preference
Salt and black pepper
4 cups vegetable stock
2 tablespoons tamarind concentrate or 1/2 cup tamarind purée (see Tip)
1 medium sweet potato (about 11 ounces), scrubbed, cut into thin 1/4-inch rounds
1 small bunch of red radishes or a small daikon (about 8 ounces), scrubbed and cut into 1/4-inch slices (2 cups)
1 to 2 tablespoons fish sauce (optional)
2 cups mature spinach leaves
1 (14-ounce) package silken, soft or medium firm tofu, drained and broken into large 2- to 3-inch chunks
1 cup mixed chopped fresh herbs, such as basil, dill and cilantro
Heat the oil in a medium Dutch oven or heavy-bottomed pot over medium-high until the oil shimmers. Add the shallots and stir until softened, about 3 minutes. Add the garlic, lemon grass and 1 tablespoon grated ginger. Stir and cook until fragrant, 1 minute.
Reduce heat to medium and add the tomatoes, their juices and the chiles. Using a wooden spoon or spatula, stir and break up the tomato pieces. Simmer until the tomato juices thicken slightly, 4 minutes. Season lightly with salt and black pepper. Stir in the vegetable stock, tamarind and 1 cup water. Bring to a boil over medium-high, then lower heat to medium and simmer until the liquid reduces just slightly, about 8 minutes.
With the heat set to medium, add the potato and cook until just beginning to soften, about 6 minutes. Add the radish and cook until just tender, about 5 minutes. Stir in the remaining ginger and fish sauce, if using. Taste and adjust the seasoning with salt and pepper as needed. Add in the spinach and tofu, and cook until the spinach is wilted and the tofu is warmed through, 1 minute.
Divide the soup and vegetables among bowls and garnish with a scattering of chopped herbs. Serve immediately while hot.
Tip: Tamarind can be found as a purée or paste, in varying degrees of concentration. First, taste the store-bought tamarind to determine how acidic it is and how much to use in the soup. Tamarind pods or pulp can also be bought to make the purée at home. All options are available at African, Caribbean or Asian grocery stores.
Yield: 4-6 servings
This article originally appeared in The New York Times.
Local journalism is essential.
Give directly to The Spokesman-Review's Northwest Passages community forums series -- which helps to offset the costs of several reporter and editor positions at the newspaper -- by using the easy options below. Gifts processed in this system are not tax deductible, but are predominately used to help meet the local financial requirements needed to receive national matching-grant funds.
Subscribe to the Spokane7 email newsletter
Get the day's top entertainment headlines delivered to your inbox every morning.
---