News > Idaho
Pennsylvania friends, neighbors recall Moscow homicide suspect Bryan Kohberger's past
Feb. 22, 2023 Updated Wed., Feb. 22, 2023 at 10:02 p.m.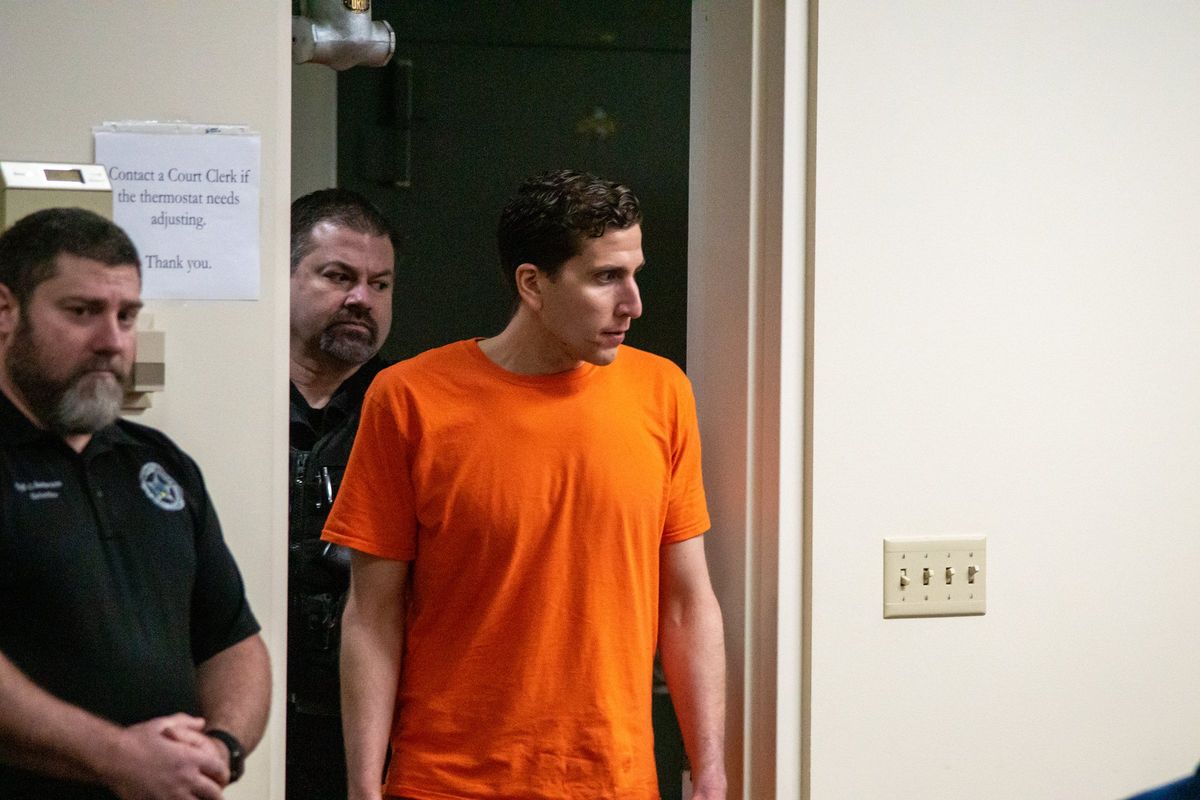 Bryan Kohberger enters a courtroom in Moscow, Idah, January 12 for a status hearing. The accused murderer waived his right to a quick preliminary hearing and will appear in court again on June 26. (Kai Eiselein/New York Post/Pool)
Situated below the forested hillsides in Brodheadsville, Pa., lies the Pleasant Valley School District's two-story brick campus, where Bryan Kohberger went to school and later worked.
In December, Kohberger was taken into custody, turning a quaint community into the epicenter of November's University of Idaho homicides. The 28-year-old accused of killing four college students hails from the area's bundle of townships and was staying with his parents when law enforcement burst in and ended a seven-week manhunt.
Unlike the sister cities of Moscow, Idaho, and Pullman, Washington, grieving together, Kohberger's hometown was made to ache in isolation.
"For the community here, it's devastating," said John Gress, the principal of Pleasant Valley High School when Kohberger graduated in 2013.
Neighbors to the red-roofed, four-bedroom home on an acre in nearby Effort, Pennsylvania, where Kohberger was raised, were just as astounded. They remembered the quiet, heavyset boy who was picked on for his weight.
Today, Kohberger is charged with first-degree murder in the stabbing deaths of four Idaho students: seniors Madison Mogen and Kaylee Goncalves, each 21; junior Xana Kernodle, 20; and freshman Ethan Chapin, 20.
"No bells ever went off," said Barbara Tokar, 58, a nearby homeowner in Pennsylvania and mother of one of Kohberger's classmates. "It makes me sick in my stomach. You never know. You just never know."
Natori Green, 27, grew up four doors down from the house where Kohberger lived. They graduated together in 2013.
"You see it on the news. It's surreal," Green told the Idaho Statesman from her driveway.
Since moving back home with her family after college, she's heard about the passing of several Pleasant Valley classmates, rattling off the list of causes: drugs, car accident, drugs, military, drugs again.
Drug abuse is a problem in the area. The region has one of the highest rates of overdose deaths in one of the worst-hit states for the U.S. opioid epidemic. Kohberger had his own lengthy battle with drug addiction, several former friends said.
'Desire to be the alpha'
For Kohberger's former circle of friends during high school, the allegations were jarring. "It's hard to put into words," Thomas Arntz, 27, said. "I just, it was the initial shock of hearing what he had been accused of. My first thought was, 'Where is he now? Are my parents safe?' Because you couldn't process it all at once."
Arntz remembered Kohberger as similar to himself when they met in their early teens: awkward and fairly reserved. They bonded over video games and wandering the wooded neighborhood. Arntz said he came to appreciate Kohberger's sense of humor, wit and ability to observe.
But Arntz said he hadn't spoken to Kohberger in about eight years, having chosen to cut ties because he said his friend's personality grew grating. Kohberger would frequently play mind games with him, Arntz said, including once when Arntz was upset after the death of his aunt.
"He always wanted to be dominant physically and intellectually," said Arntz, who was a year behind Kohberger in school. "He had to show that he was smarter and bigger than you, and try to put me down and make me feel insecure about myself. "
By high school, Kohberger told friends of his interest in law enforcement. His sophomore yearbook features Kohberger dressed in a uniform and in the midst of a pushup during his law enforcement class at the county's half-day technical school. Kohberger hoped to become an Army Ranger, the caption reads, but his interest was primarily law enforcement, Arntz said.
The program helped students eventually become a police officer, firefighter or EMT, said Donna Yozwiak, Kohberger's guidance counselor through most of high school. His parents, who also worked for the school district, were active in attending meetings to help steer their son, she said.
"I recall no problems. He was a regular kid, and thankfully his parents were involved in his education," Yozwiak said.
Gress, the high school's principal until retiring in 2017, vaguely recalled Kohberger, in part because Kohberger was enrolled half the day at the off-campus technical school and wasn't involved in any after-school activities.
What many people do remember of Kohberger from his high school years was his considerable weight loss. The dramatic change occurred between his junior and senior years.
Kohberger started kickboxing every day after school and running in the evenings, Arntz said. He also became hyper-focused on what he ate, his friends recalled – to the point that he developed an eating disorder that required hospitalization, Jack Baylis, 28, another of Kohberger's inner circle at the time, told the Statesman.
Arntz estimated that Kohberger weighed more than 300 pounds, and the amount he lost was as much as half his body mass. And it was so rapid that Kohberger had tummy tuck surgery because he was left with so much excess skin, Arntz and Baylis said.
During this same period, Arntz said, Kohberger's personality also shifted and he became more aggressive. Arntz provided similar details in an interview with the FBI, he said.
"It almost seemed to me he had a desire to be the alpha," Arntz said. "For no reason, he'd try to grapple me and put me in headlocks when I didn't want to. He tried to portray it as just boys being boys, but that's not the way I ever took it."
Drugs and dependency
The close of his high school career and the years that followed, Kohberger's friends said, were marked by a marijuana habit graduating into a heroin addiction.
Kohberger attended the county's technical program his sophomore and junior years of high school. But he switched for his junior year from law enforcement to focus on heating, ventilation and air conditioning, like his father, who worked in maintenance at the school district for a time. For reasons that are unclear, Kohberger then transitioned out of the technical school his senior year to earn his diploma through the high school's online program, Yozwiak said.
Casey Arntz, 29, who graduated high school two years ahead of Kohberger, also was among his circle of friends, along with her younger brother, Thomas. As an upperclassman, Kohberger started spending time with another group of high school kids.
"Honestly, I feel he was looking for validation, and that's why he fell into that crowd," she told the Statesman. "And honestly, it's why he fell into the whole drug scene."
"I didn't like him personally because he got my boy into heroin," Baylis said of another neighbor blamed for introducing Kohberger to heroin. "I think drugs goofed him pretty bad. He was having a time. He'd tell me, 'I'm clean now, I'm totally clean now,' and he'd have bleeding track marks" on his arms.
Shortly after high school in January 2014, Kohberger again reached out to Casey Arntz to ask how college was going, the Facebook messages showed. She responded that she was stressed out over school projects.
"Be proud, you're making something of yourself. I'm NOT haha," he wrote, saying he withdrew from college because he had to go to rehab. "Life after was dull."
Kohberger worked at a roadside pizzeria formerly called the New York Pizza Girl in 2013 and 2014, Rich Pasqua, a Pleasant Valley High School graduate a few years older than the suspect, told Fox News and the New York Times last month.
Pasqua, 31, who today works at a drug rehab clinic in the area, said he and Kohberger would use heroin together.
"He didn't have many friends, so he would do anything to fit in," Pasqua told Fox News. "He was a big heroin addict, and so was I. … I work in treatment and everything, but back then I was using, and so that's how I know for a fact he was using. I got high with him a couple times."
Charles Conklin, 61, owns the building the pizzeria occupied, as well as the neighboring fish hatchery that includes a stocked lake where people pay to fish for a variety of trout and bass. In the summer of 2011, Kohberger briefly worked there a few months as well, cleaning people's catch, Conklin recalled and Kohberger wrote on a school district job application obtained by the Statesman.
He wasn't there long, however, Conklin told the Statesman, because Kohberger didn't show himself to be very personable with customers and also wasn't improving at filleting the fish. He let him go.
"You've got to do a good job on your cuts, you have to be friendly to people, at least try to make some eye contact," Conklin said. "It just wasn't his thing."
Post-recovery road reaches shocking turn
Several years after they last spoke, Baylis said, he and Kohberger reconnected. Baylis said the two would exchange Facebook messages and Kohberger would call him to talk every week or so. Kohberger told him he no longer used drugs when the subject came up.
"At some point, he said, 'Don't ever bring it up again. We're past that,' " Baylis told the Statesman.
In May 2018, Kohberger told Baylis in messages on Facebook that he hadn't used drugs in two years, according to screenshots Baylis shared with the New York Times.
"I only used when I was in a deep suicidal state," the Times reported Kohberger wrote to Baylis. "I have since really learned a lot. Not a person alive could convince me to use it."
Casey Arntz said she ran into Kohberger a year before that at a mutual friend's wedding, which was the last time she saw him.
He appeared to have pulled his life together, she said, and shared that he was in college and working as a security officer for the Pleasant Valley School District.
"It was so good to see someone come back from that dark place," Casey Arntz told the Statesman, saying she gave Kohberger a big hug when she greeted him.
Kohberger started with the school district in 2016 as a fill-in custodian and courier before moving into security part time, according to documents the Statesman obtained through a public records request. He was later credited in December 2018 with helping save the life of an employee at the high school after a medical emergency, the Pocono Record reported.
Kohberger resigned from his position in June 2021, records released by the district showed.
Kohberger attended Northampton Community College in eastern Pennsylvania and graduated in 2018 with a major in psychology, according to a school spokesperson.
Kohberger went on to earn his bachelor's degree in 2020 and his master's in 2022 from DeSales University, according to a statement the university released the day he was arrested. The university is about an hour south from the home where Kohberger's parents moved and he continued to live while in college.
DeSales faculty are not accepting interview requests about Kohberger.
Katherine Ramsland, a famed forensic psychologist who teaches in DeSales' criminal justice master's program – and collaborated on a book with notorious serial murderer Dennis Rader, better known as the BTK Killer – confirmed to LehighValleyNews.com that Kohberger took at least one course with her. In an email, she declined a Statesman request for an interview.
Last summer, before Kohberger started in Washington State's criminal justice and criminology Ph.D. program in August, he posted a research questionnaire to Reddit seeking volunteers to discuss their decision-making and behavior in the midst of committing a crime.
Seven weeks after law enforcement extracted him from this outlying area of the Northeast, community members said they remain baffled.
Despite the nation's ongoing attention on the case, Yozwiak said she wants to see the judicial process play out.
"I'm watching the news as well as thousands of other people," she said. "I'm just hoping that this all works out and just that the truth comes out. That's all we can hope for."
Local journalism is essential.
Give directly to The Spokesman-Review's Northwest Passages community forums series -- which helps to offset the costs of several reporter and editor positions at the newspaper -- by using the easy options below. Gifts processed in this system are not tax deductible, but are predominately used to help meet the local financial requirements needed to receive national matching-grant funds.
Subscribe now to get breaking news alerts in your email inbox
Get breaking news delivered to your inbox as it happens.
---