Collector: Larry Mann's collection of model trains also includes historic memorabilia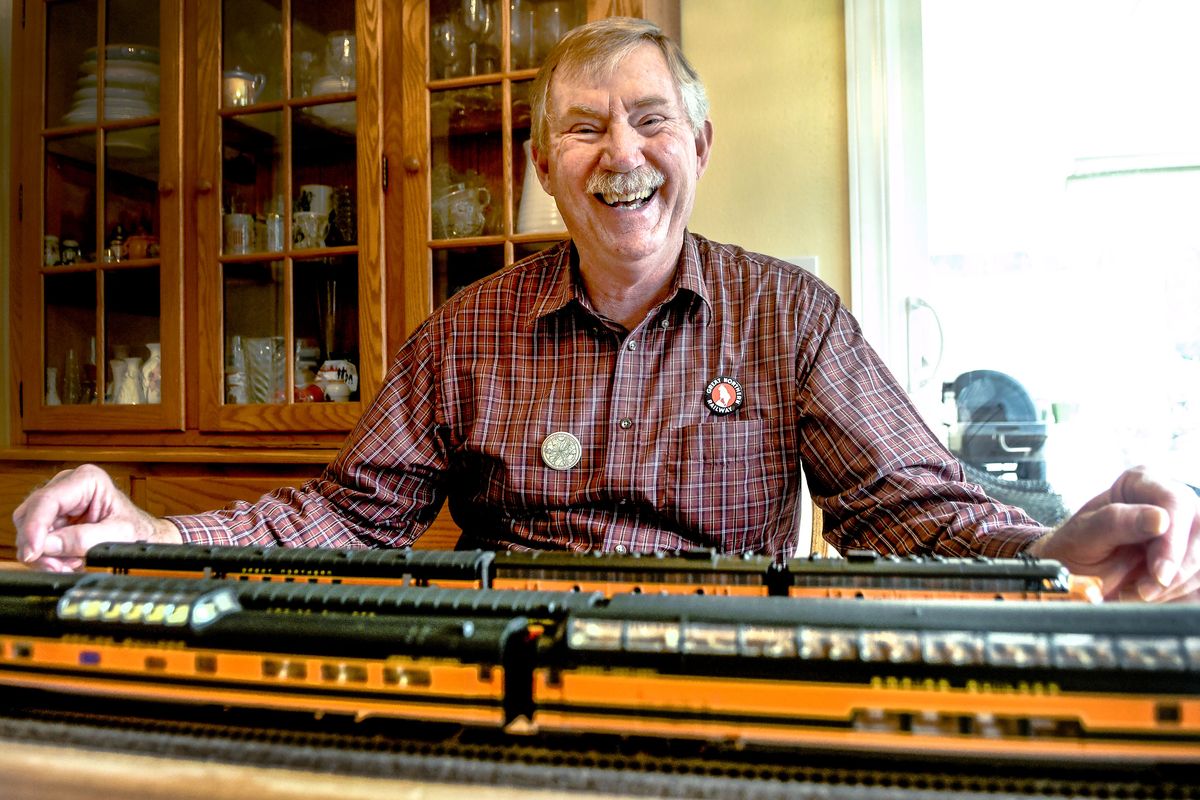 Larry Mann's fascination with Inland Empire postal history fueled another interest–the Great Northern Railway.
"I've been collecting Spokane postal history since I was a teenager," he said. "And most mail was carried by train."
His two collections complement each other, but he can only play with one of them.
"I'm a model railroader and especially focus on the Great Northern Empire Builder in HO scale," Mann said. "I belong to the Evergreen Model Railroaders club in Greenacres and run trains on their large layout."
He played with trains as a kid and when he got older he'd run tracks atop a large piece of plywood.
"Over the years, I built larger layouts, but every time I moved I'd have to tear them apart."
That's why he prefers to run his current collection at the Evergreen club.
Mann also belongs to the Great Northern Historical Society. Most residents know the Great Northern Railway played an important role in local history. It came to Spokane in 1892 when James J. Hill built the Great Northern railroad and the railroad yards called Hillyard.
"The Empire Builder was named after James Hill," Mann said. "It continued in use until Great Northern was merged into Burlington Northern in 1970."
The collector wore a pin on his shirt that featured a crisscross of railroad lines. It read, "All Roads Lead to Spokane The Power City.
"This is from 1909," he said. "At one time Spokane had four transcontinental lines going through it."
His favorite train is the post-WWII streamlined Empire Builder.
"I have 18 of the streamlined passenger cars that made their debut in 1947," he said. "I also have a set of the diesel locomotives that pulled the Empire Builder, two other GN diesels, and two GN steam locomotives that were used in the 1930s and 40s. All of them have sound, and one of the steam locomotives also has smoke."
He pointed out two passenger cars with domed glass tops.
"They called these Great Domes," he said.
Great Northern spent most of its advertising budget promoting Glacier National Park, so adding more scenic seats on the Chicago to Seattle Route boosted both.
His collection encompasses more than just train cars. A 1928 GN travel guide, "The Call of the Mountains," describes Glacier's vacation spots.
"I have Empire Builder schedules, GN books, illustrated postcards, and other memorabilia," he said.
One unique item came from a friend of his wife, Carol. It's a framed black and white photo of the crew on the last electric locomotive Skykomish-Wenatchee run in 1956.
"Her friend's father was the fireman on the train."
Mann is especially fond of his calendars, ads and posters that feature Rocky the Mountain Goat, Great Northern's mascot.
"I like his personality," he said.
The art of Winold Reiss appears frequently on GN calendars and depot posters. Born in Germany, Reiss is well known for his series of paintings of Blackfeet Native Americans that were commissioned by the railroad.
Mann owns several reproductions.
"I'd like to have an original Winold Reiss poster."
He also would have enjoyed taking a trip on the Empire Builder during its heyday.
"I wish I could have taken an Empire Builder in the late 50s," he said. "But I did take a Great Northern Train in the 60s when I was a Boy Scout."
And last summer, he and Carol traveled on three trains.
"We took the Coast Starlight from Seattle to Emeryville, California, the California Zephyr from Emeryville to Chicago, and the Empire Builder from Chicago to Minneapolis/St. Paul," he recalled.
Of course, riding the rails via Amtrak is a far cry from the luxury of the Great Northern Empire Builder.
Mann traced the sleek lines on one of his model locomotives.
"It's been said that the 1947 streamlined Empire Builder is one of the most beautiful trains," he said. "I love the colors – the gold, green and orange. I think they're beautiful."
---