A&E > Entertainment
Stream on Demand: In 'The Woman King,' Viola Davis' scars demonstrate her ferocity
Thu., Feb. 23, 2023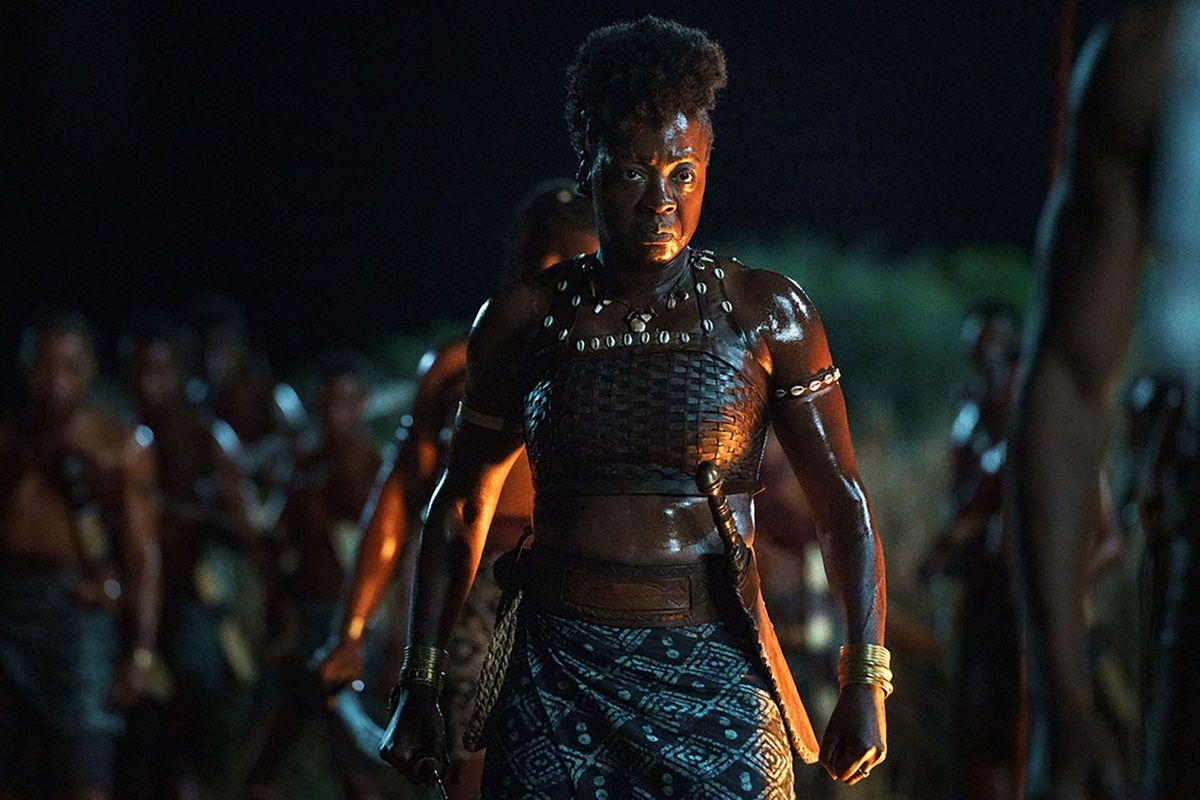 Viola Davis is a feared military leader in the historical epic "The Woman King." ( Ilze Kitshoff / Sony Pictures )
What's new for home viewing on Video on Demand and Netflix, Hulu, Disney+, HBO Max, Amazon Prime, and other streaming services.
Top streams for the week
African history and action spectacle center "The Woman King" (2022, PG-13), Gina Prince-Bythewood's historical drama inspired by a real-life all-female warrior regiment that battled rival kingdoms and European slavers in early 1800s Africa. Viola Davis stars as the veteran military leader whose scars testify to her commitment and her ferocity, and Thuso Mbedu plays a young recruit. It's a mix of old-school historical epic and modern social commentary with impressive battle scenes. Lashana Lynch and John Boyega costar. (Netflix)
Christoph Waltz stars as "The Consultant: Season 1" (2023, TV-MA), brought in to help an app-based gaming company after the mysterious death of their CEO. Waltz is a master at playing charmingly sinister characters whose motives are hidden behind polite, insincere smiles, and his increasingly extreme demands prompts company employees to question what he's really up to. The darkly comic thriller about workplace relationships and power dynamics costars Nat Wolff and Brittany O'Grady. All episodes streaming. (Prime Video)
Filmmaker Damien Chazelle freely mixes myth with history in "Babylon" (2022, R), his portrait of wild days of Hollywood in its transition from silent movies to the 1930s as a bacchanal spectacle. Brad Pitt stars as a superstar whose luster fades in the changing times and Margot Robbie is an uninhibited wild child starlet with a self-destructive streak. Chazelle pushes every scene to maximum decadence, portraying old Hollywood as a nonstop orgy of drink, drugs and sex. Nominated for three Oscars. (Paramount+)
International pick: Jerzy Skolimowski's "EO" (Poland, 2022, not rated, with subtitles) follows the odyssey of a circus donkey after being "rescued" from its human, viewing the world through its eyes as it passes through a series of owners and labors. It's a beautifully photographed journey through the human condition and a sometimes harrowing portrait of life as a beast of burden. Oscar nominee for best international feature. (Criterion Channel, also on VOD)
News: Viaplay, the leading original streaming platform in the Nordic region, launches in the U.S. with a slate of Scandinavian TV programs and movies. Among the original programs are the noir crime drama "Trom" (Denmark) and the terrorism thriller "Furia" (Norway). More at viaplay.com.
Netflix
"We Have a Ghost" (2023, PG-13) stars David Harbour as a spirit who helps a pair of kids to solve a murder.
HBO Max
Concert special: "The Weeknd: Live at Sofi Stadium" (TV-14) was filmed last year at the start of the singer's worldwide tour.
Amazon Prime Video
A therapist (Sosie Bacon) has to confront her traumatic past after seeing terrifying visions in the horror film "Smile" (2022, R).
Apple TV+
Eugene Levy hosts the globe-trotting travel series "The Reluctant Traveler: Season 1" (TV-PG).
Other streams
The third season of "Party Down" (TV-MA) reunites original cast members Adam Scott, Jane Lynch, Ken Marino, Martin Starr, Ryan Hansen, and Megan Mullally after 12 years. (Starz)
The opening of a time capsule reopens an unsolved murder case in the Australian mystery "Black Snow: Season 1" (not rated) starring Travis Fimmel. (AMC+ and Sundance Now)
Sean Axmaker is a Seattle film critic and writer. His reviews of streaming movies and TV can be found at https://streamondemandathome.com.
Local journalism is essential.
Give directly to The Spokesman-Review's Northwest Passages community forums series -- which helps to offset the costs of several reporter and editor positions at the newspaper -- by using the easy options below. Gifts processed in this system are not tax deductible, but are predominately used to help meet the local financial requirements needed to receive national matching-grant funds.
Subscribe to the Spokane7 email newsletter
Get the day's top entertainment headlines delivered to your inbox every morning.
---