Sports > Gonzaga basketball
ESPN analysts expect 'rocking' Kennel for GameDay show, 'heavyweight fight' in Gonzaga-Saint Mary's nightcap
Feb. 24, 2023 Updated Fri., Feb. 24, 2023 at 10:04 p.m.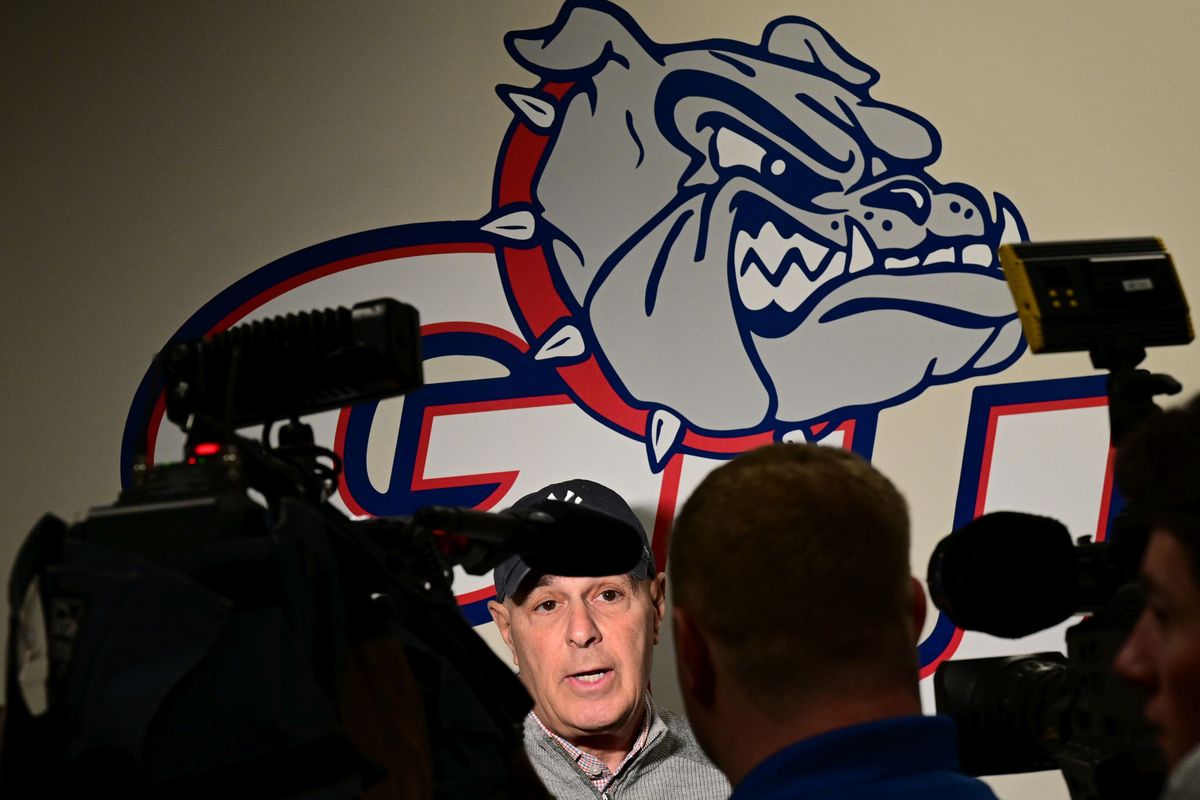 ESPN's Seth Greenberg fields questions from local media as the ESPN College GameDay crew gets settled on campus on Friday at the Kennel. (Tyler Tjomsland / The Spokesman-Review)Buy a print of this photo
Gonzaga has waited 14 years to get back on ESPN College GameDay's calendar.
Now that the Bulldogs are penciled in?
"They're on the clock, man, they're on the clock," said college basketball analyst Seth Greenberg, a co-host of the roving ESPN show that will broadcast from McCarthey Athletic Center Saturday. "I've been hearing all about the Zag fans and I've been hearing all about the Kennel. That's great. Well, you know what, let's see it. Bring it. Bring it."
Gonzaga wrapped up its 24th win of the season against San Diego just before 10 p.m. Thursday. By 11 a.m. the next day, College GameDay cameras, desks and equipment boxes had infiltrated McCarthey Athletic Center, and the show's popular analysts were meeting with local media members.
"There's only six College GameDays and one College GameDay's coming here to Gonzaga," Greenberg said. "You would hope that people would embrace that. It's a reward for the history and tradition and the success. It's more fun for us when the place is rocking."
The College GameDay program will air from 7-9 a.m. Saturday, but ESPN's crew, featuring Greenberg, Jay Bilas, Rece Davis and LaPhonso Ellis, will start taping live SportsCenter hits at 6:15 and 6:30. Students are allowed inside as early as 6 a.m.
Saturday evening, 12th-ranked Gonzaga and 15th-ranked Saint Mary's will play to determine whether the longtime WCC rivals will share the regular-season conference crown, or whether the Gaels claim it outright for the first time since 2016.
"Over the years, and this year included, I think Gonzaga's shown they don't shy away from challenges, they go at them head-on," Bilas said. "That's what makes this game attractive, is you know you're going to see a heavyweight fight and it's going to be fun. It may not be fun to play in, but it's going to be fun to watch."
Greenberg added that the contrasting styles of Gonzaga, which usually deploys a high-paced, efficient offense, and Saint Mary's, which tends to hang its hat on tough, rugged defense and a slower offense, adds another dimension to the rivalry.
"Gonzaga's enabled Saint Mary's to build their program," Greenberg said. "They needed someone to be that rival and the job Randy (Bennett) has done with that program, they have their own identity. It's different, obviously, than Gonzaga's identity, which makes for a great rivalry game. Opposites attract."
Bilas has been on a handful of ESPN broadcast calls involving Gonzaga since GameDay's last visit to Spokane for GameDay in 2009, and the show's original visit in 2006.
The former Duke player and assistant coach under Mike Kryzyzewski, who's been at ESPN since 1995, was on the set for GameDay's last two trips to Gonzaga.
Greenberg is making his first trip to the Kennel, and first trip to Spokane.
"As a coach I've coached in some of the greatest venues in college basketball," Greenberg said. "… This is kind of a little bit of a bucket list deal for me, because this is probably one of the games and venues that I haven't been able to check off."
Bilas said it's a testament to Gonzaga's success and longevity – the Bulldogs are on track to qualify for their 25th consecutive NCAA Tournament – that Spokane remains an attractive destination for the award-winning ESPN GameDay show.
"Gonzaga's one of the premier programs in all of basketball and all of sports," Bilas said. "In the last 20 years what's been accomplished here is really mind-boggling. For those who tend to try to diminish the rate of success by saying, well, it's the West Coast Conference or something like that, that's dismissive.
"All you have to do is look at the NCAA Tournament success that's validated what they've done."
Bilas has been an advocate of Gonzaga's program in more ways than one. When the Bulldogs made the 2021 national championship, he issued a video statement from his Twitter account calling out college basketball fans who've butchered the pronunciation of "Gonzaga."
"I'm primarily here as almost a public service announcement for the right way to pronounce Gonzaga," Bilas said. "There's been a national issue of it being called 'Gon-zogga' and I think it's pretty easily remedied. If it were 'Gonz-ogga' they'd be the 'Zogs.' "
He also made a guest appearance on the "Gimme Timme" podcast co-hosted by Gonzaga's All-American forward, Drew Timme. During the podcast, Bilas was razzed for not having Timme as a guest on a popular ESPN segment, "94 Feet," where the analyst holds brief interviews with various college basketball stars as they walk the length of a court, or 94 feet.
Bilas said he and Timme would rectify that with GameDay in town this weekend.
"It's been something that's been quite uncomfortable, really," Bilas said, tongue in cheek. "I've never really had anybody whine and cry like that, but we decided to go ahead and do it to sort of placate his hurt feelings over not being featured enough, because it's clear that Drew Timme just doesn't get enough coverage."
Local journalism is essential.
Give directly to The Spokesman-Review's Northwest Passages community forums series -- which helps to offset the costs of several reporter and editor positions at the newspaper -- by using the easy options below. Gifts processed in this system are not tax deductible, but are predominately used to help meet the local financial requirements needed to receive national matching-grant funds.
Follow along with the Zags
Subscribe to our Gonzaga Basketball newsletter to stay up with the latest news.
---