Sports > High school sports
Boys state: Maverick Sanders scores 24 points, Mt. Spokane defends No. 1 seed against Rainier Beach
Feb. 25, 2023 Updated Sat., Feb. 25, 2023 at 9:53 p.m.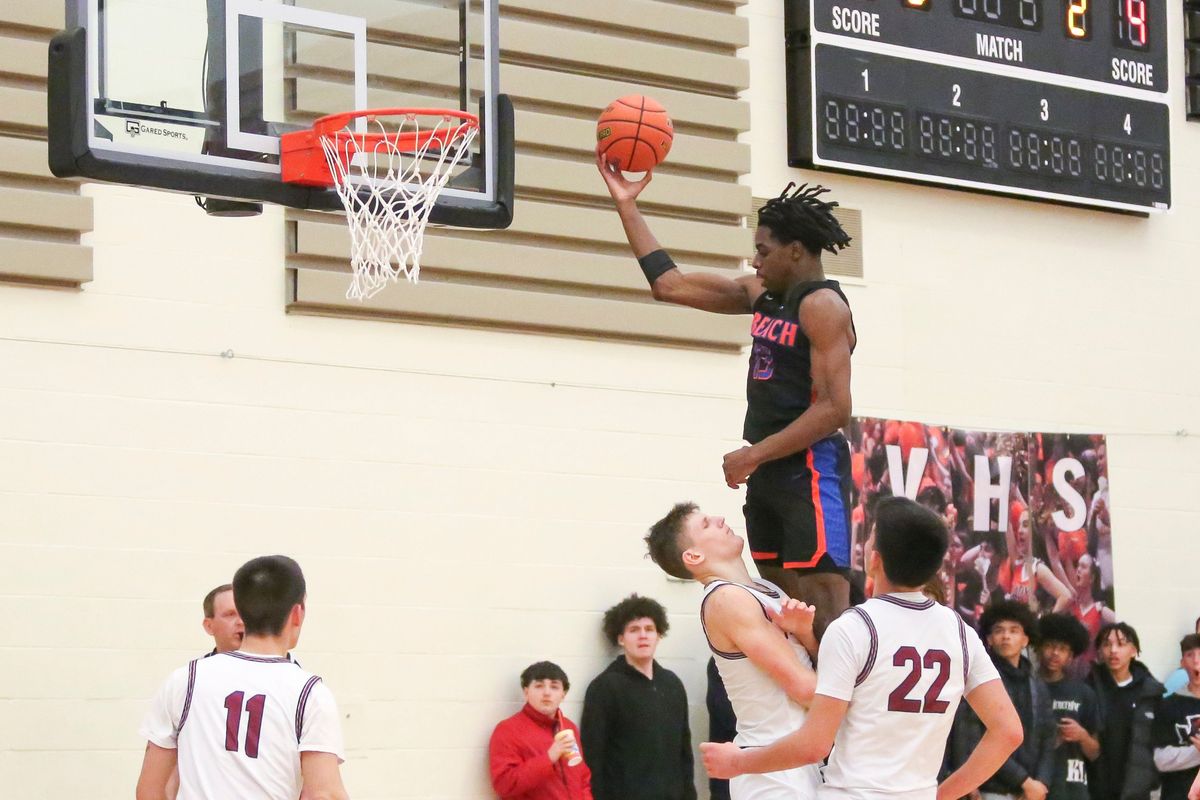 Mt. Spokane forward Maverick Sanders draws a charge against Rainier Beach in a State 3A opening-round game Saturday at West Valley. (Cheryl Nichols/For The Spokesman-Review)Buy a print of this photo
After a one-loss season – to State 4A top seed Curtis – Mt. Spokane beat Kennewick by 33 in the District 8 title game and earned the No. 1 seed to the 20-team State 3A tournament.
Its first-round opponent, Rainier Beach – like many Seattle-area teams – wants to run, then run some more. But an up-and-down season resulted in seven losses, three to rival O'Dea, and the No. 8 seed.
The matchup made for a wild ride.
Maverick Sanders scored 24 points, Andrew Rayment had 15 and Ryan Lafferty added 14 as the Wildcats (23-1) edged the Vikings (14-8) 64-61 in a protected opening-round game on Saturday evening at West Valley High School .
"I think it was an honor by the rest of the state to be seeded the way we were," Mt. Spokane coach David Wagenblast said. "Let's be honest, Rainier Beach is not an 'eight' and they're a very good team. I was just really proud of our kids in terms of how they competed."
"They're a pretty athletic team, but I think we held our own and we're an athletic team ourselves," Lafferty said. "So, we matched up well."
Lafferty and Sanders made 3s early in the fourth quarter, and the Wildcats went up 61-55 with 4 minutes left.
Both teams struggled to find the basket over the next 3 minutes – spending more time on the floor chasing loose balls than putting them in the basket – and Mt. Spokane led 63-59 with 54 seconds left.
Miles Gurske (19 points) drove the length of the court to make it a two-point game with 5.6 seconds left. Lafferty was fouled and hit one to make it three, then Gurske's attempt at the buzzer from halfcourt hit the rim and bounced away.
"We needed those two, big 3s," Lafferty said. "That was a big momentum shift."
"Just doing what we do," Sanders said. "Just put the ball in the hole and keep playing defense."
"When Beach went on a great run, our kids just kept making plays," Wagenblast said. "Just having a lot of experience in some big games is what it's all about. For us, our kids, this isn't the biggest game we've played, and it's not the biggest game we're gonna play."
Sanders hit a couple of 3-pointers and finished with 15 in the first quarter as the Wildcats built a 24-13 lead.
The Vikings started the second with a 7-2 run, punctuated by a fastbreak dunk by freshman guard Patrice Mpouli, and Beach closed the gap to six. Mt. Spokane responded as Sanders and Lafferty both drove the lane for baskets to make it a double-digit game again.
Gurske hit a pair of 3s in the late going, and Mt. Spokane led 36-32 at halftime. Gurske tied it at 40-40 early in the third with a long 3-pointer, and he added another just before the buzzer. Mt. Spokane led 47-45 entering the fourth.
2A
(1) Pullman 67, (8) R.A. Long 55: Two-time Greater Spokane League 2A MVP Jaedyn Brown scored 32 points, and the Greyhounds (24-0) came back from 17 points down in the second quarter and beat the Lumberjacks (20-5) in a protected game at West Valley.
R.A. Long hit six 3-pointers in the game's first 7 minutes and made one the rest of the game.
"We started off a little slow, obviously," Brown said. "We were down, I think 12 or 14 at one point, but it was good to just bounce back in the second quarter."
Pullman, the top-ranked team in the state media poll, advances to a quarterfinal at the Yakima Valley SunDome on Thursday.
Brown said there was no panic in the huddle.
"We knew a little bit of what was coming," he said. "Once we got settled in, we knew that we could do it. Then it was just chipping back into it."
The Lumberjacks hit four 3-pointers early and led 22-10 after one. Lonnie Brown knocked down two more to push the lead to 17. A late run, fueled by a Brown breakaway dunk and three-point play Austin Hunt, made it 32-29 at the half.
Pullman tied it at 38-38 late in the third on a dunk by Tanner Barbour, and a bank shot at the buzzer by Hunt gave the Greyhounds a 48-42 lead heading into the fourth. Brown hit from long distance and a layup for Barbour pushed the lead to double digits.
Calvin Holden led R.A. Long with 25 points.
(9) West Valley 62, (16) Clover Park 47: Ben Fried scored 22 points, and the Eagles (19-4) beat the visiting Timberwolves (13-8) in an elimination game. West Valley faces eighth-seeded R.A. Long in a round-of-12 game at Yakima Valley SunDome on Wednesday.
1A
(16) Lakeside 58, (9) Omak 52: Calvin Mikkelsen scored 20 points with five 3-pointers, Kole Hunsaker added 10 points and the Eagles (13-10) beat the Pioneers (16-5) in an elimination game at Wenatchee High School. Lakeside advances to a round-of-12 game against eighth-seeded Overlake at the Yakima Valley SunDome on Wednesday.
2B
(2) Morton-White Pass 63, (7) Northwest Christian 51: Josh Salguero scored 20 points, and the Timberwolves (21-3) beat the visiting Crusaders (20-5) in a protected game at W.F. West High School. Asher West scored 16 points, and Avi West added 14 for NWC, which faces an elimination game against 10th-seeded Chief Leschi Wednesday at the Arena.
(9) Lind-Ritzville/Sprague 53, (16) Dayton-Waitsburg 35: Jayce Kelly scored 23 points, Chase Galbreath added 15 and the Broncos (19-7) eliminated the Wolfpack (13-8) at Cheney High School. LRS advances to an elimination game against eighth-seeded Adna on Wednesday at the Arena.
1B
(1) Wellpinit 83, (8) Oakville 46: Jeffrey Moyer scored 14 points, Eli Leyva and Uriah Tonasket added 10 apiece as Wellpinit (23-1) beat the Acorns (17-5) in a protected game at Cheney. Wellpinit advances to a quarterfinal on Thursday at the Arena.
(2) Sunnyside Christian 56, (7) Cusick 45: The visiting Knights (20-4) beat the Panthers (19-5) in a protected game at Richland High School. Cusick faces an elimination game against 10th-seeded Mount Vernon Christian Wednesday at the Arena.
Local journalism is essential.
Give directly to The Spokesman-Review's Northwest Passages community forums series -- which helps to offset the costs of several reporter and editor positions at the newspaper -- by using the easy options below. Gifts processed in this system are not tax deductible, but are predominately used to help meet the local financial requirements needed to receive national matching-grant funds.
Subscribe to the sports newsletter
Get the day's top sports headlines and breaking news delivered to your inbox by subscribing here.
---