Mouhamed Gueye, TJ Bamba lift Washington State to fifth consecutive victory, a 63-57 road win over Cal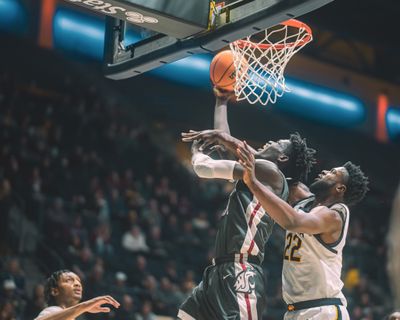 Mouhamed Gueye added another impressive effort to his string of standout performances. TJ Bamba provided another second-half lift.
Washington State leaned on its two best players to break free from a tight road game against a desperate opponent. Gueye and Bamba combined for 39 points, and the Cougars extended their winning streak to five games, sweating out a 63-57 victory over California on Saturday afternoon at Haas Pavilion in Berkeley.
Gueye totaled 20 points and 10 rebounds for his Pac-12-leading 14th double-double of the season. The 6-foot-11 sophomore shot 9 for 9 from the free-throw line, contributed three assists and didn't commit a turnover. Gueye is averaging 18.2 points and 10.4 rebounds during WSU's late-season winning streak.
"He's doing what good players do down the stretch (of a season) – he's getting better, more confident," WSU coach Kyle Smith said of Gueye. "Today might have been one of his best efforts."
The Cougars (15-15, 10-9 Pac-12) often fed the ball to Gueye in isolation during the second half to counter challenges from the Golden Bears (3-26, 2-16), who stayed within a possession or two for the majority of the night.
"Get the ball to 'Mo,' " Smith said of the late-game strategy. "He had a couple of nice passes, good (post) moves and was awesome at the foul line. Good things happen when we get it to him."
Bamba, a junior guard , scored 14 of his 19 points in the second half. He scored nine points in the final 7:14 as WSU gradually created breathing room. Bamba scored 17 points in the second half Thursday to power the Cougars to a win over Stanford.
"He's been a workhorse and a really good competitor, and I'm really proud of him," Smith said. "It feels good when you have someone like that, who you can go to late in a game."
Bamba and Gueye combined to shoot 11 of 24 from the field while the rest of the Cougars went 7 of 30. WSU shot 33.3% as a team and hit 6 of 25 from 3-point range. Smith attributed the shooting inefficiencies to fatigue – the Cougars have played three games since last Sunday, all of them single-digit wins.
"It was our third game in seven days, and (the Bears) are feisty," he said. "I know they've had a tough season, but they're competing hard.
"We were just gritty enough to get that thing done."
The Cougars got a boost at the foul line (21 of 26), played composed defense, rebounded well, limited their turnovers and never trailed.
WSU matched a season low with six turnovers and outrebounded the Bears 39-32 (8-3 on offense boards). Cougars forward DJ Rodman finished with 10 rebounds. Cal's output was the third-lowest point total allowed by WSU in Pac-12 play this season.
The Bears capitalized on a 6-minute WSU field-goal drought midway through the second half to tie the score at 39. The Cougars stayed sharp from the foul line until Bamba's 3-pointer at the 7:14 mark, which kick-started a 13-4 surge that put WSU up by 11 points with 1:02 remaining.
The Cougars forced four turnovers during an 11-2 run that spanned 6 minutes to open a nine-point lead midway through the first half before a 0-for-7 shooting stretch allowed Cal to trim into the deficit. WSU made two of its last 14 field-goal attempts of the first half, but the Bears experienced similar struggles offensively and the visitors led 29-26 at the break.
Guard Joel Brown had 13 points, nine assists and seven rebounds to pace Cal, which shot 37.3% from the floor and 5 of 18 on 3-pointers en route to its 13th consecutive loss.
WSU completed a season sweep of Cal and Stanford for the second consecutive year.
The Cougars conclude their regular season at 8 p.m. Thursday in Seattle against Washington.
"That would be an unbelievable finish if we could find a way to get that one done," Smith said.
Two WSU program greats attended the game. Klay Thompson (2008-11), fresh off a 42-point outburst for Golden State in the Warriors' win over Houston on Friday, sat courtside. He sported a Cougars hat and could be seen jumping out of his chair to encourage WSU players. Isaac Fontaine (1993-97), WSU's all-time leading scorer, enjoyed the Cougars' win from the stands.
Thompson spoke to the team in the locker room after the game. WSU's social media team captured the interaction on video.
"You get the sweep, it's impressive, and y'all did something I never did before – get 10 wins in the conference. The most we ever got was nine," Thompson said. "Keep doing the damn thing. I'm proud of y'all."
---